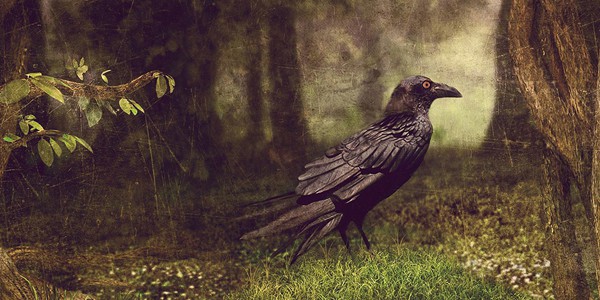 Looking for a new book on magick, spirituality, or occulture either for yourself or a friend?
Spiral Nature reviewed more than 65 books and tarot decks in 2015, and we thought it might be handy to share some of the most popular reviews from 2015, ranked with links to the full reviews. We'll start with the books, and then provide a list of the top decks ranked and reviewed in the coming weeks.
Each item on this list has a handy Amazon link if you'd like to purchase the book directly. Each direct purchase helps pay our writers and assistant editors, so if you're going to be purchasing from Amazon anyway, maybe click one of these links when you do?
Note: While we've reviewed a ton of books this year, we've by no means reviewed everything that's come out. If we've missed one of your faves, please let us know in the comments, and we'll do our best to get one of our reviewers on it.
Enjoy! And thanks for your support!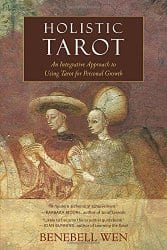 Reviewed by Tabitha Dial
Holistic Tarot is useful as a tool for personal growth and study, with fresh ideas for tarot enthusiasts from a variety of backgrounds. Tarot practitioners can glean inspiration and find structure for instruction, spiritual and magical use, yet at the same time, an argument is made that much of tarot's usefulness comes not from mysticism but from analytical psychology.
Including notes, appendices and index, Holistic Tarot is nearly 900 pages, and is chock-full of tables, spreads, and writing that is practical, comprehensive, and transformative. The book itself is more than a vast instruction manual for tarot practitioners from novice to skilled levels, Benebell Wen also encourages its use as a volume for teaching tarot. It includes information for numerous disciplines, giving a nod to the Tree of Life, astrology,numerology and the author's roots in eastern thought, with the I Ching, a Ba Gua spread, and a sprinkling of the concept of qi throughout.
Click here to read the full review.
#24 The Guru-Free Guide to Nada Yoga, by Bennett Z. Kobb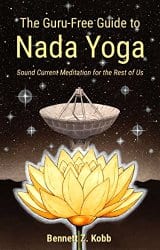 Reviewed by J Simpson
If you already have an active meditative practice in place and are looking to branch out, The Guru-Free Guide to Nada Yoga: Sound Current Meditation for the Rest of Us is a great resource.
What is nada yoga, or in common language, sound current meditation?Bennett Z. Kobb says, "The Sound Current has been called a signal from the Cosmos, the sound of silence, the Word, and the Audible Life Stream. It certainly seems to come from a distant power source, linked in some mysterious way to the energetic core of being." In short, nada yoga is the act of learning to listen to those inner sounds. It's just as simple as it sounds, but it has profound implications.
Click here to read the full review.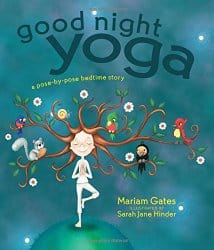 Reviewed by Psyche
Written for kids between the ages of 4-8, Good Night Yoga has sturdy pages that look like they can survive pawing from younger siblings as well.
Gorgeously illustrated by Sarah Jane Hinder, the colours run from bright and sunshiney at the beginning of the book, and move into twilight and night colours by the end. The young yoginis and yogis that people the book are ethnically diverse, and the animals that accompany them look open and friendly.
Mariam Gates gives a description of each of the poses illustrated, and short lyrics to focus on as each pose is enacted: "As I breath in, I bend my knees and scoop the clouds around me. As I breath out, I stand tall and release the clouds over my head."
Click here to read the full review.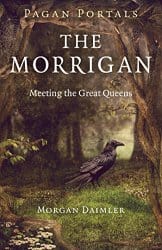 Reviewed by Jan Malique
With the publication of The Morrigan: Meeting the Great Queens, part of the Pagan Portals series by Moon Books, Morgan Daimler has written a thorough and extensively researched book on the great Irish goddess of battle, the Morrigan. An important deity still held in reverence by many, her story can be difficult to unravel, as she is a mysterious and complex character. This book is then a welcome introduction, backed up by historical material balanced with personal insights. The author has provided a resource for readers to explore the Morrigan as lightly or deeply as they wish, without bias to any particular spiritual path. This book is a little like the Tardis ofDoctor Who, small on the outside but immense on the inside.
Click here to read the full review.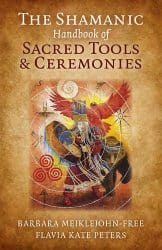 Reviewed by Susan Starr
The book is written by two well-known British shamanic practitioners, Barbara Meiklejohn-Free and Flavia Kate Peters, who make it clear they live, love, and understand shamanism. However, a few things could have been differently so their thoughts were presented with more polish. (Coincidentally, I'm now evaluating a set of shamanic oraclecards by these authors for which the guidebook is clearly and elegantly written and edited, further proof that it's not the authors' knowledge of the material.)
The Shamanic Handbook is set up like a dictionary, with chapters presented alphabetically on such things as altars, the directions, elements, dreamtime, journeying, power animals and allies, rebirthing, and shapeshifting. There's a short introduction that discusses what a shaman is (a good thing, because the chapter on shamans is fourth from the last) and the heart-wrenching and soul-opening challenges they will face on the path. The introduction says the book is for beginners, and for the most part it reads that way.
Click here to read the full review.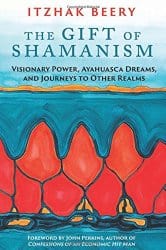 Reviewed by Corinna Underwood
Itzhak Beery is an internationally renowned shamanic healer and teacher. He had trained with many shaman elders throughout South and North America. Surprisingly, Beery became a shaman by "coincidence," when he was in his late thirties and was initiated into the Circle of 24 Yachaks by a Quechua teacher in Ecuador. This book is a collection of his and his clients' intimate experiences with the healings and initiations of shamanism.
Are his accounts convincing? Absolutely.
Click here to read the full review.
#19 Samhain, by Diana Rajchel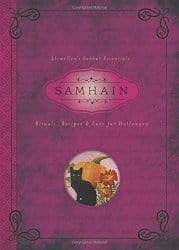 Reviewed by Syndee Barwick
What better way to prepare for this most hallowed of holidays than to read, enjoy, and utilize a book specifically celebrating Samhain?
Right now, the veil between our world and the next is its thinnest, asancestors and spirits whisper greetings, and beings from the other side prepare to visit. The charge is palpable as the natural magick increases with the season's shift from summer's final sigh to autumn's joyous shout.
With the final harvest gathered and the leaves bursting brilliance in shades of vermilion, crimson, orange, and gold before their descent to earth, the crisp of the air holds anticipation and excitement for the most sacred time of year.
Click here to read the full review.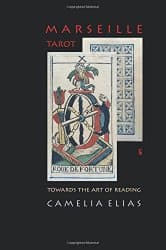 Reviewed by Psyche
It was Camelia Elias' tarot blog, Tarotflexions, which first drew me to her work. Her observations there are smart and incisive, and her approach to tarot is quite different from mine, which means I'm always learning something new. Her essay in The Magiculum1 was one of the strongest in that collection, and I was excited to see a more focused effort on tarot, and this book certainly delivers.
Marseille Tarot focuses on Elias' preferred deck, Carolus Zoya's Tarot de Marseille, a deck created in Turin at the end of the 18th century. The book includes numerous full colour images, and the deck is based on a common Marseille pattern, so while this particular deck is unavailable for purchase, the insights provided here can easily be applied to any Marseille deck, or even other tarot patterns.
Click here to read the full review.
#17 Merlin Stone Remembered, by David B. Axelrod, Carol F. Thomas, and Lenny Schneir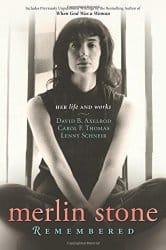 Reviewed by Hathormetic
Merlin Stone was an artist, writer, and feminist historian who dedicated her life to remembering a time in ancient history that came long before God, "the father." Merlin Stone Remembered: Her Life and Worksmemorializes the woman who was one of the driving forces behind the widespread interest in the history of ancient goddesses, and the worship of these deities in feminist cultures in the 1970s.
Many of us are aware that many feminists have come to consciousness through some sort of goddess-focused spirituality. Maybe there are even a few titles on the topic on our own bookshelves. For contemporary audiences — specifically the younger generation of that I'm a part of  — the name Merlin Stone may be unfamiliar.
Click here to read the full review.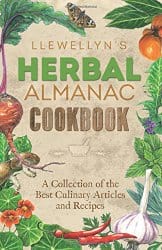 Reviewed by Susan Starr
For the first time this spring, I gave in to a long-held hankering to plant anherb garden. A gardening newbie, I was assisted by a knowledgeable neighbour who appeared out of nowhere bearing pots of young basil, sage, thyme, tarragon and parsley. They say parsley goes seven times to the devil before it germinates and grows; mine decided to stay with him. Oh, well. The other herbs are doing fabulously, with very little effort on my part.
So when the Herbal Almanac Cookbook showed up on the review list, I had to have it. It's a compendium of the best cooking-with-herbs articles from Llewelyn's Herbal Almanac, and features writers Susun Weed, Dallas Jennifer Cobb, James Kambos, Magenta Griffith, Nancy Bennett and others. Their articles discuss such topics as edible weeds and flowers; cooking with magical intent; home beer brewing; making herbal wines, liqueurs and herbal syrups; using herbs with soy and tofu; and adding herbs to all courses of a meal to enhance flavour and nutritional content.
Click here to read the full review.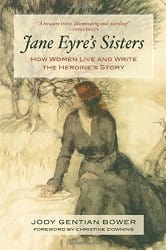 Reviewed by J Simpson
Jane Eyre's Sisters: How Women Live and Write the Heroine's Story is a wonderful and concise book exploring the Aletis, or wandering woman, who must wander off into the wilderness of the unknown to fulfil her ultimate destiny: being herself.
Jody Gentian Bower's central focus — the differences between the heroine's journey and the hero's journey, as related in Joseph Campbell's classic book, The Hero with a Thousand Faces — takes into account both classic literature as well as more recent pop cultural standards, such as Toni Morrison's Beloved in a way that has something for everybody interested in the female experience, literary criticism, mythology, and mapping the hidden contents of our minds.
Click here to read the full review.
#14 The Book of Oberon, edited by Daniel Harms, James R. Clark, and Joseph Peterson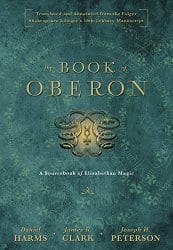 Reviewed by Marjorie Jensen
The Book of Oberon is a reprint of a late 16th century grimoire — a manuscript in the Folger Shakespeare Library — and is an excellent resource for understanding the development of ritual magick as well as investigating literary, religious, and cultural questions in Elizabethan England.
Given that the original manuscript was written in secretary hand (and by several different hands), this contemporary edition makes an obscure text much more accessible. The editors have slightly modernized the renaissance English (by expanding abbreviations, normalizing punctuation and capitalization, etc.), and their English translations of the Latin passages are placed side-by-side with transcriptions of the Latin. 
Click here to read the full review.
#13 Arcana, edited by Marjorie Jensen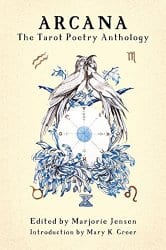 Reviewed by Nicole Rain Sellers
This collection of contemporary poetry about the tarot was lovingly put together by Marjorie Jensen to fill a gap she perceived in the market. Featuring 78 poems of various forms from more than 50 international poets, the book is laid out in three sections: Majors, Minors, and Spreads. Four dramatic yet delicate artworks by Siolo Thomson break up the sections. A concluding biographical list describes the contributors, many of whom are professional writers, artists, academics, and tarot readers. Both the ebook and paperback version are beautiful, but the paperback invites a more leisurely picking-up and putting-down, to allow each poem to settle and digest.
Click here to read the full review.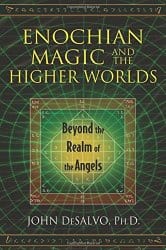 Reviewed by J Simpson
John DeSalvo is a passionate authority on all manner of things metaphysical, including Enochian magick — a subject on which the author has written two previous books, The Lost Art of Enochian Magic: Angels, Invocations, and the Secrets Revealed to Dr. John Dee and Decoding the Enochian Secrets: God's Most Holy Book to Mankind as Received by Dr. John Dee from Angelic Messengers, in addition to others on related topics.
His latest, Enochian Magic and the Higher Worlds: Beyond the Realm of the Angels, maintains that the angelic communications received by John Deeand Edward Kelley were incomplete. The entities communicating with Dee and Kelley cut off transmissions before the final, and most powerful, invocation was revealed — the Enochian call for union with the divine.
Click here to read the full review.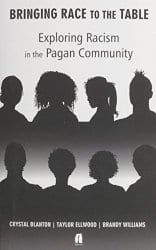 Reviewed by Anie Savino
A striking collection of essays, current and diverse, Bringing Race to the Table: Exploring Racism in the Pagan Community is a work of dedication and power. Crystal Blanton, author, editor of two previous books on the topic of diversity, Patheos blogger, Wild Hunt contributor and social worker — in addition to a priestess and witch — delivers a must-read text in conjunction with her two coeditors, Taylor Ellwood and Brandy Williams.
Blanton does a stellar job showcasing voices from many perspectives. The diverse authors of the essays come from across the lines of gender, race, socio-economic class, spiritual practise, and education.
Click here to read the full review.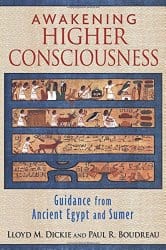 Reviewed by Jan Malique
The ideas expressed in Awakening Higher Consciousness: Guidance from Ancient Egypt and Sumer are paradoxically both simple and multi-layered. It may sound strange, but when I started reading the book, my experience was of peeling back the layers of the proverbial onion, but without the tears!
Humanity has always enjoyed stories, both from the perspective of the storyteller and the enraptured audience. It has been and still continues to be a communal activity, reinforcing the identity and life of the group mind. I fully appreciate the significance of myth in my life. Its transformative powers strike deep at the heart of the subconscious, with each recounting these ancient tales initiate a transformative process within the self. This I understand through personal experience, as myth works on several levels and uses the language of symbolism to communicate its message.
Click here to read the full review.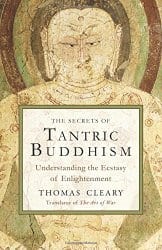 Reviewed by Gesigewigu's
The Secrets of Tantric Buddhism is collection of 46 writings from more than 20 prominent siddhis within the Carya-Gira from the 10th century, translated by Thomas Cleary. The mystic poets discuss the nature of reality, the processes of the self, and the path to enlightenment, often framed as the relationship between the practitioner, and a beloved partner (representing at different times reality, self, or enlightenment). These writings are a form of mystic poetry, not surprisingly very reminiscent of the Bhakti devotional mystical poetry from Bengal.
Click here to read the full review.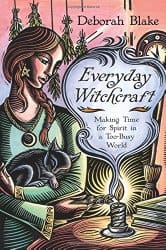 Reviewed by Anie Savino
Deborah Blake is a witch of many hats; she's an artist who runs an art co-op, High Priestess of Blue Moon Coven since 2004, and author of six works of fiction and nine books on witchcraft. She knows her way around a busy life and in Everyday Witchcraft: Making Time for Spirit in a Too-Busy World Blake has compiled many short and sweet acts to encourage the everyday witch into taking a few minutes beyond the ordinary to tap into the world of the elements, deities, ancestors, and spirits.
In this book, "witch" refers to a self-identified person, though one need not be a witch to learn from Blake's book. Though she uses the terms Pagan, witch and Wiccan interchangeably, it is clear that her approach is Wiccan. Her magical correspondences, prayer formats, and use of one goddess and one god, reflect Blake's training in Wicca. Regardless, she shows the reader of any path how to build small and meaningful cycles in their own lives in the small moments and spaces that can make a life magical.
Click here to read the full review.
#7 Mabon, by Diana Rajchel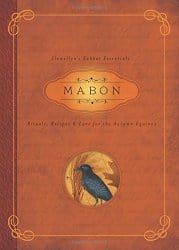 Reviewed by Anie Savino
Reading Mabon: Ritual, Recipes & Lore for the Autumn Equinox brought my attention to Lewellyn's Sabbat Essentials series highlighting the eightsabbats celebrated in many Pagan traditions. The Wheel of the Year is common throughout many Pagan communities and creating literature for each season sets a great intent to understand them more deeply. As a career author and journalist with publications in Llewellyn's annuals, The Beltane Papers, Circle Magazine, Facing North, and SageWoman, Diana Rajchel (also the former executive editor of the Pagan Newswire Collective) has the chops for this title.
Click here to read the full review.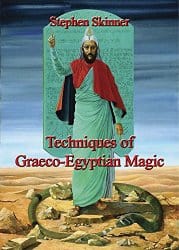 Reviewed by Anie Savino
Techniques of Graeco-Egyptian Magic exhibits a soft spot I have for magick: the academic approach. This Ph.D. paper by Stephen Skinner is the latest of the his many works on the Western esoteric tradition, in addition to many books on feng shui. His clear grasp on the historical data and his academic lens make this paper-turned-book a highly educational though sometimes mundane read. There is no fluff here — just facts, charts, and the occasional historical backtracking. Yet, Skinner's painstaking translation, organization, and interpretation bring to light many long-standing traditions' origins in the magick of Late Antiquity. Skinner describes a snapshot in time when magick held reverence as part of a tradition tied to the mystery cults and religions of the day. 
Click here to read the full review.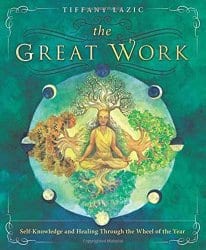 Reviewed by Corinna Underwood
Tiffany Lazic has been practicing spiritual psychotherapy for more than 16 years. She is also a presenter and keynote speaker and owns the Hive and Grove Center for Holistic Wellness, where she offers individual, couples and group therapy. In The Great Work, she has woven together her experience of transformational psychologyand spiritual arts with our Western mythological inheritance to create a workbook for personal development; one that functions on psychological, spiritual and emotional levels.
The foundation of the book and its practices is the notion of "essence." This refers to the spark of divinity that each of us carries within us, that essential truth of personal experience that makes us unique individuals. Due to past experiences, this essence can be plunged into a darkness that at best obscures our unique potential, and at worst causes us debilitating pain.
Click here to read the full review.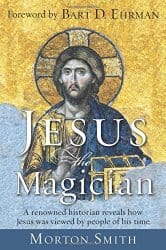 Review by Gesigewigu's
The historical existence of Jesus has long been debated with varying degrees of bias on any side of the argument. The problem in the quest for the existence of Jesus is not so much if he existed, but who and what he was if he did live: sorcerer, fraud, divinity in flesh, healer, prophet? Unfortunately the sources we have detailing his life are almost exclusively Christian, making it harder to sort out the real man due to the fact that Christian sources would want to push a certain image of Jesus, so things might be shifted, added, or deleted from his life.
This is where Morton Smith comes in with this classic book reprinted after more than 35 years, for he attempts to analyze the Biblical and Christian sources, as well as the few non-Christian sources in order to parse out who Jesus was, and how he was understood at the time.
Click here to read the full review.
#3 Brigid, by Courtney Weber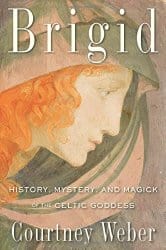 Reviewed by Hathormetic
Brigid: History, Mystery, and Magick of the Celtic Goddess is as much a reflection of Weber's experience in coming to know Brigid as it is a guide book for the beginner devotee of the great Celtic goddess. The book has a bit of everything; historical information, the re-telling of myths, personal narratives, and practical meditationsand rituals complete with detailed instructions that often include photographs. I came to the title with little interest in Celtic deities, but a great interest in the feminine divine, and curious as to why so many witchesdevote themselves to Brid. As Weber notes in the closing of her book, she questioned whether her devotional choice was sincere or merely trendy. As her book reveals, Brigid's complexity, depth, and reach as a goddess is responsible for her widespread worship.
Click here to read the full review.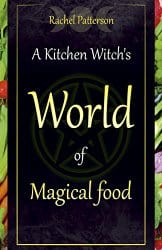 Reviewed by Susan Starr
After reading Rachel Patterson's newest book in her Kitchen Witch series, you just might be inspired to give your kitchen a magical makeover. Not only is she a veteran author of five books on magical food, she is High Priestess of the Kitchen Witch Coven and an elder at the online Kitchen Witch School of Natural Witchcraft. With touches of cheeky humour, she describes readying the kitchen and cooking equipment for magical work, seasonal and holiday recipes, magical food for intent, correspondences of various sorts, food for the moon cycle, and food spells. Think "Engagement Chicken" (Glamour magazine's famous recipe for inducing a man to propose) taken to a whole new level!
Click here to read the full review.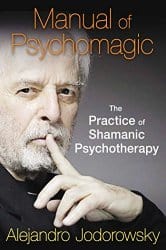 Reviewed by L.D. Taylor
In essence a self-help spellbook, Alejandro Jodorowsky begins Manual of Psychomagic with a brief introduction outlining his perspective. He believes that many of an individual's problems (including physical ailments such as psoriasis, cancer, and infectious disease) stem from the effects of misguided parental actions and sociocultural restrictions on one's unconscious. To allow one's unconscious to release the tension it holds one must undertake a dramatic ritual. Through the ritual's performance and the symbolic fulfillment of desires or release of bonds, the unconscious will be satisfied and one's problems will dissipate.
Click here to read the full review.