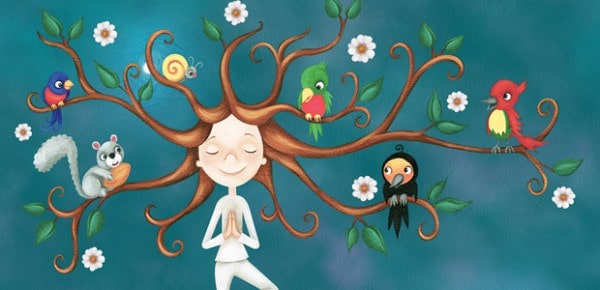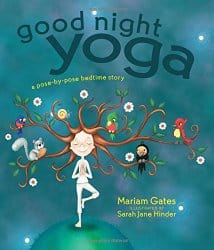 Good Night Yoga: A Pose-by-Pose Bedtime Story, by Mariam Gates, illustrated by Sarah Jane Hinder
Sounds True, 9781622034666, unpaginated, 2015
Written for kids between the ages of 4-8, Good Night Yoga has sturdy pages that look like they can survive pawing from younger siblings as well.
Gorgeously illustrated by Sarah Jane Hinder, the colours run from bright and sunshiney at the beginning of the book, and move into twilight and night colours by the end. The young yoginis and yogis that people the book are ethnically diverse, and the animals that accompany them look open and friendly.
Mariam Gates gives a description of each of the poses illustrated, and short lyrics to focus on as each pose is enacted: "As I breath in, I bend my knees and scoop the clouds around me. As I breath out, I stand tall and release the clouds over my head."
Kids move through embracing the sun, clouds, stars and moon, through to animals in poses meant to represent birds, ladybugs, and cats. The sequence concludes, naturally, in child pose.
At the back of the book the poses form a two page spread called "The Good Night Yoga Flow," and each pose is recreated with instructions on how to embody them. Finally, there's the beautiful "Cloud Journey Visualization" to send kids (and adults who try it) off into the land of sweet dreams.
The calming, thoughtful text is well paired with the super cute illustrations in Good Night Yoga, and would be a wonderful aid for parents and caregivers who want to end the day in a mindful way. Kids can stretch out the last of their energy before being tucked in for the night.