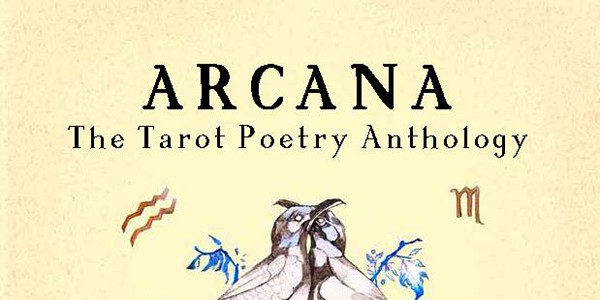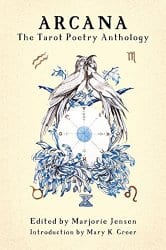 Arcana: The Tarot Poetry Anthology, Edited by Marjorie Jensen, Illustrated by Siolo Thomson, introduction by Mary K Greer
Minor Arcana Press, 978-0-9912596-2-5, 133 pp., 2015
This collection of contemporary poetry about the tarot was lovingly put together by Marjorie Jensen to fill a gap she perceived in the market. Featuring 78 poems of various forms from more than 50 international poets, the book is laid out in three sections: Majors, Minors, and Spreads. Four dramatic yet delicate artworks by Siolo Thomson break up the sections. A concluding biographical list describes the contributors, many of whom are professional writers, artists, academics, and tarot readers. Both the ebook and paperback version are beautiful, but the paperback invites a more leisurely picking-up and putting-down, to allow each poem to settle and digest.
The pieces in Arcana are not arranged in strictly consecutive tarot order, and they don't blindly conform to traditional card symbolism. Rather, they dance sinuously across the pages, wriggling organic creations bursting old constraints in delightful ways, while still managing to draw the reader back to familiar tarot energies and images. Many poems are named for specific cards, upright or reversed; some, like Amanda Chiado's "Icing", are not named for cards at all, and other titles reference cards more subtly (e.g. "i" and "ii" by Mike Alexander). Jensen's Italian-style sonnets, "VIII Strength," "X The Wheel of Fortune," and "XVIII The Moon," glow, and the other poets' work is equally dazzling.
The spell is cast from the first page with Rosalie Morales Kearns' "The Fool." Of poems on the major arcana, I most enjoyed the goosebumpy journey that is "The High Priestess," by Angeliska Polackeck, Meredith McDonough's romp "Prophetic Western," and the subtle precision of "The Chariot," by Evelyn Deshane. Archetypes can easily degenerate into stereotypes, but here they are rendered with originality and finesse, as in "The Magician," by Tony Barnstone:
Miss, just a slick of light, something amiss
with your perceptions, something that you miss
through misdirection, sleight of hand, this blue
scarf that out of the blue appears…1
Not all tarot cards are covered, and some are covered more than once; yet there is an effective structure, like a waltz, stepping forward, back, sideways, as we wend our way through the deck in a kaleidoscopic parade of poems. Two or more poets' pieces about one card sit side by side, starkly and deliciously contrasted, as with "Temperance" in the vastly different styles of Allison Stone and Gail Mukomolova. I was refreshed by not only the differences but also the unexpected similarities between authors' interpretations, and the common symbols they use, for example an abundance of swords across the book.
James Wells' poems, "Trump XII" and "Ace of Wands," convey deep, universal experiences that other tarot readers will relate to, as do Christiana Gaudet's "Eight of Cups," Anthony Rella's "Yeild (Nine of Disks)," and Cecilia Llompart's "Two of Swords." Elizabeth Vongvisith echoes this universality in "Monarch":
This chalice rests heavy in my hands,
hot and cold by turns, and it is mine,
and mine alone, yet I know all too well
that every woman and man has drunk
over and over, that which it contains.2
In addition to sonnets, villanelles, micropoetry, prose poems and other verse, there are completely novel approaches: the numerological cut-up "E5M4P7R9E5S1S1" by Michael Joseph Walsh, the confronting "(Soma)tic Poetry Ritual & Resulting Poems," by CAConrad, and two provocative experimental poems by Enrique Enriquez, "[swordswallower]" and "[mandorla, a word for pun]." Renowned tarot author Rachel Pollack outlines the creation of her haunting poem "Winter Solstice" using her Shining Tribe Tarot deck as a "poetry oracle."
stamping, singing,
swimming the evening
in translucent skin —
We know3
I expected the more narrative treatment of minor arcana cards, but emotive poems like Joanne M. Clarkson's nostalgic "The Nine of Cups," Melissa Reddish's vulnerable "Queen of Wands" and Susan Slaviero's unflinching "The Sword Daughter in Winter" were still a revelation. The Minors section also contains numerous other gems like Evan J. Peterson's slick and sexy "Ode to God (Ace of Wands)," Victor Coleman's very cool "six," the perfectly casual "Sonnet for The Page of Swords, Reversed," by Amy Schrader, and Tabitha Dial's enigmatic "Ace of Knights."
In the Spreads section, free association becomes the norm as the poets relate their spectacularly varied tarot impressions and experiences. Some poems (e.g. "Mirtella's Sonnet," by Teofilo Folengo) have an oracular feel and detail a specific reading; others explore multiple cards, particular suits, or the tarot as a whole. A few relate tenuously to the tarot through only a brief mention or allusion. Some, like Steve Mangan's "Blockhead" and "One of Twelve," are separated from the Majors by a very fine line. This section is sure to push your tarot boundaries and buttons. Standouts are Sierra Nelson's poems "The Future is Befalling You" and "The Fours," Tanya Joyce's "Verses for the Tarot," Clint Catalyst's "Not Through the Looking Glass, But," and Lore Bernier's "Daughter (The Swords)":
There are seven swords in a bundle on my back
and a road for my feet to eat,
stretching miles on end,
a wanderer's feast.4
Arcana: The Tarot Poetry Anthology is hard proof of the mysterious power of the tarot to trigger each of us differently, to float us away on unique magic carpet adventures, some lovely, some grotesque, while still anchored to each other by our mutual understanding of a collective tarot catalogue. I hope to see an expanded edition in future years, with works from even more diverse international contributors. Like a box of exotic chocolates, Arcana is a book to linger over and enjoy slowly, from cover to cover. My only complaint is that it ended too soon. If you appreciate both poetry and tarot, you must read it.