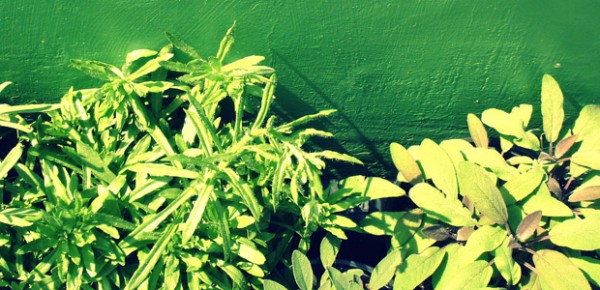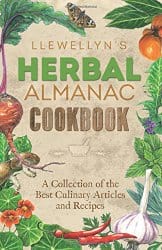 Llewellyn's Herbal Almanac Cookbook: A Collection of the Best Culinary Articles and Recipes
Llewellyn Worldwide, 978-0-7387-4563-3, 358 pp., 2015
For the first time this spring, I gave in to a long-held hankering to plant an herb garden. A gardening newbie, I was assisted by a knowledgeable neighbour who appeared out of nowhere bearing pots of young basil, sage, thyme, tarragon and parsley. They say parsley goes seven times to the devil before it germinates and grows; mine decided to stay with him. Oh, well. The other herbs are doing fabulously, with very little effort on my part.
So when the Herbal Almanac Cookbook showed up on the review list, I had to have it. It's a compendium of the best cooking-with-herbs articles from Llewelyn's Herbal Almanac, and features writers Susun Weed, Dallas Jennifer Cobb, James Kambos, Magenta Griffith, Nancy Bennett and others. Their articles discuss such topics as edible weeds and flowers; cooking with magical intent; home beer brewing; making herbal wines, liqueurs and herbal syrups; using herbs with soy and tofu; and adding herbs to all courses of a meal to enhance flavour and nutritional content.
I read the book from cover to cover, enthralled by all the rich, new-to-me knowledge I was gaining. Yet the book strikes me as one an old hand at cooking with herbs could also learn from. No need to read it from cover to cover like I did; each article stands on its own in one of five sections: Back to the Basics, Beverages, Main Dishes, Condiments, and Flowers and Herbs.
Because of this nontraditional sectioning for a cookbook, and with appetizer, main dish, side dish, soup and vegetable recipes scattered throughout, I missed not having a recipe index providing traditional headings so I could quickly find the type of recipe I was looking for. Yet there isn't much else to fault the Herbal Almanac Cookbook on; it's delightful reading.
The recipes range from the traditional to the modern, and from very simple (two-ingredient syrups) to complex main dishes with 10 ingredients and several steps. Some recipes highlight world cuisines: Greece, India, the American Southwest, the Afro-Caribbean islands. Others focus on a single herb, its history and medicinal values, and what you can cook it with. In most recipes, the medicinal value of the herbs take centre stage, as one would expect as the articles come from a guide to herbal medicine.
Many of the articles share fascinating historical tidbits or folklore about the herb being discussed. Did you know there's a legend about sage, for instance, that a full garden bed of it brings bad luck so it's best planted with other herbs? And to see if a wish will come true, write it on a sage leaf and place it under your pillow for three nights. If you dream about the wish it will come true; if not, bury the leaf so it can do no harm. (From "Get Cooking with Herbs," by Deborah C. Harding.)
One article that took me by surprise was "Bhang: The Sacred Drink of Shiva," by Magenta Griffith, which explains how cannabis came to be used for worship. It gives a traditional version of bhang and a substitute version using ginger. Not your usual cookbook entry!
Perhaps the article that best captures the sacred quality of herbs and how we can use them is "Making Magical Herbal Teas," by Jonathan Keyes. He describes how he forages for mugwort in the wilds of Oregon around the Summer Solstice and creates a sacred tea ceremony with the herb. He weaves in how one can use the four elements, astrology and the powers of the sun and moon to add potency to one's tea and the experience of drinking it.
After reading the Llewellyn's Herbal Almanac Cookbook, I feel like I've found a whole community of new friends, patiently waiting for me to notice them and say hello. That was a running theme throughout the cookbook: how in our modern times we've overlooked a bounty of great taste and good health, sometimes right outside our doorsteps (dandelion is repeatedly mentioned as an example). This book will surely motivate you to look at herbs with fresh eyes — especially if you have a little spot of earth just calling out for some green.
Image credit: En Bouton