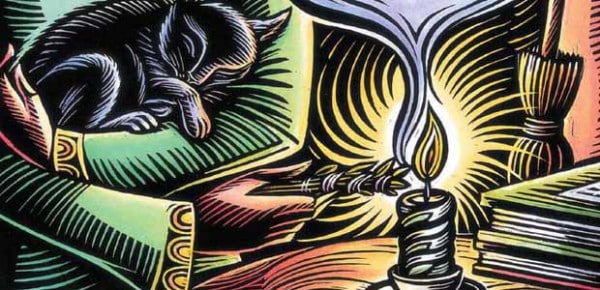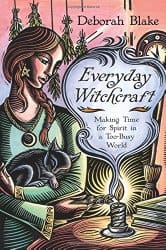 Everyday Witchcraft: Making Time for Spirit in a Too-Busy World, by Deborah Blake
Llewellyn Worldwide, 9780738742182, 240 pp.,  2015
Deborah Blake is a witch of many hats; she's an artist who runs an art co-op, High Priestess of Blue Moon Coven since 2004, and author of six works of fiction and nine books on witchcraft. She knows her way around a busy life and in Everyday Witchcraft: Making Time for Spirit in a Too-Busy World Blake has compiled many short and sweet acts to encourage the everyday witch into taking a few minutes beyond the ordinary to tap into the world of the elements, deities, ancestors, and spirits.
In this book, "witch" refers to a self-identified person, though one need not be a witch to learn from Blake's book. Though she uses the terms Pagan, witch and Wiccan interchangeably, it is clear that her approach is Wiccan. Her magical correspondences, prayer formats, and use of one goddess and one god, reflect Blake's training in Wicca. Regardless, she shows the reader of any path how to build small and meaningful cycles in their own lives in the small moments and spaces that can make a life magical.
Eleven chapters provide mindful practices that combine the mundane necessities of life with small magical acts. Throughout the first 10 chapters Blake offers lists of ways to connect with elements, deities, and environment. She also has at least one guest writer per chapter which expands the scope of each section. Each guest presents an essay, meditation, spell, or craft project to engage in. From daily prayers to cleaning the house magically, to enchanting your vehicle, or weaving the sabbats seamlessly into your life, there are suggestions for all levels of magick and commitment. I very much enjoyed Blake's list of elemental connections, finding them resonant and effective.  By choosing one item from each element any witch will invite magick into their own busy day. The last chapter is devoted to complete profiles for the guest essayists, and a long list of resources on daily prayers, coven-building and practice, the Goddess and God, kitchen witchery, and more, including Blake's own books.
Everyday Witchcraft is not a 101 book, but rather a practical and light Book of Shadows for the emerging witch who already has a busy schedule. Blake's full life of art and writing, covening, and home life make her a good candidate to write this book, but Blake is blessed to live in a home in the country with access to a private outdoor area and many of her suggestions reflect this kind of space. While she does offer some good alternatives for the urban witch, I would add public parks, libraries, and museums as historically Pagan spaces in which a witch may find her solace. Blake is sure to include some ritual inclusion for children, though I would like to see more suggestions for groups, pairs, and couples. Blake's voice in this book sometimes feels self-deprecating and occasionally distracting through the use of many asides and parenthesis, but her strengths lie in being able show the reader quiet, almost hidden ways to transform everyday moments in to everyday magick.
Blake's general outline for a magically oriented day looks something like this: before leaving bed, acknowledge your deity or deities and give a genuine thanks. Use small rites like cleansing in the shower, infusing food with pentagrams, or blessing your car or bike. Ending the day with cleansing, grounding, offerings, and journalling can be a full ritual act. This closes your day as you began it — magically. Blake states that "one of the most important components of a Pagan path is connection… with the gods, with nature, with each other, with our own inner voice."1 Blake shows how to move beyond just engaging in the major holidays and make holy days out of life. The crux of Everyday Witchcraft is that connection on a daily basis creates a sense of sacredness often experienced in larger more important public or private rites.  Lighting the same candle at the same time everyday charges the space, yourself, and the act as a spell to be cast easily and daily. This goes for lighting incense, listening to birds at a certain time, witnessing the sunset, or saying a special prayer you've written.
One of Deborah Blake's finest ideas in this book is that ancient Pagans would not have made distinctions between mundane and magical, and this is what she wants the reader to really grasp. Creating personal traditions that connect your daily routine to your magick is the crux of this book.
I found myself surprised at how many small acts of magick I already infused in my day. I light a candle each morning while I get ready to leave for the day. I also make a point to water the plants on my porch while watching the sunset reflecting on the Sandia mountains.
Some of my favourite rituals suggested by Blake are building small cairns by collecting and placing a stone each day, keeping a daily divination journal, and quick protection spells. Many of the other witches contributing in this book offer creative ideas. I loved Raven Digitalis' short essay about the idea of conscious consumption; supporting your local economy can lead to healthier ecosytems, stronger local economies, and can transform a community, just like magick. Lupa writes a short guide on animal totemism in magick, and Christopher Penczak suggests the combination of your tradition with your own acts of personal magick. Gail Wood's "Grounding with a Salt Doll" looks like a great craft for anyone to make.
I must also air some caveats. Problematic Pagan celebrity Z Budapest is lauded often in this book, in addition to having contributed an essay. Blake makes no reference to or mention of her harmful transmisogyny. My largest concern in recommending this book is that I could not suggest it to a queer audience due to erasure of an important issue. Z's contribution is benign yet Blake's compliance with that confirms their lack of sensitivity in this matter. I am unsure if Blake shares Budapest's views, despite Blake's writing of general inclusiveness. I wish she at least mentioned Budapest's hateful actions in this in the book, but I failed to find any reference.  Blake's easy and vocal admiration for Budapest and her public work, in combination with a lack of acknowledgement troubles me, despite any effective magick.
Additionally, where Blake writes about being a "public witch" she mentions that "most other religions don't have the absurd amount of prejudice and sheer misinformation to combat…"2 This is untrue. In fact, many religions are falsely represented in our society. Hinduism, Islam, Judaism, Sikhism, Voudon, and countless indigenous religions each suffer from misinformed publicity. Pagans of any stripe are not alone in being misunderstood.
In reading this, it might be nice to see Everyday Witchcraft as a springboard for deepening one's magical practice. I would take this book at a slow pace. Blake's strength lies in reminding us of the variety of acts that anyone can fit into almost any day. Accessing the magical realm on a more regular basis — daily, esbats, sabbats, or the Wheel of the Year — is a rhythm you can set for your life at your own pace, and  Everyday Witchcraft suggests choreography for your own dance.
p. 20 [↩]
p. 108 [↩]