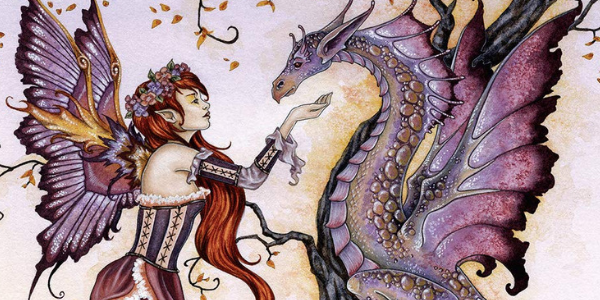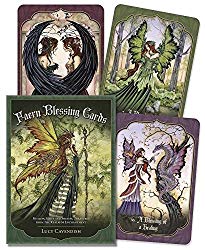 Faery Blessing Cards: Healing Gifts and Shining Treasures from the Realm of Enchantment, by Lucy Cavendish
Llewellyn Publications, 9780738762623, 124 pp., 2019
The Faery Blessing Cards: Healing Gifts and Shining Treasures from the Realm of Enchantment comprise a deck of 45 cards. The deck is created by Lucy Cavendish and illustrated by Amy Brown. The cards measure 9.5 x 14 cm and are printed on quality stock with a matte finish. The face of each card depicts a faery, beneath which is the number of the card, and the particular faery blessing. Each image is surrounded by a plain border which highlights the main colour of the illustration. The back of each card is patterned with a green design of symmetrical lilies. The deck comes in a gift box accompanied by a 124-page guidebook. 
Faeries are a part of this world, and they were here before we were born into part of this world, and they know us better than we know ourselves…We are brief, bright flames to the fairies, and they have interacted with us for eons, and they have taught us so much.1
If you have a fondness for faeries, you will enjoy this deck. Each card portrays a unique image of a faery in her element. The faeries are portrayed as delicate creatures, yet each card suggests a hidden strength. Each image is coloured with earthy brown or greens, or airy blues and purples. For example, card 29, A Blessing of Time, depicts a faery with long flowing copper hair and russet autumn leaf-like wings. Her hair and black skirts blow in the breeze. She hovers above the top of a tree, next to a tall pillar on which stands a candle. The blessing that this card bestows is the faery gift of expansive time, allowing the recipient enough time to do all that they need to do with joy.
The guidebook provides a page and a half explanation for each card, which covers the faery blessing and the nature of the faery illustrated. Cavendish also uses the book to convey a wealth of other information, such as the nature of faery energy, why we need faery blessings, a glossary of faery words and worlds, how we can help the faeries, different types of faery, and signs of the presence of faeries. 
Cavendish has also created several spreads to help the reader receive guidance from the fairies. These include Cards with Wings, or reading a card which flies out of the deck, and a one-card blessing of the day or evening reading. There is also a triple faery goddess spread which is designed to reveal faery wisdom from the past, present and future; a seven-pointed star reading which covers past, present, future and physical, emotional, and spiritual health; and a larger Wheel of the Year spread.
I have always had a fascination with faery lore, particularly from my childhood growing up in the United Kingdom, which is rich with legends and folklore of the faery kind, so I am right at home with this deck. I have been using the daily blessing reading each morning, and sometimes during the evenings, for a couple of weeks now. I've found the faery blessing cards to be inspirational, and often they draw up pleasant memories from my childhood, which I have not been in touch with for some time. The illustrations are beautiful and capture different aspects of nature to match each faery personality. It's obvious that a great deal of research into faery lore and love of the kind folk has gone into the creation of these cards.
I would recommend the Faery Blessing Cards to anyone who has a fascination for faeries and folklore, and also for tarot and oracle aficionados who are looking for a deck with a difference to compliment the ones they already use. This deck is suitable for experienced readers and novices alike.
p. 7 [↩]