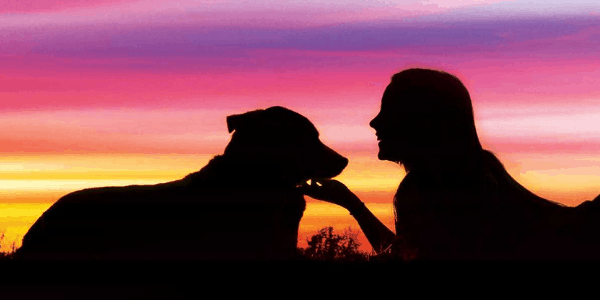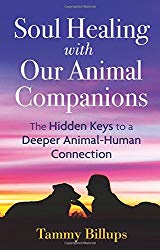 Soul Healing with Our Animal Companions: The Hidden Keys to a Deeper Animal-Human Connection, by Tammy Billups
Bear & Company, 1591433053, 192 pp., 2018
Soul Healing with Our Animal Companions, is a title that resonates with me, given that I live with a teenage daughter, two cats, and a young dog.
I am a solo woman on a healing path — a survivor who is overcoming abuse and trauma, by continually learning about the power of unconditional love. My pets have augmented my healing process. I am a part of their pack. After a lifetime of longing, I have finally found a sense of deep comfort and belonging with the animals that are part of my life.
I was excited to jump right in and start reading upon arrival of the paperback. At 192 pages, the colourful cover shows the silhouette of a happy looking woman touching and talking to a dog.
As I settled in to read, my dog dropped down next to me and my two cats came, one after another, to curl up on the couch beside me. I felt that my animal companions could sense that Soul Healing was something for all of us to share.
Soul Healing with our Animal Companions, by Tammy Billups begins with a dedication, "To Kahlua, the first soul to teach me about unconditional love." As I share this sentiment, I was instantly attuned to the author. Animals have been a life-long source of unconditional love for me, particularly during times of uncertainty within my family relationship matrix. I thought, "ah, a book that speaks to my experiences."
In "The Origin," Tammy Billups lays the foundation for Soul Healing, and reveals how training at the Centre for Integrative Therapy has taught her:
…five emotional core wounds that people have and how they show up in ones energy field, actions, and behaviour. They may even reveal themselves as physical issues.1
It was Billups's training to work with humans, extrapolating to her animal energy healing practice, which proved most effective. Soul Healing is filled with wisdom that she gained through the cumulative experience of that energy work.
I read Soul Healing quickly, and had several "a-ha" moments. Billups states that animals can mirror the emotional and behavioural wounds of their human companions. As such, treating one's emotional baggage involves treating their companion as well. I thought about how emotionally connected my current pets are in comparison to the scared and scarred ones of the past. I felt affirmed in my ongoing journey of emotional healing. I recognized that my own growing wellness was mirrored in my animals.
In the fifth chapter, Billups described the specific emotional core wounds, writing "Your animal may have an unhealed emotional wound that created a feeling of abandonment, betrayal, terror (feeling unsafe), invasiveness, or being detached from his or her core authentic self." 2
Terror produces "the scared ones," invasiveness produces the "sensitive ones," betrayal produces "the protector," abandonment produces "the needy ones," and the lack of solid connection with true essence or authenticity produces "the perfect ones."
Each emotional wound is illustrated by a story about an animal the author had known, followed by techniques recommended for reaching and treating the respective core issue.
Engrossed, I found myself flipping down the corner of pages that stood out to me and quickly had a very dog-eared book. I liked that each chapter contained a section entitled "Essential Wisdom" that summarizes what had been introduced in the chapter and distills it to bite-sized, savoury morsels.
Billups urged readers to not give their power away to so-called "experts" and encouraged people to "trust yourself" and "seek guidance by looking within." You should be calling on the guidance of a higher power, surrendering your attachment to a certain outcome, and staying open to the messages from the divine that can come to you. She writes, "There is divine order and timing present in the middle of every decision you make on your animals' behalf."3
Attuned to helping our animal companions (and ourselves) heal, she writes, "there are endless gifts that naturally arrive when you begin looking at your animals as messengers and guides."4 The rewards include authenticity, vulnerability, peace, acceptance, empowerment, compassion, a higher level of consciousness, well-being, and an enhanced spiritual connection not just with your animals, but within yourself.
I had expected Soul Healing to include specific techniques for undertaking energy-healing with my animals. Instead, it was a reiteration of many psychological teachings and techniques that I was already aware of, with encouragement to use these techniques with my animal companions.
I was thrilled to contemplate the knowledge I gained through reading Soul Healing with our Animal Companions, because as Billups writes, "You are in each other's lives to expand the love in your hearts. Let love always be your guide."5
I highly recommend the book Soul Healing with your Animal Companions, by Tammy Billups. Reading it has empowered me to further heal myself and my pets using these tools. May you read this and "be a role model for love," further healing yourself and your animal companions.((p. 163))