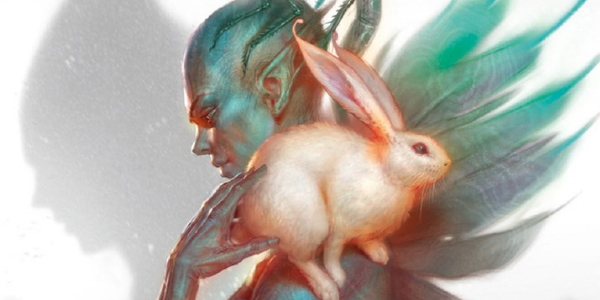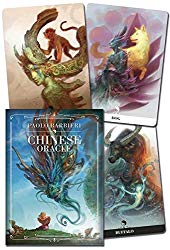 Barbieri Chinese Oracle Cards, by Paolo Barbieri and Zhong Ling
Llewellyn Publications, 9780738760582, 128 pp., 24 cards, 2019
Paolo Barbieri is one of the most well-known Italian illustrators. For Barbieri Chinese Oracle Cards, he has collaborated with Chinese tarot expert Zhong Ling. Ling and her husband run a tarot school in China, where several tarot masters teach, and among them are Sasha Graham, Barbara Moore, and Ricardo Minetti.
This oracle deck is based on the 12 signs of the Chinese zodiac. This calendrical system was developed in China thousands of years ago and is comprised of 12 animals, which have become related to the 12 earthly branches of the calendar and nowadays relate also to a person's birth year. For example, if we say that a person was born in the year of the goat, it means that they were born on the year 1967, 1979, 1991, 2003, or 2015.
This oracle deck is comprised of 24 cards and divided into two sets of 12 cards. Each individual card in the 12-card set corresponds to a sign of the Chinese zodiac. In all, this includes the rat, ox, tiger, rabbit, dragon, snake, horse, goat, monkey, rooster, dog, and pig. Each card measures 5 x 3.5 inches and is printed on quality stock with a gloss finish. The front of each card depicts an image related to its corresponding Chinese zodiac sign, the name of the animal and a yin yang symbol. The front of each card also has either a black or white border at the bottom. On the back, each card in one set of 12 has a black background with a central yin yang symbol, while the other set of 12 has a white background with a central yin yang symbol. 
The deck is in a presentation box and is accompanied by a 128-page guidebook which contains brief interpretations of each card. These include keywords, description, and both yin and yang meanings. At the end of the book is an example oracle spread. The card meanings are translated into Italian, Spanish, French, Portuguese, Russian, and Chinese, so only 11 pages are devoted to the English translation.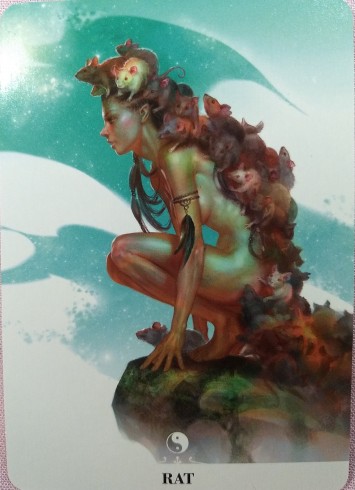 The card images are all blends of blue, green, and browns in colour, and they depict a mixture of people and animals pertinent to each particular zodiac symbol. The backgrounds are usually empty except for shadow or swirls of colour. For example, the rat card depicts a woman squatting atop a rock. She is naked except for a feathered bracelet on her upper arm. Rats surround her feet and rest on her back, shoulders, and head. She is looking ahead of herself as are the rats. The background is comprised of swirls of white and turquoise. 
The sample spread is a nine-card spread which is laid out in rows of three by three. The columns from left to right signify past, present, and future. The rows from the top down represent love, spirit, and emotional; changes, evolutions, and opportunities; and money, body, and material. Each triplet of cards may fall as all yin or all yang, mostly yin or mostly yang. Your reading will vary depending on these combinations and also on whether there are twin cards in any column or row. These patterns are briefly explained in the guidebook.
Yet, this deck was very disappointing. I feel let down in so many ways. First, the artwork is uninspiring, particularly for Barbieri. The images, through very well-drawn lack a certain depth of detail that I always look for in a tarot or oracle deck.
Secondly, there are only 12 images in the deck. I know that this deck is based on the Chinese zodiac, but I feel that the artist could have gone so much further with this concept.
Thirdly, to make up the deck, each card is repeated twice, the only difference being the back of the card. This seems to me a bit of a cop-out. The guidebook is uninspiring, though it does offer a sample spread. I tried the spread but felt it difficult to connect to because of the limited information in the guidebook and the repetitiveness of the cards.
If you're looking for an oracle deck that is unusual, Barbieri Chinese Oracle Cards is different from many others. If you're looking for an oracle deck that will draw you in and inspire you, this may not fit the bill.