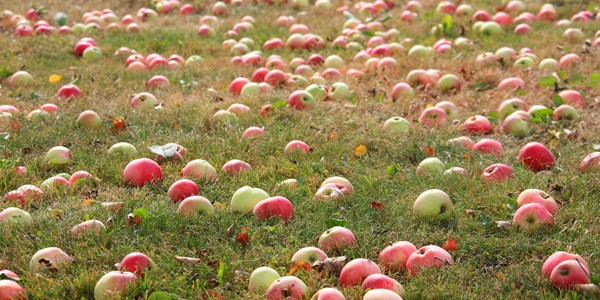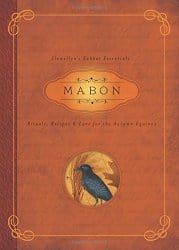 Mabon: Ritual, Recipes & Lore for the Autumn Equinox, by Diana Rajchel
Llewellyn Worldwide, 978-0-7387-4180-2, 227 pp. (incl. appendix, further reading, bibliography, and index), 2015
Reading Mabon: Ritual, Recipes & Lore for the Autumn Equinox brought my attention to Lewellyn's Sabbat Essentials series highlighting the eight sabbats celebrated in many Pagan traditions. The Wheel of the Year is common throughout many Pagan communities and creating literature for each season sets a great intent to understand them more deeply. As a career author and journalist with publications in Llewellyn's annuals, The Beltane Papers, Circle Magazine, Facing North, and SageWoman, Diana Rajchel (also the former executive editor of the Pagan Newswire Collective) has the chops for this title.
Mabon has six chapters bookended by two sections. Following the series introduction, Rajchel dives into the topics of old and new ways, spells and divination, recipes and crafts, prayers and invocations, and rituals of celebration. The appendix of the book includes tables of correspondences for Mabon, a list of further reading, a bibliography and index. The book as a whole provides many ways to enjoy the autumnal equinox, regardless of the path one walks. Ritual leaders, festival-planners, school-groups, and families can all use this book to deepen their understanding of the myths and practices of Mabon, while also providing some great conversation starters for discussion groups. Solitaries will enjoy the many simple and home-based crafts, spells, and divinations.
One of the most enjoyable aspects of Mabon is the illustrations by Mickie Mueller. She is a long-standing fantasy artist, having previously worked for Marvel, D.C., and Dark Horse Comics, and the creator of three divination decks: The Well Worn Path, The Hidden Path, and The Voice of the Trees. Each chapter begins with a full-page drawing and there are many more images scattered throughout the book. I especially enjoyed the image for the "Spells and Divination" chapter. The spell bottle, written charm, and tarot cards all look familiar in the most comforting way. Mueller has a great eye for subtlety, and a real talent for images that charm the viewer.
Rajchel muses over some of the most archetypal concepts of the season: the dying Gods of the harvest and their rebirth, the Earth Goddess and her stolen child, ancestor worship and veneration, and effigies and scapegoats that drive away the year's misfortune. In addition to the old ways, Rajchel unearths some modern practices with unexpected origins like Pagan Pride Day and the carefully conjured name of the holiday itself (thanks to Aidan Kelly's syncretic research)!
The information in this book is organized and Rajchel's writing style is concise and to the point. Her tone is smooth and does not rely on metaphor or hyperbole. Instead, she has researched her topics and presents facts and foundations for theories and traditions in a straightforward way. Citations are easy to follow and appropriate to the topics in the book. The appendix is useful, as it is a quick reference and easy go-to for expanding research and reading, ensuring a clear starting point for those seeking even more.
I enjoyed Rajchel's philosophical approach to the season of Mabon, specifically as she describes it: "the connection between food and mortality."1 As a witch whose family traditions are often food-oriented, I resonate in celebrating the process of the harvest as well as its fruits. Harvests, storing food for the winter, and preparations around the home, all coincide with the idea that to harvest, we must take down, kill, or destroy the very plants we take pleasure in growing, slaughter the animals we've nurtured since spring. This season of paradox combines elements of both work and play, celebration and destruction, abundance and measured resources. These juxtapositions mirror the astrology of the event so well that it is no wonder many traditions have similar practices during this time of year. Rajchel cites these "shared secular values"2 as one of the reasons Pagan Pride is celebrated around this time and as a way to share our values with the non-Pagan communities, religious or otherwise.
Activism, community, public service, and home-life feature heavily as the seasonal themes for spellwork, along with the previously unknown to me "divination of wine, beer, and water." I made the honeyed cucumbers from the recipes section and absolutely loved it, and as soon as it cools down in New Mexico, I will be baking the beet-cake included here. It looks like a real treat for a party or my local Mabon festivals. Also included are some wonderful crafts, like scarecrow-effigy building, apple candle holders, and a lovely recipe for Mabon oil with apple seeds and sage.
Rajchel includes invocations to various deities and the Goddess and the God, though these prayers may also be considered evocations, as they do not create a vessel of the speaker. Her prayers are self-written, honour Hellenic, Roman, Celtic and Babylonian deities and are reminiscent of many Wiccan prayers. These prayers lack a certain "oomph," in addition to focusing on the more palatable sides of the deities invoked. I prefer my dying Gods and mourning Goddess with a bit more angst, though I understand this could lessen a certain universal appeal. While I enjoyed Rajchel's prayer to Dionysus the most, her approach with Kore and Persephone lacks a feminist lens of understanding, instead operating under the idea that Kore left the land of the living of her own volition.3
Not only should we parade around in the garden, making music while we harvest and kill our plants, but we need to do the same in our inner lives. This is part of the reason the wheel continues to spin each year. In following the physical manifestations of each season, we can mirror the harvest and survival in our emotional, physical, mental, and spiritual states of being.
The ritual chapter includes a solitary ritual, one for couples, and one for groups. Rajchel constructs and writes her rituals clearly with many alternate suggestions. It is easy to follow her instructions both for physical and metaphysical actions. The rituals are for the fruits of the season: "gratitude, accomplishments, hard work, planning, and personal industry….[and] to take stock of what you would like to change about your inner climate."4 The solitary rite centres on gratitude. For couples, Rajchel writes a sweet rite to honour each other's hard work, using a basin to wash each other's feet. This can easily be adapted to include more than one partner. The group ritual includes an effigy, libations, wreaths and a feast. It can be performed as a family practice, group event, or coven gathering. Libations feature heavily in these rites and I love that. Libations are such an old way to make offerings and symbolize the return of energies to the earth. The take away of each of these rites is the celebration and recognition of survival we each need for ourselves, our families, and communities.
Themes of liminality, paradox, and celebration feature throughout the book, resonating fully with the season at hand. I hope the rest of the sabbats in the series receive a well-rounded approach as well. At present, five titles published in the series (Ostara, Beltane, Midsummer, Lughnasadh, and this current book, Mabon) with Samhain, Yule, and Imbolc forthcoming in September, October and December, respectively. I will be looking out for these titles also — especially Samhain and Yule!
I recommend Mabon: Ritual, Recipes & Lore for the Autumn Equinox to anyone wanting an intensive on Mabon, and Llewellyn's Sabbat Essentials series to those deepening their path one sabbat at a time. Rajchel encourages the reader to embrace the cognitive dissonance Mabon inspires.
Image credit: Liga Eglite