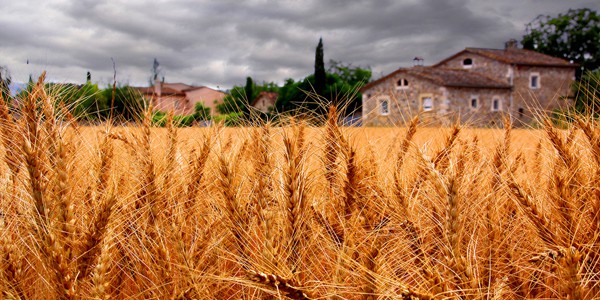 Twice a year, in the spring and in the autumn, day and night are equal, and we call these times equinoxes. The second harvest (between Lughnasadh and Samhain) corresponds to the autumnal equinox and is called Mabon, a modern name derived from the Welsh god Modron, son of the Earth Mother goddess.1 In the northern hemisphere, daylight will lessen and night will grow longer, as the Earth prepares to sleep. Traditionally, it's a time of continuing to give thanks for abundant crops before food becomes scarce.
Pomegranates, apples and Dark Mother bread may be part of your table, to honour Persephone's journey to the Underworld. As legend goes, when Hades kidnapped Persephone, her mother, the grain goddess Demeter, shed tears for six months up until her daughter's return, causing crops to stop growing and the weather to grow colder. It is in this form we honour her as the Dark Mother, as we enter our own time of introspection that will end at Ostara, the spring equinox.
But for now, we celebrate, enjoying meat, squash, grains, grapes, wine, corn, potatoes, onions, carrots and other root vegetables. The cornucopia, or Horn of Plenty, filled with these foods is a wonderful centrepiece for the altar or Mabon feast table. Decorate with autumn leaves in rich reds, oranges, and brown, with touches of purple and black to honour Demeter, and enjoy the bounty!
All Things Harvested Pot Roast
Adapted from Aaron, at iPagan.org.

4 to 5 lb pot roast
1 stick butter
1 large onion sliced
3 celery stalks, chopped
1 garlic clove, chopped
¼ tsp. dried thyme
¼ tsp. dried parsley
1 bay leaf
1/8 tsp. black pepper
¼ tsp. salt
Two 10 oz. cans French onion soup
4 large potatoes, quartered
One 8 oz. package raw baby carrots
One 16 oz. pkg. frozen broccoli and cauliflower mix
In Dutch oven or oven safe pot with lid brown both side of the roast, using half the butter. Set the roast aside.
With remaining butter, sauté the onion, garlic, and celery until onions are tender and beginning to brown. Add the thyme, parsley, bay leaf, and pepper. Mix well and then return the pot roast to the pan.
Sprinkle salt over the roast and add the French onion soup. Cook at 325 F degrees for 4 hours. Baste meat as needed.
Add potatoes and carrots and salt to taste. Cook for another 45 minutes.
Add broccoli and cauliflower mix and cook for 20 more minutes. Serve with hot bread.
Dark Mother Bread
Adapted from Patti Wigington, at About.com.

2 cups warm water
1 tbs. active dry yeast
1/3 cup honey
3 cups whole wheat flour
1 tsp. salt
1/4 cup vegetable oil
2 tbs. butter
4 cups all-purpose baking flour
Dissolve the yeast in the warm water. Add honey and mix well.
Stir in the whole wheat flour, salt, vegetable oil, and butter and mix until a stiff dough has formed. Gradually work the all-purpose flour into the mix, one cup at a time.
Turn the dough onto a lightly floured counter top, and knead for about 15 minutes. When it reaches the point where it stretches without breaking, shape it into a ball and place it into an oiled bowl.
Cover with a warm, damp cloth, and allow to sit and rise until it's doubled in size — usually about 45 minutes.
Punch the dough down and cut in half, so you can make two loaves of bread. Place each half in a greased loaf pan, and allow to rise. Once the dough has risen an inch or two above the top of the loaf pan, pop them in the oven. Bake at 375 F for half an hour, or until golden brown at the top.
When you remove the loaves from the oven, allow to cool for about 15 minutes before removing from the pan. If you like, brush some melted butter over the top of the hot loaves, to add a pretty golden glaze to them.
Note: If you're making this in a bread machine, remember, the recipes makes two loaves. Halve everything if you're allowing the machine to do the mixing. If you hand mix it, you can still drop the single-loaf balls of dough into the machine to bake.
Crockpot Apple Butter
Adapted from Patti Wigington, at About.com.
9 quarts of applesauce (homemade or store bought)
2 cups apple cider
3 tbs. ground cinnamon
1 tbs, ground cloves
1 tbs. nutmeg
3 cups sugar (more if you like really sweet apple butter)
Fill a crock pot with applesauce to within an inch from the top. It should take about half the applesauce if you use a 5-quart crock.
Add 1 cup of the cider, half the cinnamon, half the cloves and nutmeg, and 1 1/2 cups of sugar. Set the crock pot on low, and cover. Allow the applesauce to cook on low setting for about 8 to 12 hours.
Around the 10-hour point, check the amount of applesauce in the pot. It should have reduced significantly by now, so add in the remaining quarts of applesauce, spices, cider and sugar. Mix thoroughly to blend with the applesauce that's already in the pot, and allow to simmer for a few more hours, until the applesauce has reduced to a thick brown apple butter.
Serve your apple butter with a loaf of warm, soft bread, or eat it straight from the jar!
Cranberry Pomegranate Sauce

Adapted from AllRecipes.com.
2 large tart apples
2 pomegranates, peeled and seeds separated
One 16 fl. oz. bottle pomegranate juice
2 cups white sugar
2 large oranges
Two 12 oz. bags fresh cranberries, rinsed and sorted
1 cup pecans, chopped
Peel and core apples, and put peelings and cores in a small saucepan with pomegranate seeds, 1/2 cup juice, and 1/2 cup sugar. Bring to a boil, and then reduce heat to simmer. Cook for 30 minutes.
Chop the peeled apples, and place in a large saucepan. Remove zest from half of one orange, chop very fine, and add to apples. Peel oranges, chop coarsely, and add to pan along with cranberries and remaining juice and sugar. Bring to a boil, reduce heat to simmer, and cook for 30 minutes.
Remove small pan from heat, and strain juice into larger pan. Cool solids slightly, and then push through a sieve to remove seeds and peels, adding remaining pulp to larger pan. Stir in nuts, if desired. Cook about 10 minutes longer. Serve warm, room temperature, or chilled.
Image credits: Bernat Casero, Elizabeth, Bart Everson, jeffreyw, and Kim F

See, "Mabon/Autumn Equinox September 21st-22nd," The Goddess and the Green Man. [↩]