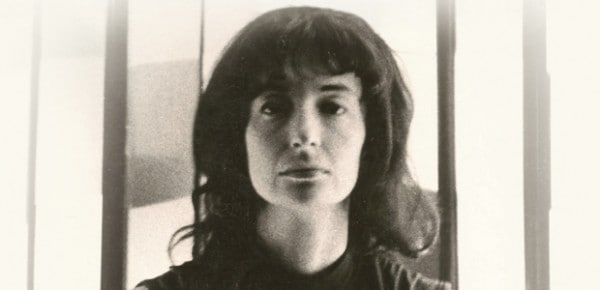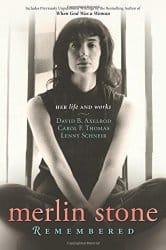 Merlin Stone Remembered: Her Life and Works, by David B. Axelrod, Carol F. Thomas, and Lenny Schneir
Llewellyn Worldwide, 9780738740911, 360 pp. (incl. table of contents, bibliography, preface, and epilogue), 2014
Merlin Stone was an artist, writer, and feminist historian who dedicated her life to remembering a time in ancient history that came long before God, "the father." Merlin Stone Remembered: Her Life and Works memorializes the woman who was one of the driving forces behind the widespread interest in the history of ancient goddesses, and the worship of these deities in feminist cultures in the 1970s.
Many of us are aware that many feminists have come to consciousness through some sort of goddess-focused spirituality. Maybe there are even a few titles on the topic on our own bookshelves. For contemporary audiences — specifically the younger generation of that I'm a part of  — the name Merlin Stone may be unfamiliar.
I requested this book for review after being given copies of Stone's work by two influential women in my life; one an academic mentor somewhere in the middle of her life and the other a wise crone who I met by chance through a witchcraft message board. Each of them stressed the importance of Stone's work in reviving goddess history and shared their stories of reading her work. One had studied her poetry in a women's studies class during her undergrad in the early '90s, and the other had purchased her work when it was originally released.
When the chance to hear Merlin Stone's story came across my channels, I had to listen.
In 1972, Stone left her life as a sculptor and university art educator in California to seriously pursue research and writing about ancient religions from a feminist perspective. She headed to London where she had access to a wide selection of libraries and historical collections, and from there travelled for a year to continue her research and collect evidence in Lebanon, Greece, Crete, Turkey, and Cyprus.
In 1976, Virago Press of England published The Paradise Papers; the original title of the soon-to-be-classic text, When God Was a Woman, which would be re-published by Dial Press that same year. The book unravelled what many, Stone included, described as '"the biggest hoax" in the universe: the Adam and Eve creation story and the continuing biblical accounts of patriarchy, male dominance, and superiority and mastery as dictated by a father god."1 Stone made incredibly careful use of existing archaeological research, her own data gathered in her travels, and a feminist analysis to question the solely patriarchal authorship of dominant accounts of religious and ancient history and instead, highlight the role of goddesses in ancient culture.
Stone was not the first to publish on the topic: as Gloria F. Ornstein's introductory essay "Transforming His/story into Her/story: Merlin Stone's dramatic entrance onto the stage of our story" outlines, many had made attempts to legitimize histories of goddess worshipping societies before.2 Stone was, however, the first to find worldwide popularity through the right balance of hard facts, feminist critique, and women's intuition.
The strength of Merlin Stone Remembered lies in the many ways in which Stone's life and accomplishments are applauded. Written, compiled, and edited by poet David B. Axelrod; feminist writer and educator Carol F. Thomas; and gambling memorabilia collector and expert, and Stone's partner of nearly 30 years, Lenny Schneir; the book contains a range of materials and genres of writing. Academic essays, memoir, poetry, fiction, photographs, letters, a timeline of Stone's life, and reprints of her published and unpublished writing make this a rich collection with a bit of everything. The book is a loving memorial of a woman whose work touched the lives of many feminists seeking spiritual empowerment circa 1970 and onwards, and at the same time, a deeply personal document which says so much about those who knew Merlin; her fans, her contemporaries, and her partner, Schneir.
A "Merlin Stone Timeline"  makes the many recountings of her life found in the stories included in the book more chronological and clear. For example, we're informed that 1976 was the year Stone's big book went to print. However, in a memoir titled My Life with Merlin Stone, Lenny Schneir informs us that it was also the year that the two met. The details of their relationship, its development, and the transformative effect it had on her partner are recounted in Schneir's heartfelt memoir. At times, the piece is a little predictable — man meets feminist woman, man becomes feminist man — but the insight it gives to the enduring relationship between the two gives readers a better understanding of a side of Merlin Stone which might not easily be gleaned from her published works.
The memoir is prefaced with a note from Thomas that comments on the importance of Schneir's piece to Stone's story. Thomas explains that "at least one prominent feminist declared, 'Lenny, you just don't get it,'"3 and felt that a book about Stone's life should have been produced entirely by women. Reading Schneir's work, it comes across that Stone's private life was fulfilling, egalitarian, and deeply spiritual, and her relationship with Schneir seems quite inspiring. I think this speaks to the impact that the goddess — however she is understood — can have on people of all genders, and how Stone's work sought to empower people who inhabited a range of identities and experiences.
Following Schneir's dedication to Stone are a careful selection of some of her best (and unpublished) works. "Merlin in Her Own Words" presents a selection of quotes by Stone selected by her partner whose sources range from popular news sources, niche publications, interviews, and lecture notes. The tenth chapter of When God Was a Woman is re-printed in its entirety, giving readers a sample of some of Stones most well-known work. For those unfamiliar with Stone, this is a great introduction and the short selection makes what is usually a rather dense read about ancient goddess history much easier to digest. In a brief essay editor David Axelrod comments on the genius of Stone's follow-up release, Ancient Mirrors of Womanhood: a book of poetry, history, and prayer first published in 1979 by Stone's own New Sybilline Press. In six previously unpublished essays we are given Stone's perspective on the goddess, spirituality, racism and a range of other subjects. Also included are poems by Stone, and excerpts from her unpublished novel with commentary by Axelrod.
Throughout the book are photos in black and white, and there is also in a glossy colour section in the middle with some extra special selections, including some really beautiful portraits of Stone. The images of Stone and Schneir together are some of my favourites. A photograph from 1976, on the day after the two met, shows Merlin in bell bottoms and a crop top, and Lenny looking rather hip in a rock t-shirt posed on a boardwalk in Florida. In one from 1999 in front of their New York apartment, not too much has changed: Lenny wears rainbow suspenders, psychedelic camouflage pants, a big beard, and eyeglass frames that are a little past their prime, and Merlin is simply bohemian in all-black, her long white hair tied back with a colourful scarf. Looking at the photos makes me smile; they seemed to live a wonderful, full, and counter-cultural life together amidst the excitement of a new age of empowerment through spirit.
For those familiar with Stone's work on goddess worship, Axelrod's essay on Stone's successful career as a abstract sculptor in the 1960s may be a special surprise. Also included are short memorial pieces by Schneir and Stone's daughter, Cynthia Stone Davis; poems for Stone by Thomas; and a range of reprints of fan letters to Stone which drive home the impact she had on so many people. An interesting inclusion is a letter sent to Virago Press from someone who claims to have been lent When God Was a Woman by the wife of Robert Graves. The writer explains that while Graves would have been too old to "concentrate on any work,"4 they felt that there were great similarities between the approach of the authors, and that Graves himself would have agreed.
Contemporary perspectives on gender and sexuality may not jive with some of those presented in the book, as goddess narratives and the worship of goddesses within feminist culture have traditionally used a rather essentialist approach. Yet, as much as I cringe when I type out the words "women's intuition," I also smile; there is something deeply moving and magical about the inspiration that the goddess movement has — and still does — provide feminists of all genders as they search out and imagine better worlds and ways of being. When we see the image of Kali projected on the empire state building in the name of environmental activism or organizations like Covenant of the Goddess celebrate 40 years of organizing, I can't help but notice the way that goddess worship in many forms has remained an important part of the occultural landscape.
It's my hope — and the hope of the authors of Merlin Stone Remembered: Her Life and Works — that Stone's work continues to have that impact. As Carol F. Thomas notes in her preface: "May this book remind you of the Goddess in all her diverse manifestations and bring you to an even greater appreciation of the work of Merlin Stone."5