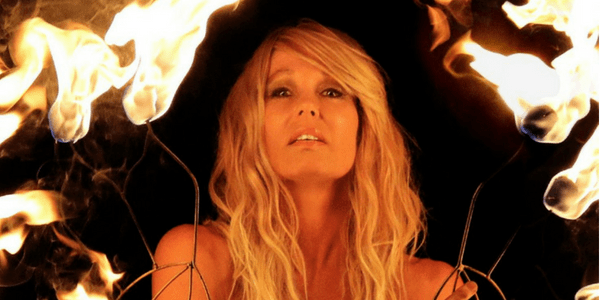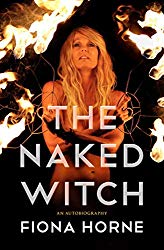 The Naked Witch: An Autobiography, by Fiona Horne
Rockpool Publishing, 9781925429633, 217 pp., 2017
Lead singer of the Australian band Def FX and public witch Fiona Horne has released her latest book The Naked Witch: An Autobiography. In this tell-all memoir, Horne goes through her life from childhood to present time, documenting the ups and downs of her journey. Rarely holding back, Horne gives the reader an up close and personal lens into the poignant moments behind her very public life.
The Naked Witch almost feels as though Horne is talking with a close friend. The writing style is such that one can easily read it and absorb her story. At times the narrative feels a bit shallow, as it lacks a sense of depth in the experiences Horne describes. Yet, her life has been so action-packed that I remain mesmerized by the flow of the story, as it is littered with the names of celebrities that Horne has known through her life in the spotlight. It is also evident that Horne is absolutely honest in her writing, as she goes so as far as highlight her flaws, and she portrays events and her mindset during these experiences.
The book begins with Fiona Horne's crummy childhood, as she describes her time living on the streets before becoming an international superstar with the hit '90s electro-rock band Def FX. It was during this period that she cultivated a sense of herself as witch, as she often felt marginalized by the patriarchal music culture. When the music stopped, all Horne had left was her identity as a witch, which she was able to use to garnish enough attention to land herself in Los Angeles and launch a new career. In Hollywood, Horne continued to stand out among stars for her occult lifestyle, including reading tarot for the rich and famous, while also working at a psychic hotline. She attributes her marriage to the love spell she shared with readers in her book Bewitch a Man, when Horne embraced a more domestic lifestyle. Yet when things unraveled, alcoholism took its toll on her life and livelihood. In the end, we see a renewed Horne blazing her own trail and becoming a pilot, literally setting flight to achieve her dreams.
While the book does mention the way Horne boldly declared herself a witch, it in no way goes into her experience of what her journey as a famous witch was like beyond assuming this label. She does not write about what it means to be represent of Paganism or witchcraft as a public icon, or share her connection to its larger community. Her practice is never touched on, nor does she establish a definition of a witch or clearly define her beliefs. By the end of the book, after starting AA, Horne turns to writing writing about embracing God. For a more critical reader, it is clear to see why the Pagan community remains dubious about Horne, as she notes throughout The Naked Witch the way she played up being a witch as part of her career in Hollywood, and as a way to land book deals and roles.
To be honest, Horne's life seems rather depressing. Even when she hits a highlight, it is often marred by self-loathing, hatred, and despair. If anything, The Naked Witch gives insight into her on-going struggle with her personal demons. From molestation as a child, to suffering from an immensely low self-esteem, the book concludes with Horne's husband leaving her. While she tries to perk up with a happy ending of sorts, I was left feeling almost as alone and abandoned as Horne seems to have felt through her life.
Despite the brevity of information on her interior life as a witch, I found The Naked Witch: An Autobiography entertaining. It is a juicy, sensational read that I enjoyed for its vapidity. Horne presents an interesting story in because she is able to play up the glitz and glamour of her fame and lifestyle. There were a few instances where I was in awe of the life she lived, particularly when she manifested a meeting with Nicolas Cage and had a fling with Gene Simmons. My favourite part was when Horne describes being on Celebrity Survivor Australia, living on a remote island, and for the sake of her tribe, she decided to use her beloved 20-year-old tarot cards to start a fire after a storm had dampened all the wood, only to be kicked off a week later. With quotes such as, "Just as my esoteric self was exploding, my love life imploded,"1 the details of Horne's love life, comprising the majority of the book, satisfy my desire for gossip much in the way magazine tabloids tend to.
Love her or hate her, it is hard to deny the role Fiona Horne had in bringing witchcraft to a new generation. I would recommend The Naked Witch: An Autobiography for those who are looking for a light read. It doesn't offer much in regard to witchcraft per se, but Horne's story could be used to bring a spark of inspiration and glamour magick to one's life, reminding us that we can always resurrect from our darkest moments. Horne has truly triumphed through the depth of her emotional journey, while living a life many can only dream of experiencing, and through it, she has emerged with clarity of heart and peace of mind.
p. 56 [↩]