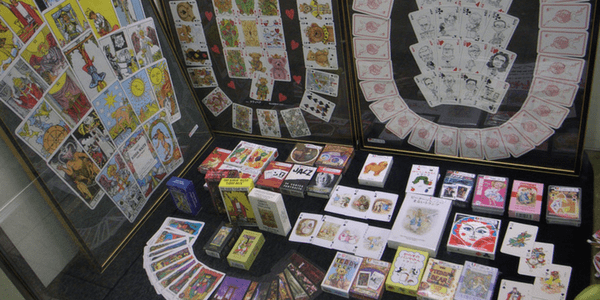 Recent years have provided an explosion of interest in tarot, with a proliferation of exciting indie tarot decks that draw on tradition, pop culture, politics and evocative art to entice card enthusiasts.
Many tarot readers employ multiple decks, and some of us are avid collectors. The reader's relationship to the cards is complex — we respond to art work certainly, and may find certain decks work better for certain purposes. For example you might enjoy a Rider-Waite Smith deck for divination, keeping one deck for you to study and another to use when working with others; or use an oracle deck for a daily card meditation. The exciting thing about tarot today is the way unique and talented artists have reinterpreted the major and minor arcana. Each deck brings its own wisdom to tarot work, and taps into readers' intuition in different ways!
Today, I bring you some exciting tarot offerings!
To start, lots creators have thrown their cards in the indie tarot ring. Some of the best include: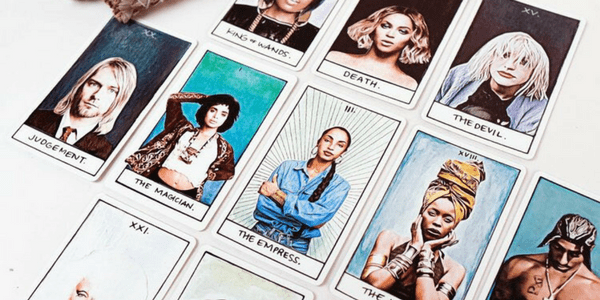 The Illest Tarot was created by Kristi Prokopiak as an intersectional feminist deck that relies heavily on pop culture icons from the 1990s. Prokopiak brings us Erika Badu as The Moon, Sade as the Empress, Courtney Love as the Devil, and Lisa Bonet as the Magician. This is a wonderfully nostalgic deck! The art is bare-bones, but the beloved icons on the cards more than compensate. (Also, Prokopiak donates a portion of proceeds to her favourite charities!)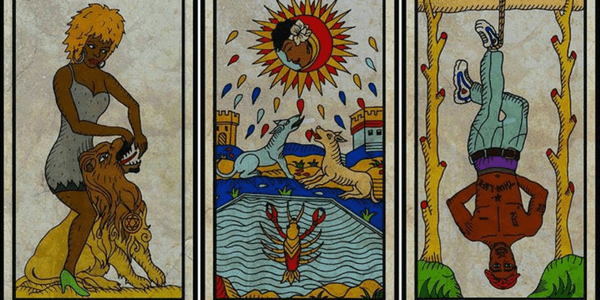 The Black Power Tarot is a collaboration between musician King Khan, graphic artist Michael Eaton, and Alejandro Jodorowsky. This was conceived as an update to the classic Marseilles deck, inspired by Black icons who overcame adversity to achieve greatness. The deck features Tina Turner in the Strength card, Tupac Shakur as the Hanged Man, Sun Ra as (you guessed it!) The Sun and Richard Pryor as the Fool. (While researching this deck, I was compelled to snap it up! It's pretty epic.)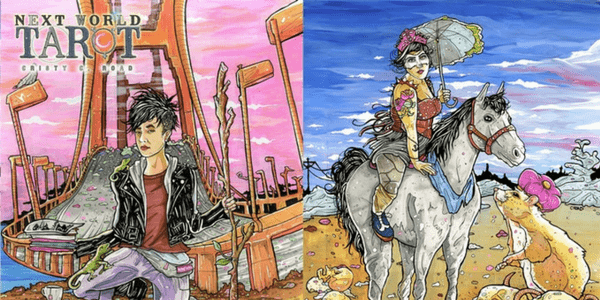 Cristy C. Road's much-anticipated Next World Tarot is now available for pre-order and is expected to ship by September 2017. Images from this indie tarot deck have been circulating online for a few years now, and it looks absolutely amazing! Zine and graphic novel enthusiasts might be familiar with Cristy Road's illustrations from her work in the queer DIY publishing scene. In this deck, her focus is on revolution and social justice, featuring images of incredible activist trailblazers like Kitty Stryker, Leah Lakshmi Piepzna-Samarasinha, Marsha Johnson and Mimi Thi Nguyen.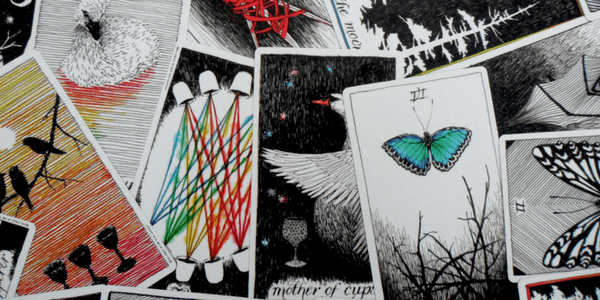 The Wild Unknown: This deck went from indie to Amazon in just a couple of years. Readers love the simple line drawings and intuitive quality of the deck's use. Kim Krans' deck has inspired enormous devotion from it's users, who post readings, cards, and even tattoos inspired by the drawings online.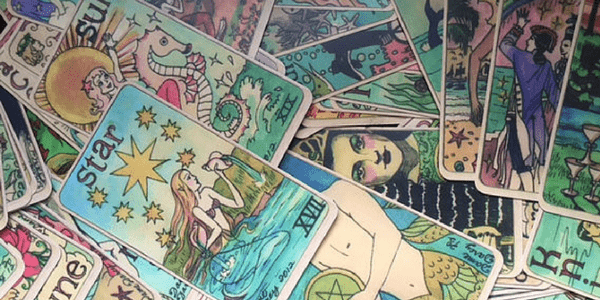 Dame Darcy is another indie tarot darling — a witch, comic writer, (Her 1990s comic Meat Cake was recently compiled into a beautiful volume) fine artist, author, film maker, and activist, and her Mermaid Tarot is absolutely beautiful. Fans and followers of her work will be familiar with her mermaid obsession, and the deck is a keepsake for sure. She's on the third printing of the deck now.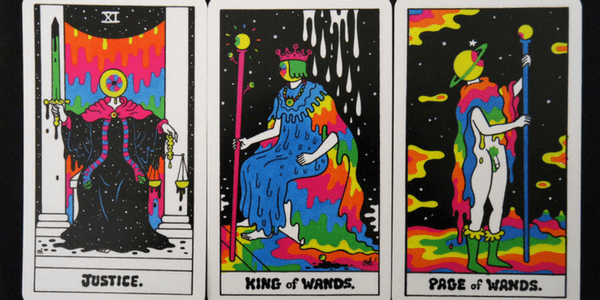 Oliver Hibert's The Tarot is a psychedelic deck that riffs on the iconic artwork by Pamela Coleman Smith, adding neon colours and playfully hallucinogenic imagery. The deck is a unique work of art, and very collectible. It's likely to appeal to readers interested in not only tarot but also irreverent pop art and psychedelia—Hibert's work directly references the art in the original Rider-Waite-Smith deck, adding wonderfully absurd embellishments that create a trippy tarot experience.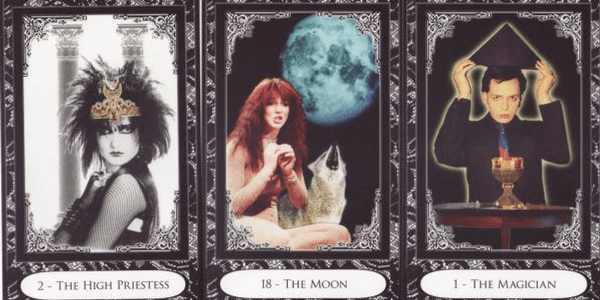 Full disclosure, I'm obsessed with the New Wave Tarot Deck. Created by Last Craft, a Chicago design team of artists Stacey Landino and Amanda Lee Stilwell, it features stars of new wave, post-punk, punk and industrial music. Siouxsie Sioux as the High Priestess? Klaus Nomi as the Chariot? Poly Styrene as the 9 of Cups? Yes, please! I've gotten wonderful readings from this deck, perhaps because I am so besotted with it.
The last three I'm including are produced by larger publishers, and are more widely available online. They're notable for unique and beautiful artwork: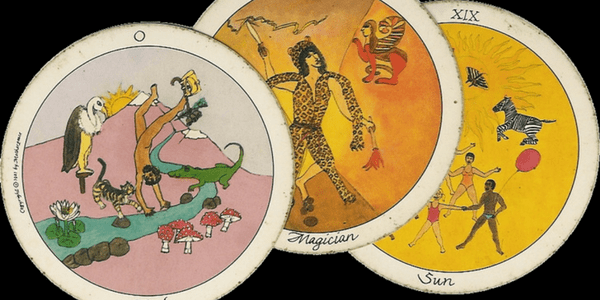 The Motherpeace Tarot is not only a round card deck with a wonderfully naïve style, it's also unabashedly feminist. Produced in the late 1970s, it's based on the traditional Rider-Waite-Smith 78 cards but adds feminist elements. In the words of their creators, "The Motherpeace cards became more than a divination tool for us: they were, and are, a fundamental healing process for reaching beyond the limitations of gender, age, race and class roles found in our society." This sounds like a tall order to me, but I can attest to the value of the round cards which lend new perspectives beyond upright and reversed card readings.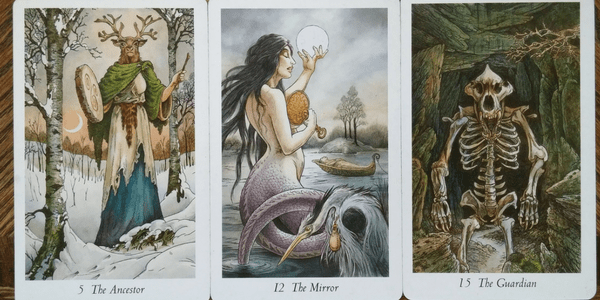 The Wildwood Tarot is based on the previous Greenwood Tarot, which is sadly out of print. Both decks utilize Celtic Shamanism, which lends them a unique perspective among the myriad of decks that update the artwork of the Rider-Waite-Smith, but not the hermetic occult inspiration behind the classic deck. The Wildwood is also beautifully illustrated, incorporating imagery dear to occultists of Celtic tradition such as the Green Man, the stag and the archer. Its focus is on ecology and Celtic myth.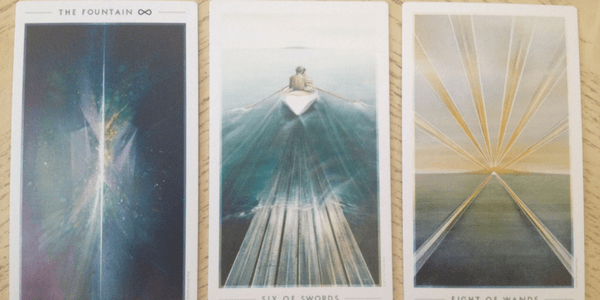 The Fountain Tarot is a modern deck with the traditional 78 card Major/Minor Arcana format, created by writer Jason Gruhl, artist Jonathan Saiz, and designer Andi Todaro. What makes it unique is the beautiful artwork that tarot enthusiasts are likely to find refreshingly uncommon. The paintings on the cards resemble watercolours with strong lines. From the website: "Ultimately, The Fountain Tarot offers a unique, contemporary experience connecting the worlds of geometry, internet culture, art, and spirituality."
Related: The Fountain Tarot, reviewed by Psyche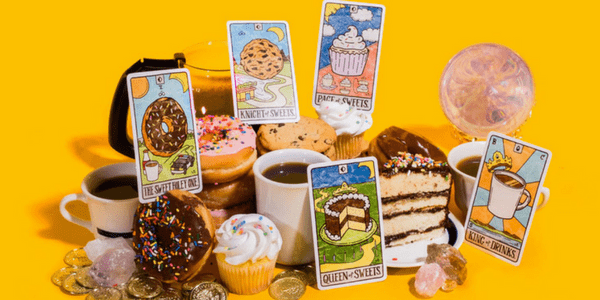 And finally, honourable mention for humour goes to the Food Fortunes Tarot. Much as one might surmise, this deck uses illustrated food for the suits and, as the author and illustrator Josh LaFayette notes, allows a reader to "divine a meal from the spirit realm." The suites are Mains, Sweets, Drinks and Sides. Happy reading and bon appetit!
Tarot decks are wonderful tools for meditation, magick, ritual, and divination. Most readers find they gravitate towards certain ones, and if they are collectors, their deck affinities can shift and change over time. With the amazing variety available, and the explosion of interest in tarot in recent years, there really is something for everyone's taste.
If possible, picking up the deck and handling the cards is a good way to ensure you like the look and feel of the cards in person. Many of the decks presented here are created in limited editions by independent creators and artists. Considering I have multiple decks, I'm happy to support an indie artist with a purchase online. This has garnered me a few unique decks with with I continue to grow and develop my tarot practice. If you have fun with your deck — in studying the cards and doing readings for yourself and others — it's more likely you will be rewarded with increased tarot knowledge and insight!
Related: How to buy a tarot deck by Donyae Coles
Related: 5 tarot and oracle decks reviewed and ranked from 2016
Related: 11 tarot and oracle decks reviewed and ranked from 2015
Image credits: Toshiyuki IMAI, Kristi Prokopiak, King Khan, Cristy C. Road, Samhain Moon (and Kim Krans, Oliver Hibert), Dame Darcy, Last Craft, Kaye Sturgis, tarot readings from a bitch, Benebell Wen, Josh LaFayette