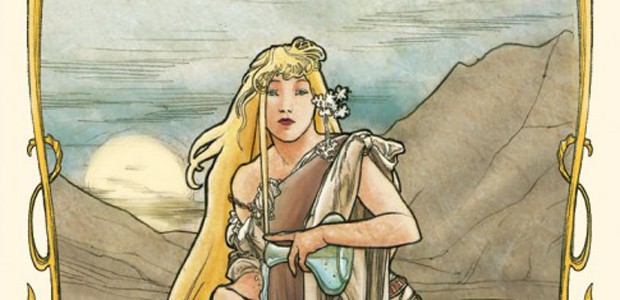 Looking for a new tarot or oracle deck, either for yourself or a friend?
Spiral Nature reviewed more than 65 books, tarot and oracle decks in 2015, and we thought it might be handy to share some of the most popular decks from 2015, ranked with links to the full reviews.
If you missed our earlier list, see "25 occultnik books reviewed and ranked."
Each item on this list has a handy Amazon link if you'd like to purchase the deck directly. Each direct purchase helps pay our writers and assistant editors, so if you're going to be purchasing from Amazon anyway, maybe click one of these links when you do?
Note: While we've reviewed a ton of decks this year, we've by no means reviewed everything that's come out. If we've missed one of your faves, please let us know in the comments, and we'll do our best to get one of our reviewers on it.
Enjoy! And thanks for your support!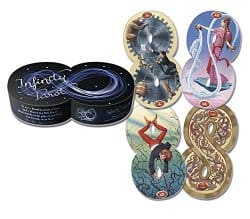 Reviewed by Corinna Underwood
The Infinity Tarot is an Italian-designed tarot deck, inspired by these words of mystic poet William Blake, who recognized that the spiritual essence of humankind is imagination.
The cards are rounded like the symbol for infinity, and about the same size as an average tarot deck, though the shape does make the cards a little unwieldy when shuffling, but you get used to it. The back of the cards has a colourful design of creatures and gemstones. They are presented in an elegant box of the same shape.
Click here to read the full review.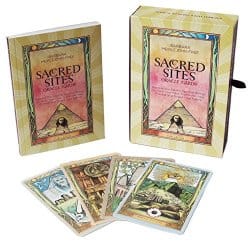 Reviewed by Susan Starr
Have you ever been affected by a place? Visited an area said to be an energy vortex, or even an old cemetery, and received impressions, visions, vibes? The experience can be overwhelmingly powerful, as Barbara Meiklejohn-Freedescribes in the introduction to this deck. Her strong connections to sacred places around the world gave her the idea for these unique and well-crafted oracle cards. The Sacred Sites Oracle Cards are at once a tribute to these irreplaceable sites and a way to access their ancient and transformative energy.
Click here to read the full review.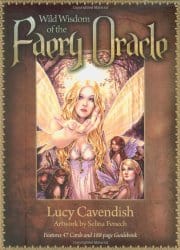 Reviewed by Susan Starr
This Faery Oracle started speaking to me the moment I opened it. Card number one was on top, of course, and it was The Three Graces: "Cooperative ventures with friends, joy, sharing, new partnerships that are fun." Two nights before I had met with an old publisher friend of mine, who proposed being part of a new magazine she's launching. And the week before, I had received word that my own oracle deck, Gaia's Vision, which I worked on with another dear friend, is slated for publication in 2016. I have a ball with both of these lovely women, and I expect it will just get better. The card had answered a question I hadn't even asked yet.
Click here to read the full review.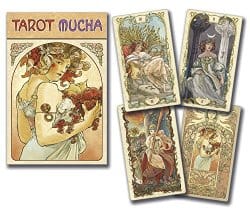 Reviewed by Tabitha Dial
The Tarot Mucha is an Art Nouveau style deck inspired by Czech painter Alphonse Mucha. Mucha's style resonates in his unique lettering, and the stained glass work that seems to influence his paintings. He broke into the art world when noted stage actress Sarah Bernhardt became the model for his most famous posters.
Tarot Mucha is a banquet for the eyes, the mind, and the emotions. A new breath comes through this deck. The entire package entices, with artistic choices such as the poses, and expressions of the figures on the cards, and a texture and richness of imagery. The figures and the angles of each archetype respect but step away from Rider-Waite-Smith tropes. Tarot Mucha offers both warmth and shadow, and skies and backgrounds engage every card with hints of depth and changing colour.
Click here to read the full review.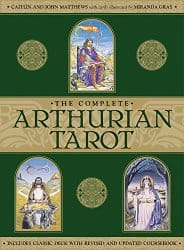 Reviewed by Corinna Underwood
This intricate set of tarot cards was first introduced in 1990, and was the first Arthurian tarot deck. Caitlin Mathews was trained in the esoteric mystery traditions through schools founded by Dolores Ashcroft-Nowicki,Dion Fortune, and Gareth Knight. She is also an acknowledged world authority on Celtic Wisdom. John Matthews is a historian, folklorist and author, who has written more than 90 books detailing the Arthurian legends and grail studies. The couple have combined their expertise in the creation of the Arthurian Tarot, which adds to the riches of Western esoteric heritage. In their words:
Click here to read the full review.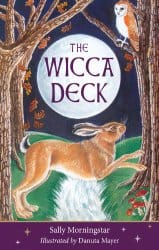 Reviewed by Susan Starr
When The Wicca Deck came up for review I was excited to put in my bid for it. I've worked with tarot and oracle decks for about a decade, but never one based on my own spiritual path. The Wicca Deck is a 42-card oracle deck originally published by Godsfield Press in Great Britain in 2001 and republished this year by Connections, also from Great Britain. Some key elements account for its staying power.
First, the illustrations are simple, cleanly drawn and easily relate to their titles and keywords, reminiscent of the Rider-Waite-Smith tarot. There is some abstract art in the cards, but card themes are always easy to detect; this is perhaps because the artist, Danuta Mayer, illustrates children's books, which usually depict real, basic objects. The clarity works well in this deck. The nature of the Wiccan path is diverse; every practitioner has a slightly different vision, and by keeping visuals straightforward one is invited to see the cards in her own way.
Click here for the full review.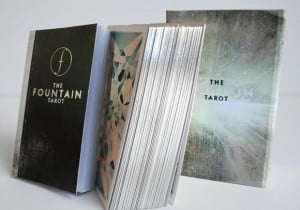 Reviewed by Psyche
The Fountain Tarot comes in an attractive shiny box, and the cards themselves have silver-gilt edges. Illustrated in a prismatic rainbow of pastels, the finish is matte rather than glossy, which allows the delicate detail of the original oil paintings to emerge. The cards are illustrated in a beautiful reinterpretation of Pamela Colman Smith's artwork in the Rider Tarot, integrated with the sacred geometry that influenced Lady Frieda Harris in her illustrations for the Thoth Tarot, which ultimately gives it a more contemporary feel.
Click here to read the full review.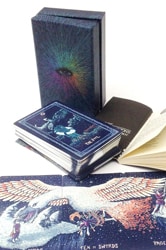 Reviewed by Psyche
There have been a number of gorgeous self-published decks coming out in recent years, and the Prisma Visions Tarot ranks high amongst them. It comes packaged in a sturdy flip-top box, with 79 silver gilt-edged cards, and a small booklet outlining the deck's symbolism and use.
This is James R. Eads' second tarot deck, following the Light Visions Tarot, which was produced in a limited edition of 500 copies, and has since sold out. Unlike his previous deck, the Prisma Visions Tarot is full colour, and is slated to be available indefinitely.
Click here for the full review.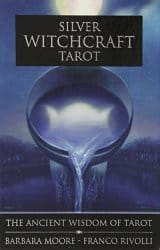 Reviewed by Marjorie Jensen
Illustrated by Franco Rivolli, The Silver Witchcraft Tarot is a Pagan deck that focuses on the cycle of the year and feminine energies. It draws upon traditional Rider-Waite-Smith Tarot (RWS) imagery as well as nature-based "magickal spiritual understanding," says Barbara Moore.
When opening the deck for the first time, its most striking features are the silver gilded edges and vibrant colours. The cards are easy to shuffle, riffling showcases the beautiful gilt edging, and the cardstock feels sturdy, but not too thick.
Click here to read the full review.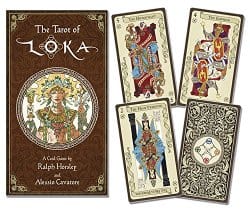 Reviewed by Nicole Rain Sellers
Loka is an ancient Sanskrit word meaning world, realm, or level of consciousness,1 an apt choice for an elemental fantasy game or tarot oracle, but there is no Vedic symbolism on the cards as might be expected. "Good" and "Evil" cards are a clever and original addition to the major arcana, making 80 cards instead of the usual 78.
In Loka, court cards of any suit may bear any elemental emblem. The water court cards, for instance, depict imposing blue skeletons wielding not just cups, but also swords, staffs, axes and shields. Probably due to the creators' unfamiliarity with tarot iconography and their penchant for weaponry, such features enrich detail and multiply possible interpretations, even if unintentionally.
Click here to read the full review.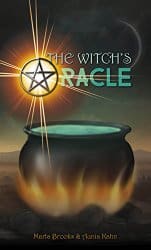 Reviewed by Susan Starr
Divination tools, be they card decks, runes, or pendulums, carry a certain resonance that an astute reader will feel as soon as they look at them, or hold them in their hand. This is largely how they decide to work with a particular tool. And so it was when I received The Witch's Oracle.
As I opened the postal carton and looked at the box, it felt to me likeSamhain. The box and the cards themselves are dark, velvety and deep, and reminded me of the richness of the traditional regalia witches wear on that sabbat. The red and black brocade card back becomes iridescent as the angle of light hitting it changes: quite stunning.
Click here to read the full review.