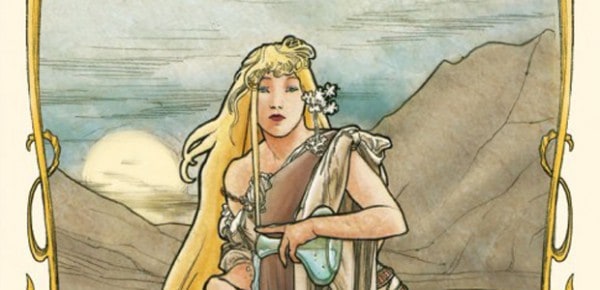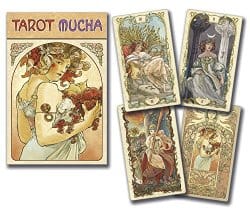 Tarot Mucha, artwork by Giulia F. Massaglia, colouring by Barbara Nosenzo, booklet by Lunaea Weatherstone
Lo Scarabeo, 9780738745589, 78 cards, 128 pp. booklet, 2015
The Tarot Mucha is an Art Nouveau style deck inspired by Czech painter Alphonse Mucha. Mucha's style resonates in his unique lettering, and the stained glass work that seems to influence his paintings. He broke into the art world when noted stage actress Sarah Bernhardt became the model for his most famous posters.
This deck is a pleasure to work with: it provides an almost immediate sense that it works well as a deck for daily use, a workhorse for professional readers and a fine introduction for those new to tarot. The deck features quality, slick cardstock, a sturdy box that could well replace a need for a bag or other container, and a well-written book that offers a few straight-forward spreads.1
Tarot Mucha is a banquet for the eyes, the mind, and the emotions. A new breath comes through this deck. The entire package entices, with artistic choices such as the poses, and expressions of the figures on the cards, and a texture and richness of imagery. The figures and the angles of each archetype respect but step away from Rider-Waite-Smith tropes. Tarot Mucha offers both warmth and shadow, and skies and backgrounds engage every card with hints of depth and changing colour.
The folds of each robe, each dress, and each cloak welcome viewers into this vivid little gallery. The deck remains faithful to Rider-Waite-Smith but is charged with a sumptuous, graceful energy and inventiveness, with the feminine present in more cards than those found within a traditional Rider-Waite-Smith deck. With a reenvisioning of women as The Fool, The Magician, Justice, The Hermit, The Wheel of Fortune, The Devil, The Moon, and many minor arcana cards including the Eight, Nine, and Ten of Wands, Tarot Mucha exhibits a broad range of feminine potential, and of course a touch of the divine.
Rider-Waite-Smith loyalists should be content in the work of artist Massaglia and colourist Nosenzo, and tarot enthusiasts who argue that Rider-Waite-Smith artwork is not pretty or skilled enough should find much to adore and champion in Tarot Mucha. The deck is rich in visual input, respecting Art Nouveau, but holding true to earlier tradition. There are new stories to tell, as well — the many representations of women in the minor cards inspire plenty of new interpretative possibilities to readers and to those who use tarot for goddess work, magick, meditation, and other rituals.
The Eight of Wands, that familiar but admittedly abstract rush of eight wands, here depicts a young, startled woman. She had been "travelling under the open sky,"2 and we are given some sense of the card's energy, even prompted to ponder what changes are afoot.
The Nine and Ten of Wands also place women in a prominent space, without victimizing or blaming. One is always open to interpret these particular cards in previous decks in a less forgiving sense: to me it seems the figures are burdened by the wands or their energy, especially in the Rider-Waite-Smith tradition. The maturity of the Tarot Mucha seems more in tune with the openness of more modern decks, and those that focus on the feminine.
A philosophy of acceptance and reason may be its strongest in Weathersone's description for the striking Three of Swords, which displays a woman in a desert, the three-sword image so prominent throughout other tarot decks held over her chest. "Let the tears fall as they will and give sorrow its due. Think carefully before you assign blame; it is unlikely that you are thinking clearly," Weatherstone writes.3
Weatherstone's writing and the design of this deck make for a clean entry into the world of tarot for beginners, and provide a new perspective to refresh cartomancy veterans. Each card lacks a name or title, which allows the imagery to speak with its own archetypal richness. New readers may not find themselves immediately tripped up on an instant connection of The Fool imagery with the term "The Fool." While this Fool card clearly keeps in step with other renderings of Fool energy, the title "The Fool" is not attached, quite possibly evoking many directions for introspection and storytelling should one use the images first, then review the text.
Without The Fool title, for example, the card may connote bliss or a spirited seeker, rather than foolhardy pursuit. The court cards appear with rather distinct indications of status, through a system of symbols, rather than titles, that give them their due. Again, this may encourage new readers to interpret based on visual impressions and intuition, rather than formalities of information, such as "Knave of Cups."
Surely this design choice was made in order to respect the artwork and remove the clutter that can accompany a Lo Scarabeo deck, typically published in multiple languages. With the multiple languages frequently comes a design that indicates the names for the cards in six languages. The lack of naming, in Tarot Mucha, allows for a clean visual and for less judgement, I feel, as to how one may respond to, reflect on, and resonate with a card.
Reading reversals of each card also seems discouraged, as no meanings for reversals are shared in the accompanying book, and the cards have asymmetrical backs. This can help newer tarot readers feel comfortable understanding only upright readings, while it need not stop anyone who enjoys reversals from choosing to use them.
Weatherstone's writing does the tarot world a service with its clarity and humanity. Of The Death card, she writes, "Acceptance of endings is demanded, whether of life itself or merely one role in that lifetime. Something that is finished must be released."4 She does not seem overbearing or overly spiritual, but strikes a balance between prompting readers to reflect and inviting them to adopt the potential messages of Tarot Mucha. The book is filled with great heart, sharp perception, and best of all, sense and practicality.
Captively populated, the figures are often stoic, and embrace each other or their symbols more intimately than in Rider-Waite-Smith clones, and the borders are not overwhelming. The simplicity allows the subtle flourishes to shine, and there is a slightly more modern feel in Tarot Mucha than in Rider-Waite-Smith, making the court cards, especially, seem more relevant, while the heartbeat of tarot beats faithful throughout.