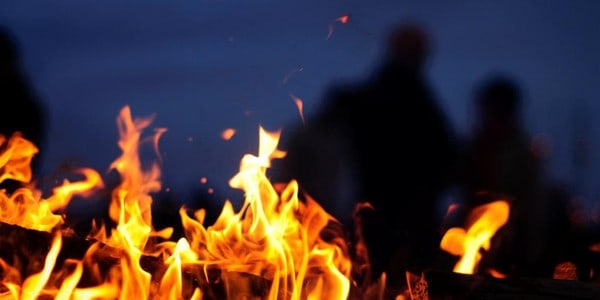 Yule or the winter solstice — December 21 or 22 in the northern hemisphere — was celebrated as the point of survival through half the winter. Communities were never sure if the food they put up during the abundance of summer and fall would last till the next planting season arrived. These days also marked the return of the light — longer days and shorter nights meant an end to winter was to come soon enough.
The Sun King was worshipped through dancing, singing and great feasts, perhaps beginning with a version of Sun King Soup, below. Roasted meats such as pig or goat, roasted chestnuts, winter root vegetables and the last fruits of the harvest were on the menu as well.
Germanic peoples celebrated the first Yule; the traditions we recognize today began there and spread to the surrounding lands over the years. Perhaps the best known and most beloved of traditions is the Yule log, plucked from the celebratory fire to burn in the fire of the next year, signifying the continuity of the cycle of life. Creative bakers of long ago began to make chocolate cakes in the shape of the Yule log (Buche de Noel is the French version) — definitely not meant to last until the following year! I've found an adorable variation on the log in the Yule Log Cookie recipe below.
Wassail, a traditionally alcoholic drink still popular among many northern Europeans according to an article on Patheos, "Winter Solstice: History and Recipes," was originally accompanied by a ritual honoring fruit trees and their hoped-for fertility called, naturally, wassailing. Friends would go out to an apple or other fruit tree, wet the roots with the wassail and pass around the rest. Then they would sing a wassailing song such as this one, from Recipes for a Pagan Soul:
Here's to thee, old apple tree
Whence thou may'st bud and whence tho may'st blow
And whence thou may'st bear apples enow.
Hats full, caps full, bushel, bushel sacks full, And my pockets full too!
Then they would lift their glasses to the tree and loudly shout "Huzzah!"
Bright blessings on your Yule feast!
Sun King Soup
As adapted from About Religion. 
3 tblsp. butter (use real butter, not margarine)
1 small onion, diced
2 1/2 cups tomatoes, diced
1 cup vegetable broth
3/4 orange juice, no pulp
a few sprigs rosemary
paprika
Saute the onion in the butter over low heat. Chop the tomatoes and add to the onions. Cook until the tomatoes become soft, just a few minutes. Add broth, and allow the whole thing to simmer over low heat for 30 minutes.
Transfer the entire mixture into a blender and puree, adding the orange juice. Return to stovetop, add rosemary, and simmer for about 5 to 10 more minutes. Add paprika to taste. Serve in warm bowls with a nice loaf of soft bread, or as part of a larger feast.
Yule Log Cookies
As adapted from Taste of Home.
Makes 48
2/3 cup pistachios
2 tablespoons sugar
4 cups semisweet chocolate chips, divided
1/2 cup butter, softened
1 1/2 cups packed brown sugar
2 eggs
1/4 cup whole milk
1 teaspoon almond extract
3 1/4 cups all-purpose flour
2 tablespoons baking cocoa
2 teaspoons baking powder
3/4 teaspoon salt
1 egg white, lightly beaten
2 tablespoons shortening
ground pistachios
Mushrooms:
Miniature marshmallows
Baking cocoa
Place the pistachios and sugar in a food processor; cover and process until ground. Set aside. In a microwave, melt 1 cup chocolate chips; stir until smooth.
In a large bowl, cream butter and brown sugar until light and fluffy. Beat in the eggs, melted chocolate, milk and almond extract. Combine the flour, cocoa, baking powder and salt; gradually add to creamed mixture and mix well. Stir in pistachio mixture.
Divide dough into eight portions. Wrap in plastic wrap and refrigerate for 3 hours or until firm.
Shape each portion into an 18-in. rope; cut each into six logs. Place 2 in. apart on greased baking sheets. Cut the ends of each log at an angle. Using a small amount of egg white, attach removed pieces to each log, forming branches.
Bake at 350° for 10 to 12 minutes or until set. Remove to wire racks.
In a microwave, melt remaining chocolate chips and shortening; stir until smooth. Working in batches, dip cookies in chocolate, allowing excess to drip off. With the tines of a fork, make strokes in the chocolate to resemble bark. Dust with ground pistachios.
For mushrooms, pinch half of each marshmallow to form a stem; flatten the other half for cap of mushroom. Dust tops of mushrooms with cocoa. Attach to cookies with a small amount of melted chocolate.
Let stand until set. Store in an airtight container.
Wassail
As adapted from Recipes for a Pagan Soul.
Alcoholic recipe:
Heat a large container of ale or beer, about 3 or 4 pints.  Add:
1/2 cup sugar
1/4 cup mixed spice — cinnamon sticks and whole cloves are also excellent
2 or 3 small sweet apples, cut up
1 1/4 cup pineapple juice
1 1/4 cup orange juice
The juice of 2 lemons
Place over a slow flame; then, before it begins to boil, take off the heat and whip up some cream. Let this float on top of the brew like foam.
Serve from a suitably large bowl — the more ornate the better.
Nonalcoholic recipe:
8 cups apple juice or cider
2 cups cranberry juice
3/4 cup sugar
1 tsp allspice
2 cinnamon sticks
1 orange
25 to 30 whole cloves
Turn the crockpot on high and pour in the apple and cranberry juices.
Stir in the sugar and allspice, then add cinnamon sticks.
Stud the orange with cloves and toss it in.
Cover the pot and cook on high for 1 hour.
Change the setting to low and allow to simmer for 3 more hours, then serve.
Image credits: Brian Colson, Jon Bunting, Orin Zebest, and LearningLark