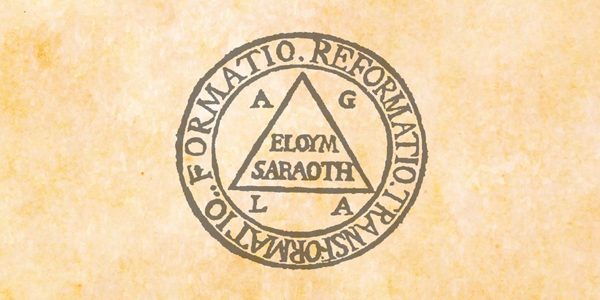 Looking for a new book on magick, spirituality, or occulture either for yourself or a friend?
Spiral Nature published more than 95 reviews of books and tarot decks in 2016, and we thought it might be handy to share some of the most popular reviews.
Each item on this list has a handy Amazon link if you'd like to purchase the book directly. Each direct purchase helps pay our writers and editors, so if you're going to be purchasing from Amazon anyway, maybe click one of these links when you do?
Note: While we've reviewed a ton of books this year, we've by no means reviewed everything that's come out. If we've missed one of your faves, please let us know in the comments, and we'll do our best to get one of our reviewers on it.
Enjoy! And thanks for your support!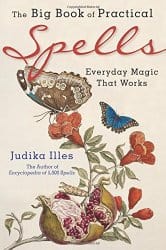 Weiser Books, 978-­1-5786-3597-9, 304 pp. (incl. glossary and bibliography), 2016
Reviewed by Daleth West
I've been a fan of Judika Illes for a few years, having purchased and obsessed over her wonderful Element Encyclopedia of 5000 Spells a few years ago. That book bills itself as "the ultimate reference for the magical arts," and is an exhaustive book of spells as well as an impressively large tome. So I was excited at the prospect of something a bit more portable, concise and, well, every day! In contrast to the Element Encyclopedia, which is 1,120 pages long and weighs over 2 kilograms, The Big Book of Practical Spells: Everyday Magic That Works seems pocket-size, and yet packs in so much, almost like the little sister to the encyclopedia.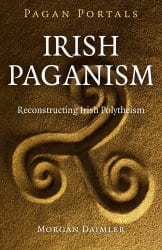 Moon Books, 978-1-78535-145-7, 98 pp. (incl. author's notes, bibliography, endnotes), 2015
Review by Sharon Woods
Irish Paganism: Reconstructing Irish Polytheism by Morgan Daimler is a slim volume — not even 100 pages — and a title in Moon Books' Pagan Portals series. Daimler describes herself an Irish Reconstructionist with Heathen tendencies and more than 20 years of experience. She also speaks Irish Gaelic and has self-published a book of Irish language translations. The amount of knowledge and information she has condensed into one small primer is considerable, and she manages to stay approachable and easily accessible to almost anyone.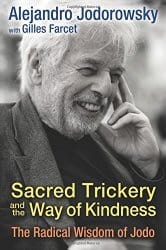 Inner Traditions, 9781620554593, pp. 185 (incl. epilogue), 2016
Review by L. D. Taylor
Sacred Trickery and the Way of Kindness is a collection of interviews with and about Alejandro Jodorowsky ("Jodo"), a surrealist filmmaker, theatrical icon, bande dessinée author, tarot worker, and creator of metageneology and psychomagic.
The core of the book is an introduction and interview originally published in 1989 as "La Tricherie sacrée." In 2004, this was expanded with a supplementary introduction, a shorter re-interview, which took place in 2003, as well as interviews with third parties, and a brief epilogue. Now, in 2016, the entire work has been translated to English and released as Sacred Trickery and the Way of Kindness.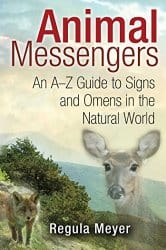 Bear & Company, 9781591431619, pp. 320, 2015
Reviewed by Tabitha Dial
Who knew a chicken could guide the psyche to appreciate new beginnings? Worth having for its extensive information, quality writing, and depth of insight into human nature, Animal Messengers: An A-Z Guide to Signs and Omens in the Natural World is no quick and flimsy resource. Without droning on or confusing, it has enough fact and an unexpected level of psychology to satisfy any curious reader. It delighted my inner child, and my inner zoologist.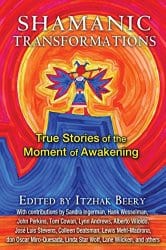 Destiny Books, 978-1-62055-475-3, 320 pp., 2015
Reviewed by Susan Starr
In Shamanic Transformations: True Stories of the Moment of Awakening, Itzhak Beery, a shamanic healer, teacher and founder of ShamanPortal.org, has gathered almost 50 accounts of "moments of awakening," called initiation in shamanic practice. Indeed, several times in my head I've called this book Shamanic Initiations. Yet that would be a misnomer, because initiation and transformation are two distinct experiences; the contributors not only recount their initiation, but how it took root and changed them irrevocably.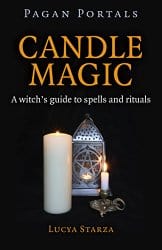 Moon Books, 978-­1785350436, pp. 128., 2016
Reviewed by Daleth West
Candle Magic: A Witch's Guide to Spells and Rituals is an excellent resource for anyone interested in candle magick for any purpose. It is concise and written in a style that neatly straddles whimsy with straightforward advice and information. Lucya Starza wrote the book for both candle magick novices and longtime practitioners, and this definitely comes through. She starts simply, discussing the basics of candle magick, and increases its complexity, which is significant, especially considering this is a short volume. By adding elements as readers go, candle magick can be made as elaborate and personal as one wishes.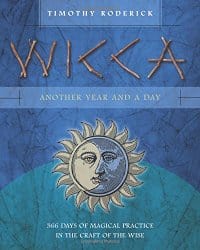 Llewellyn Worldwide, 9780738745503, 232 pp., 2015
Reviewed by Corinna Underwood
Traditionally, it takes a student a year and a day to complete their Wiccan initiation. In this sequel to Wicca: a Year and a Day: 366 Days of Magical Practice in the Craft of the Wise, Timothy Roderickhas combined his background in psychoanalysis and his knowledge of mythology, folklore, eastern philosophy and Wiccan practices to produce an in-depth, practical guidebook to the second level of Wiccan initiation.
Bear & Company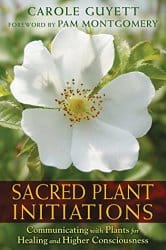 , 978-1-59143-213-5, 328 pp., 2015
Reviewed by Susan Starr
Sometimes a book comes along that is an answer to a personal prayer. Sacred Plant Initiations is such a book. For several years, I've wanted to engage in a sacred plant ceremony with a traditional psychoactive plant, a master plant such as ayahuasca, for insights, connection, spiritual growth. Yet, it is illegal to ingest those substances in the United States and traveling to South America, where it is legal, is not possible.
Sacred Plant Initiations: Communicating with Plants for Healing and Higher Consciousness opens a doorway for myself and others to commune with ordinary, nonpsychoactive plants we have around us which, the author, master herbalist Carole Guyett, explains, are powerful teachers in their own right and very willing to share their wisdom with us. She has provided a framework to do so, by developing a plant diet for each of the eight Wiccan sabbats.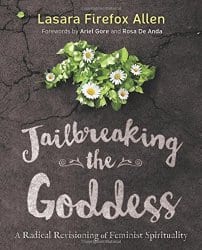 Llewellyn Worldwide, 978-0- 7387-4797- 2, 267 pp. (incl. appendix), 2016
Reviewed by Marjorie Jensen
I've chosen to be childless. There are numerous reasons why I have no interest in procreating: concerns about personal finances, the environment, the medical industry, my genetic material, and so on. In progressive, Pagan circles, the popularity of radical parenting and the importance of the mother face of the Triple Goddess have made me feel like an outsider. I've been told that I'll change my mind someday — a biological alarm will sound and suddenly I'll be desperate for a baby. In response, I seek out affirmations for my chosen childlessness. Lasara Firefox Allen's Jailbreaking the Goddess: A Radical Revisioning of Feminist Spirituality is one such affirmation.
Llewellyn Worldwide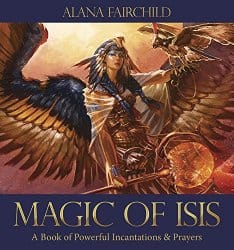 , 9780738747361, 100 pp., 2015
Reviewed by Donyae Coles
Alana Fairchild's Magic of Isis is a book of incantations and prayers peppered throughout with the gods of the Egyptian pantheon, and features Isis as the most invoked. It is a short text filled with colourful illustrations and, as a coffee table book, it works very well, but as a spiritual text, I found it lacking.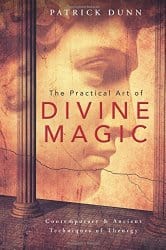 Llewellyn Worldwide, 9780738745282, 328 pp., 2015
Reviewed by Kalagni
I must admit that while I was excited for The Practical Art of Divine Magic, the title had me wary initially. I'm a huge proponent of practical magick, but when I think of practical magick, theurgy isn't the first place I go. Theurgy literally means "god working" and while it can have practical uses, generally it's described in lofty mystical terms.
Patrick Dunn describes theurgy as "a way of appealing to the divine using our reason, intuition, and aesthetic powers, in order to gain a greater perspective on reality and ultimately achieve the highest perspective, that of henosis: oneness with the ground of existence itself."1 Admittedly this still sounds lofty and mystical, but Dunn quickly makes the case for the practicality of theurgy by stressing that it is about working with a god, not for, under, or on a god, but with them.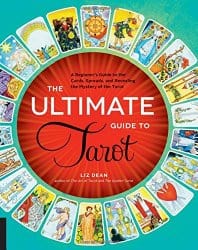 Fair Winds Press, 9781592336579, 240 pp., 2015
Reviewed by Kait Fowlie
This book and I were fast friends. At the time I received it, I'd only just bought my first tarot deck a few weeks prior, and the only reference guide I'd had was the little booklet that came with the deck. In a of couple weeks, Liz Dean's Ultimate Guide to Tarot proved itself to be a valuable resource, with descriptions of meanings for all 78 cards in the tarot and several different spreads. I have a feeling I'll continue referring to this book in months, maybe even years, to come — it has both key takeaway-style information to suit a beginner and also takes a deeper look at the symbolism and history behind each card for more advanced readers to explore.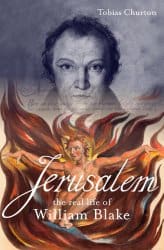 Watkins Publishing, 9781780287508, 358 pp., 2015
Review by Kalagni
William Blake is an ephemeral figure, his works are couched in his own esoteric world, and his life is even more obscure. Even though I have an English degree, and though I spent most of a year of that degree on Blake, and having read everything he wrote at least once, the man and his work still eludes my understanding.
Churton begins not with Blake's birth, nor an introduction of his family, but his death. Or perhaps better to say, the various accounts of his death. Did Blake die peacefully in his sleep? Was a painting of his wife the last thing he ever did? Did Blake spend his dying hours singing songs and describing to those present (was it just his wife, or were friends there?) the visions he had of heaven. Even the date of Blake's death is wrong in some of these accounts. From the beginning we can see the confusion regarding Blake's biography, and are introduced to the process of how Churton will investigate the truth.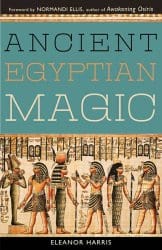 Weiser Books, 9781578635917, 240 pp. (incl. glossary), 2016
Review by Anie Savino
Ancient Egyptian Magic by Eleanor Harris is a fine text for beginners in this branch of occultism, and while this is not a Kemetic manual, those working in a Kemetic practice would benefit from some aspects of the book. Eleanor Harris has published two other books, The Crafting and Use of Ritual Tools, and Ancient Egyptian Divination and Magic.
Ancient Egyptian Magic is organized into six chapters describing ancient Egyptian philosophy, ritual tools and garments, amulets, writing, divinationtrance work, and using words of power. There is a glossary of deities and terms, along with a list of resources for more information for specialty items to outfit the detail-oriented magician.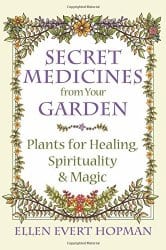 Healing Arts Press, 9781620555576, 384 pp., 2016
Reviewed by  Kait Fowlie
In Secret Medicines from Your Garden, master herbalist, Druid priestess, and lore mistress Ellen Evert Hopman shares some of her herbalhealing wisdom with her own distinct stamp of individuality, elevating this book above and beyond a simple reference book. What takes shape in these pages is a holistic resource for herbalists comprising herbal lore, recipes, and personal anecdotes, making this an ideal companion for anyone seeking an herbal mentor.
Rather than offering an appendix of herb names and functions (many are present, and the reader can skim them in some parts), readers get to experience them with Hopman as she retells parts of her journey with plants. In this way, the teaching in this book is alive.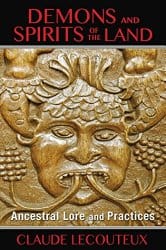 Inner Traditions, 9781620553992, 224 pp., 2015
Reviewed by Corinna Underwood
Claude Lecouteux is a French historian who specializes in the history and culture of Europe during the Middle Ages. One of his main focuses is the study of beliefs pertaining to supernatural entities, such as demons, faeries, vampires, and spirits during the Middle Ages. His theory is that many of these beliefs had their origins in pre-Christian ideas and understandings of the world. The book is academic in nature and is structures into three sections, the first dealing with "A Haunted Universe," the second "Conquering and Defending the Land," and the third "Survivals and Transformations."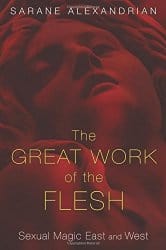 Destiny Books, 9781620553787, 226 pp. (incl. notes, bibliography, and index), 2000, 2015
Reviewed by Psyche
Sarane Alexandrian (1927-2009) was the author of more than 60 books, including several on occultism and art. In Paris, he was involved with Dadaism and surrealism, and the last secretary of Andre Breton. Originally published in French in 2000, The Great Work of the Flesh is Alexandrian's latest book to be translated into English.
In The Great Work of the Flesh, Alexandrian looks at the various ways sex has been used in magical practice, from love spells, to the use of sexual excretions in magick. He presents a roughly chronological catalogue of sex magick theories and practices from the Middle Ages to more contemporary practitioners.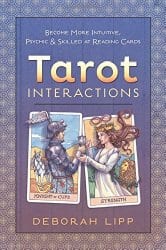 Llewellyn Worldwide, 9780738745206, 251 pp., 2015
Reviewed by Donyae Coles
When I picked up Tarot Interactions by Deborah Lipp, I was expecting a fairly standard dry read with perhaps some advice on spreads and card meanings. Many books on the tarot tend to read as encyclopedias, which if you're learning is very helpful, but not very exciting. I was completely surprised to find this book to be a rich and engaging guide for actually becoming a stronger tarot reader. This is very well-written book with practical exercises and unique anecdotes that show how varied the experience of reading can be for both the card reader and the client.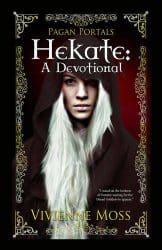 Moon Books, 9781785351617, pp. 96, 2015 
Reviewed by Daleth West
I must admit I picked up Hekate: A Devotional expecting a book about Hekate history, mythology, lore — and what I got instead was a devotional — a poetic, passionate grimoire dedicated to the chthonic goddess. The word "devotional" is in the title, after all, and it is an apt description of a very personal homage to Hekate.
Vivienne Moss has devoted her spiritual practice to Hekate, and that dedication comes through in every page. In a way it's a difficult book to read, and also difficult to review, because both the writer and reader are likely to have intensely personal relationships with the goddess. It reads in a dream-like cadence, with visions, poems, and narrative elements interspersed. It's precisely what the title suggests: a devotional text.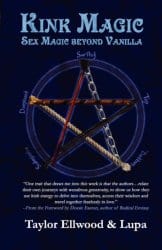 Megalithica Books, 978-1-905713-11-0, 202 pp. (not incl. appendix, index, and bibliography), 2007
Reviewed by Hathormetic
Kink Magic: Sex Magic Beyond Vanilla is an excellent book for those interested in mixing magick and kink in a sex-positive way. Heavily influenced by a "whatever works" chaos magick approach, the book lays a great foundation for exploring different techniques, ideas, dynamics, and practices in kinky magick.
This is a great guidebook for beginners to BDSM, kink, sex magick, or even magick more generally. Three chapters "The Principles of Kink," "The Basics of Magic," and "Sex and Sex Magic" outline some of the core ideas and concepts one might need to get started, with references to plenty of other reading material for developing one's techniques.
5. Crowley: A Beginner's Guide, by John S. Moore, illustrated by John Patrick Higgins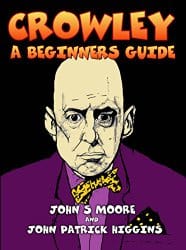 Mandrake of Oxford, 9781906958695, 153 pp., 2015
Reviewed by Psyche
Aleister Crowley was an Edwardian magician and founder of a new religious movement, Thelema. He was infamously described by the British press as "the wickedest man in the world." A lot has been written about Crowley the man, there have been a number of biographies, and several introductions to his works, such as Richard Kaczynski's Perdurabo, but I can't think of another book that's taken quite this approach.
John S. Moore's previous book, Aleister Crowley: A Modern Master, was a more straightforward biography, and while I took issue with some of his conclusions,1 Moore obviously knows this stuff. Here we get an illustrated introduction to Crowley's life, philosophy, and magical practice.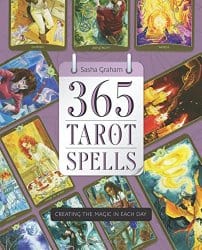 Llewellyn Worldwide, 978-0738746241, pp. 408, 2016
Prior to reading 365 Tarot Spells: Creating the Magic in Each Day I had never come across a book of tarot spells, and this was a surprising delight.
More than a decade ago, Sasha Graham was inspired to write this book by Janina Renee's Tarot Spells. Most of Graham's spells can be used to create magick using only the tarot. Some also require flowers, fruit or other objects from around the home. Through each spell she draws the practitioner into the tarot cards, so they can get to know the characters and explore the environments depicted. In this way the tarot deck comes to life and the practitioner gains a deeper understanding of themselves through the practice of magick.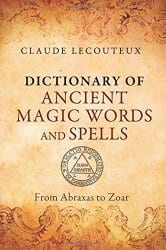 Inner Traditions, 978-1-62055-374-9, 418 pp., 2015
Reviewed by Anie Savino
Claude Lecouteux is a clear master in his field.  His extensive body of work centres on old magick.  Published works include Return of the Dead, The Tradition of Household Spirits, The Book of Grimoires, and The High Magic of Talismans and Amulets, to name a few.  A resident of Paris and a professor of the literature and civilization of the Middle Ages, Lecouteux is the right person to compile this dictionary. Part etymology, part cultural history, The Dictionary of Ancient Magic Words and Spells brings a range of influences and understandings together to weave a clear and useful fabric in the Western occult tradition.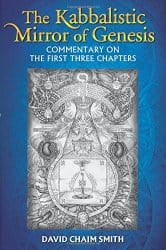 Inner Traditions, 978-1620554630, pp. 224, 2015
Reviewed by Frater 232
Given the widespread availability of numerous books on esoteric topics these days, it is rare to find a book that breaks new ground. The Kabbalistic Mirror of Genesis: Commentary on the First Three Chapters of Genesis, by David Chaim Smith, is just such a book. It offers a unique perspective on one of the bible's most well known myths, and presents kabbalah in a nondualistic and nontheistic fashion.
The Kabbalistic Mirror of Genesis is not a text for beginners new to kabbalah. It is dense, uses complex language, and assumes some familiarity with kabbalistic terminology, including the sefirot and divine names. (Readers who are looking for a more general introduction to traditional kabbalah may want to seek out Aryeh Kaplan's book Inner Space: Introduction to Kabbalah, Meditation and Prophecy.) However, for esotericists with an interest in kabbalah and gnostic contemplation, the book is a hidden gem. It presents a truly radical perspective, a perspective that is aligned with other nondual mystical traditions, as well as with magical currents such as Hermeticism and Thelema.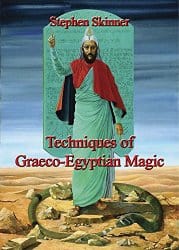 Llewellyn Publications, 978-0738748061, pp. 378, 2015
Reviewed by Frater 232
In recent years, occultists have demonstrated renewed interest in classical magick. Thanks in part to books like Aaron Leitch's Secrets of the Magickal Grimoires and Jake Stratton-Kent's Encyclopedia Goetica, mages have been pulling out obscure grimoires from the dustbins of history and using them to perform magick by invoking, evoking, and conjuring various types of nonphysical entities, including gods, angels, and infernal spirits. Along with the aforementioned authors, Stephen Skinner, working alongside David Rankine and others, has played an important role in the revival, and has coauthored key works including The Veritable Key of Solomon, Sepher Raziel, and The Grimoire of St. Cyprian – Clavis Inferni.
What were some of your favourite books of 2016? What did you want us to review, but you didn't see in this list? What would you like us to cover in 2017?