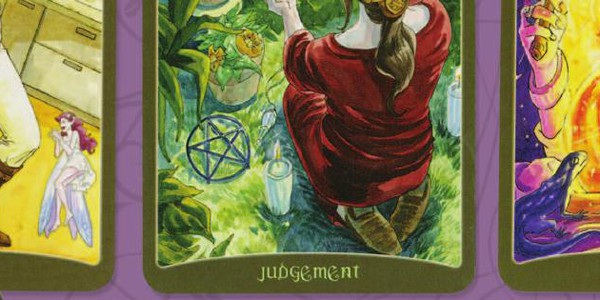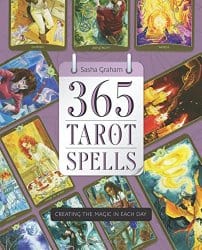 365 Tarot Spells: Creating the Magic in Each Day, by Sasha Graham
Llewellyn Worldwide, 978-0738746241, pp. 408, 2016.
Prior to reading 365 Tarot Spells: Creating the Magic in Each Day I had never come across a book of tarot spells, and this was a surprising delight.
More than a decade ago, Sasha Graham was inspired to write this book by Janina Renee's Tarot Spells. Most of Graham's spells can be used to create magick using only the tarot. Some also require flowers, fruit or other objects from around the home. Through each spell she draws the practitioner into the tarot cards, so they can get to know the characters and explore the environments depicted. In this way the tarot deck comes to life and the practitioner gains a deeper understanding of themselves through the practice of magick.
Magical practice will teach you that you are not separate from the natural world. You are part of it. You are not separate from other people. We are all connected.1
Before exploring the spells here, one thing you understand is that casting these spells is a craft in itself. They are not intended just to serve the purpose of manifesting material gain. Making magick, as Graham explains, is a three-fold process. It involves desire (the thought or idea), feeling (aligning yourself within the environment of the cards), and action (the casting of the spell.)
This book is easily accessible, whether you are an experienced tarot reader or a beginner. In fact, if you a novice, these spells are a great way to attune yourself to your cards. Graham uses Llewellyn's Classic Tarot to exemplify the spell, though you can use whichever deck you feel closest to; it will not adversely affect the spells or your outcome. Feel free to improvise.
365 Tarot Spells is laid out with one tarot spell for each day of the year, hence its title. But it is not necessary to perform the spell on that particular day. Before casting you should create a sacred space to perform the spell. It could be an altar in your room, your kitchen table, or a corner of your garden; wherever you feel comfortable and you can concentrate undisturbed.
Each spell has three aspects: the ingredients (three or more tarot cards along with other items), the method, visualization and meditation, and the incantation. For example, "The Peaceful Homecoming Spell"requires the Eight of Cups, Ten of Pentacles and your favorite grounding stone or rock.2 After placing the Eight of Cups in your sacred space, you are instructed to enter the card and embark upon the upward journey of the return. The cups behind you represent the experiences you are leaving behind. Place the Ten of Pentacles. Your movement through this card represents the situation you are walking into. As you meditate on the cards, feel the grounding energy in your stone and recite the incantation.
Every spell includes in-depth instructions that are easy to follow. I recommend reading through each spell a few times before casting, so you are prepared for what is to come. Each spell is also accompanied by a factoid that is related to the nature of the spell.
365 Tarot Spells is useful to have close at hand throughout the year. It is packed with useful spells including: "Find a New Job Spell,"3 "Snap Spell to Change a Mood,"4 "Increase Confidence Spell,"5 "Grant Me the Strength Spell,"6 "Bring Money Knot Spell,"7 "Mother/Daughter Contemplation,"8 and a number of connection rituals
You don't have to be a practitioner of the Craft to make the most of this book. It is a joy to use and easy enough for anyone to understand; a beautiful daily journey through the magick of tarot. 365 Tarot Spells: Creating the Magic in Each Day, by Sasha Graham is just what tarot enthusiasts need to take their readings to a new level, to get closer to their deepest desires, strongest needs, and most profound questions. Regardless of which tarot deck you use, you will find this book applicable.