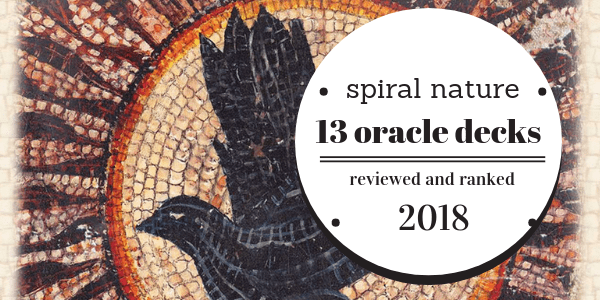 Looking for a new tarot or oracle deck either for yourself or a friend? Donyae Coles' guide to buying a new tarot deck can help, and — hopefully — so can this round up.
For those of you want to add depth and complexity to your readings, also check out Donyae's article on reading tarot and oracle cards together.
Spiral Nature Magazine published more than 114 reviews of books, tarot decks, and oracles in 2018, and we thought it might be handy to share some of the most popular oracle reviews.
Each item on this list has a handy Amazon link if you'd like to purchase the oracle directly. Each direct purchase helps pay our writers and editors, so if you're going to be purchasing from Amazon anyway, maybe click one of these links when you do?
Enjoy! And thanks for your support!
13. I Ching Oracle Cards
Reviewed by Donyae Coles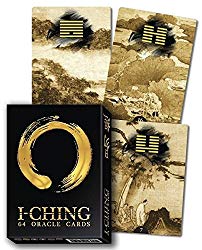 I Ching is a divination system that uses yarrow sticks or coins and a specific text to cast. I Ching Oracle Cards by Lunaea Weatherstone attempts to simplify this system, but in doing so loses the richness that makes I Ching such a compelling and accurate system of divination.

[Read the full review.]
---
12. Shaman's Oracle
Reviewed by Corinna Underwood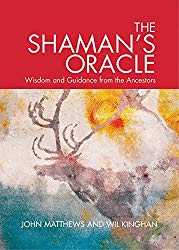 These days, oracle cards have become almost as popular as the tarot, and there are many different varieties of decks out there. The Shaman's Oracle: Wisdom and Guidance from the Ancestorsby John Matthews and Wil Kinghan provides a unique take on oracle decks by drawing on the traditions of ancient shamans from around the world. These traditions remain relevant today, as they contain profound knowledge of human nature.

---
11. Magickal Spellcards
Reviewed by Dallas Jennifer Cobb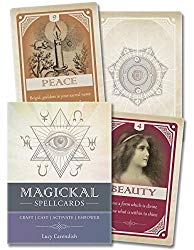 I was so excited when the Magical Spellcards: Craft – Cast – Activate – Empower by Lucy Cavendish finally arrived, that I opened the box as I walked home from the post office. The Magickal Spellcards are beautifully packaged, arriving in a protective box which contained a guidebook and the set of 45 cards. Each card is a spell, and they cover a range from "Love" to "Dream Sweet Sleep Deep."

---
10. Lunar Nomad Oracle
Reviewed by Joie Grandbois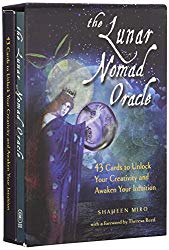 The Lunar Nomad Oracle is the first non-tarot oracle deck that I have ever used. The deck is based on the Lenormand oracle, traditionally consisting of 36 cards representing 36 different symbols, each with its own unique meaning. As noted in the book accompanying this deck, this system was created in the late 18th century based on a card game called the Game of Hope, and named after a well-known cartomancer from the same period, Mademoiselle Marie Anne Lenormand. Though it is unlikely that Mme. Lenormand herself ever used the cards, that didn't stop enterprising card makers from using her name.1

---
9. Viking Oracle: Wisdom of the Ancient Norse
Reviewed by John Farrell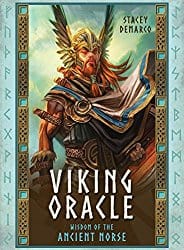 It's always a pleasure when an author is able to convey the sense of wonder that she first felt upon making a special discovery. When Stacey Demarco writes about discovering the world of Norse mythology as a young girl, I feel as if I am standing alongside her, reading about Thor, Odin and Freyja for the very first time. Demarco writes with an infectious sincerity and warmth when describing these encounters. The first pages of the guidebook that accompanies the Viking Oracle 45-card deck are as good of an introduction to the Norse mythos as any I've seen.

---
8. Sacred Earth Oracle 
Reviewed by Corinna Underwood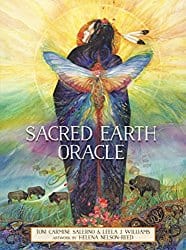 It is generally accepted that oracle cards are an off-shoot of the tarot. They are similar to tarot in that they may both be used to obtain guidance, for meditation, creative exploration, and even manifestation of desires. The first known deck of oracle cards dates back to 10th century France and was designed by Marie Anne Adelaide Lenormand. Today, oracle cards are becoming more and more popular. They can be used in tandem with traditional tarot or independently. Some oracle decks lend themselves to one more than the other. Sacred Earth Oracle Cards authored by Toni Carmine Salerno and Leela J Williams and illustrated by Helena Nelson-Reed is just as comfortable to use for reading in tandem with tarot or solo.

---
7. Earth Wisdom Oracle
Reviewed by Sharon Woods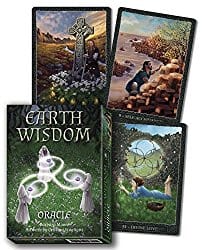 When I saw the box art and sample images for the Earth Wisdom Oracle, I was immediately enchanted. I knew right away that this was a deck that would resonate with me. My path skews into Celtic and Irish Reconstructionism, so the look and feel of Earth Wisdom Oracle was a good match.

---
6. Blessed Be Cards
Reviewed by Corinna Underwood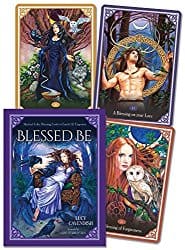 Oracle cards make a shift away from the traditional tarot. Whereas tarot decks have 78 cards, with 22 cards being major arcana, and 56 being minor arcana cards; oracle decks can have anywhere from 30 to 80 cards. Another main difference is that tarot cards have a structured deck, while oracle cards are more fluid in their design and interpretation. Blessed Be: Mystical Celtic Blessings to Enrich and Empower follow the latter style.

---
5. Greek Mythology Reading Cards
Reviewed by Psyche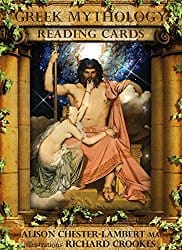 The Greek Mythology Reading Cards draw on artworks depicting classical Greek mythological figures, and presents them in an easy to shuffle and spread oracle format. The artwork on these cards is comprised of digital collage art drawing from a variety of periods — ancient Greek and Roman to Renaissance to those from 19th-century — in a variety of mediums, such as sculpture, painting, pottery, sculptural relief, and others. The images are in the public domain, and, as such, they're not always crisp, but Richard Crookes has provided the original artist, title of the work, and year it was completed for each, so that those with an avid interest in seeing the larger works can do so.

---
4. Sibyls Oraculum: Oracle of the Black Doves of Africa
Reviewed by Psyche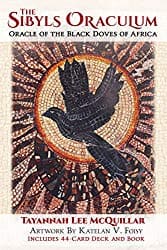 The Sibyls Oraculum is inspired by the Libyan sibyls, or "prophetesses," who were reputed to have the power of prophecy, speaking the will of deity, and divination. Tayannah Lee McQuillar has infused this deck with a deep sense of history and place, and it makes for a remarkable oracle.

---
3. Earth Warriors Oracle
Reviewed by Alanna Wright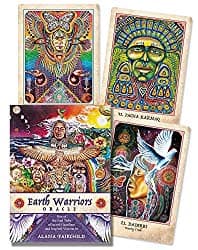 Alana Fairchild has released her latest deck, Earth Warriors Oracle: Rise of the Soul Tribe of Sacred Guardians and Inspired Visionaries. This vibrantly coloured deck captures the multi-fractal reality of shamanic vision quests perfectly, providing a glimpse into the fierce spirit of an earth warrior. The artwork of Isabel Bryna, merged with the intuitive wisdom of Alana Fairchild, has yielded a deck that is rich in imagination and truly one of a kind.

---
2. Wild Unknown: Animal Spirit
Reviewed by Donyae Coles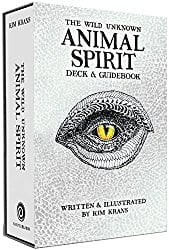 Oracle decks are very popular among people who read intuitively. The Wild Unknown: Animal Spirit by Kim Krans is a animal-based oracle deck, similar to the her tarot deck, The Wild Unknown, that channels archetypes in a format that people can relate to for honest and upbeat readings.
---
1. Lightworker Oracle
Reviewed by Alanna Wright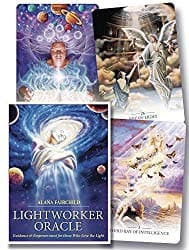 I was looking forward to receiving the Lightworker Oraclebecause I have enjoyed working with Alana Fairchild's other decks, such as the Kuan Yin Oracleand Sacred Rebels Oracle. The box art, which depicts a woman gently hugging herself as the cosmos swirls around her head, has a feeling of astralalchemy to it. This sense of a cosmic connection left me curious to see the content of the deck. However, when I opened the box and began working with the deck, I was a bit dismayed. The colourful imagery conveys a sense of universal transcendence and divine connection, but there is a sense of disconnection that makes it hard to relate to this deck.
---
Which oracle decks did you pick up in 2018? Did we miss any of your favourites?