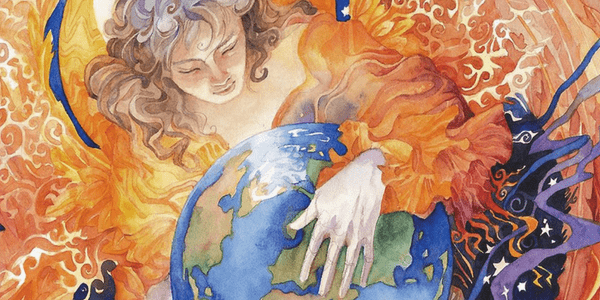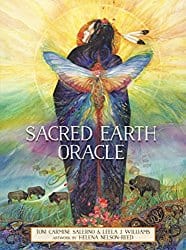 Sacred Earth Oracle Cards, by Toni Carmine Salerno, Leela J Williams, and Helena Nelson-Reed
Blue Angel Gallery, 46 cards, 120 pp., 2018
It is generally accepted that oracle cards are an off-shoot of the tarot. They are similar to tarot in that they may both be used to obtain guidance, for meditation, creative exploration, and even manifestation of desires. The first known deck of oracle cards dates back to 10th century France and was designed by Marie Anne Adelaide Lenormand. Today, oracle cards are becoming more and more popular. They can be used in tandem with traditional tarot or independently. Some oracle decks lend themselves to one more than the other. Sacred Earth Oracle Cards authored by Toni Carmine Salerno and Leela J Williams and illustrated by Helena Nelson-Reed is just as comfortable to use for reading in tandem with tarot or solo.
The Sacred Earth Oracle Cards deck is comprised of 46 vibrantly coloured cards printed on quality stock with a high-gloss finish. Unlike tarot and some other oracle decks, these cards are not numbered. As well as an image based on the author's spiritual inspiration, the front of each card also has a theme, such as Motion, Clarity, Connection, and Preservation. The reverse of the cards are sage green in colour, with a central circular design resembling interlaced trees. The deck is slightly larger than the average tarot deck, with each card measuring 9.5 x 14 cm. This can make shuffling difficult, particularly if you have small hands. I find that it's often easier to spread the cards on the table or reading surface, and shuffle them that way.
The images on the front of these cards are not framed, which gives them a boundless feel, almost as though you can look beyond the card. The style of artwork was explicitly chosen to complement the author's spiritual messages, and the artist has certainly succeeded. Each image expresses a wealth of detail in gentle, swirling images painted in colours and tones that draw you into the cards and invite you to keep looking. The cards come in a presentation box and are accompanied by a 120 page explanatory guidebook. The guidebook contains a one-page explanation for each card. Because the cards are not numbered, in the book, the divinatory meanings are listed in alphabetical order by card title in order to make them easy to locate. Although the guidebook does not provide a direct interpretation of each card's image, it does outline three different meanings. These are meanings are as follows: Earthly Meaning (explains this card's influences within the material realm), the Spiritual Meaning (explains the card's influences beyond the material realm), and Insights (aspects of this card that are useful for meditation).
Leela describes the deck as "a tool for guidance, insight, awareness, and support."1 In the accompanying guidebook, she also suggests several different ways to use the oracle. For contemplation, the cards may be used to build a relationship to the deck and also to introduce your own interpretations to the images. You can do this by picking a random card and meditating on it while paying attention to any thoughts which the image invokes. For guidance and divination, Leela suggests four layouts. The first is a simple single-card draw. You can use this for guidance for a particular issue or as guidance for the day ahead. You can do the same with a two-card layout. If you want a simple past, present, present, and future layout, she suggests a three-card reading. For a more detailed reading, Leela has developed the Earth Turns layout.2 This is a six-card spread that reveals your ideals and base foundations, as well as the past, present, near future, and distant horizon.
I chose Motion as a sample card to describe. This card portrays a woman who appears to be moving through the ether, which is vibrant with colour. The whole image appears to be in motion and the woman looks to be clutching a blue cloth, perhaps to still herself for a moment and take stock. The card's description reads, "Everything is in constant motion. Coastlines, continents, and mountains are moving. Some things move much slower than others and movement can be imperceptible.. Every movement is caused by another going all the way back to the first movement, the very first act at the point of creation."3 I think that this sums up the image perfectly. The Earthly Meaning advises the reader to be aware of any forces that may influence decisions and to release limiting thoughts or beliefs. The Spiritual Meaning reminds the reader of the power to release the self from lingering guilt and be free to hope.
The image on each card is unique in its style and its meaning, which makes this deck great for using alongside traditional tarot cards or even other oracle decks. As well as this versatility, another unique aspect is the guidebook's interpretation, which though not set in stone, are stepping stones to the material, spiritual, and insightful levels. This is of particular value for readers who are new to oracle decks, as they do not have traditional tarot imagery to rely on for guidance.
Leela Williams has been writing about spiritual matters for almost 20 years. She has published journals such as Spheres and the International Psychics Directory, which have led her to work alongside and learn from many gifted and inspiring thinkers. She has been recognized by the International Psychics Association for her ongoing support of the spiritual community. Leela also has a weekly slot on the radio show Sharina's Psychic Encounters. Visionary artist Helena-Nelson Reed's preferred medium is watercolour. She enjoys exploring the archetypal imagery and collective unconscious as portrayed in Jungian psychology and the anthropological studies of Joseph Campbell. Her images in this deck are rendered in luminous watercolor, giving them an etheric feel in every exquisite detail.  Like Reed, Toni Carmine Salerno is also a visionary artist. He is the creator of many books, meditation recordings, and oracle decks, such as Soul Mate Cards and Blue Angel Oracle. His artwork imbues a timeless sense of love which transcends words.4
I love the smooth and solid feel of these cards. I found the cards useful for one-card readings, for meditation, and for a look at the day ahead. The deck has a fluid and gentle energy that facilitates a light reading, but it also gets directly to the point. There is definitely a strong earth connection with these cards. Shortly after a reading, I notice signs popping up in nature around me, such as a pair of dragonflies, a humming bird, and a red fox. I have used the Earthly Meaning spread for myself and for others, and I found it on-point every time. I have also used this deck in the more traditional Celtic Cross spread and found it fits this very well. In future, I intend to incorporate the Sacred Earth Oracle Cards into readings with my tarot.