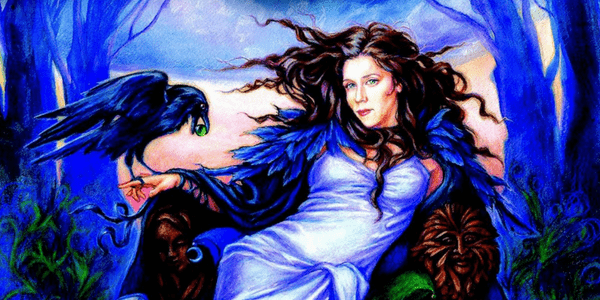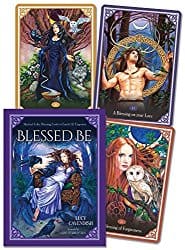 Blessed Be Cards: Mystical Celtic Blessings to Enrich and Empower, by Lucy Cavendish and Jane Starr Weils
Llewellyn Publications, 9780738759609, 46 cards, 140 pp., 2018
Oracle cards make a shift away from the traditional tarot. Whereas tarot decks have 78 cards, with 22 cards being major arcana, and 56 being minor arcana cards; oracle decks can have anywhere from 30 to 80 cards. Another main difference is that tarot cards have a structured deck, while oracle cards are more fluid in their design and interpretation. Blessed Be: Mystical Celtic Blessings to Enrich and Empower follow the latter style.
Lucy Cavendish is an intuition expert and spiritual author with international acclaim. Since childhood, Cavendish has experienced powerful extra-sensory abilities. As she grew older, she embarked upon a personal quest to understand and develop her gifts. Today, Cavendish promotes spiritual self-development through lectures, books, and intuitive training. Some of her other books include Spellbound: The Secret Grimoire of Lucy Cavendish and White Magic: An Inspiring Guide to an Enchanted Life.1
The deck is comprised of 46 beautifully illustrated cards. Each one, a unique blessing based on Cavendish's knowledge and love of Pagan blessings and rituals. The deck is slightly larger than the average tarot deck, with each card measuring 9.5 x 14 cm. Each card is printed in vibrant colours with the front image bordered in a narrow frame. The back of each card depicts a circular image, with three birds flying among flowers. The rear image is framed by a designed formed of Celtic knots. Each card is printed on quality stock in high gloss. The cards come in a presentation box, accompanied by a 140-page explanatory booklet.
The guidebook contains a one to two page blessing for each card, as well as a brief summary of the blessing. For example, "38: A Blessing on Growing Older: A blessing on your ripening years, for maturity and wisdom, for knowledge earned through the doing of sacred things, the fulfillment of magical tasks."2 These blessing offer compassion, comfort, and above all hope. Whether you are seeking a blessing to guide, a blessing to heal yourself or a blessing to bestow upon another, you are sure to find what you are looking for. The booklet does not contain an interpretation of the cards' images.
In the booklet that accompanies the deck, Cavendish makes several suggestions for reading the cards. Of course, you can still create your own personal style of reading. The suggested readings range from a one-card reading for the day ahead or a specific subject that is on your mind, to more complex spreads such as the Phases of The Moon Spread, which is a five-card spread which works with the different energies of each moon phase. Another more in-depth spread is the 13 Moon, 13 Blessings Spread, which is a 14-card spread that reveals what may unfold over the coming months.
For example, a sample card, 41: A Blessing for Solace and Hope, reads "41: A Blessing for Solace and Hope: A blessing to bring in the powers of water to cleanse and purify, rebirth and restore you."3 The card's image depicts a young, redhaired woman looking out from the card. She is wrapped in a white cloak ornately patterned at the front with gold and blue Celtic designs. Behind her stand the broad truck on a snow-covered tree. The card is bordered in dark blue. The book tells us that this card is a blessing for the comfort or consolation that comes in the form of a small moment of good fortune. Such a blessing comes from the universe to bring you hope for the future and to remind us that when life delivers wounds, it is not personal, and we should not succumb to feelings of hopelessness.
There are many things about this deck that make it stand out above other oracle decks. The first is that it is not merely an oracle deck. You can pick one or more specific cards to help you with your current situation, if you feel you need a blessing from the universe. You can also meditate on chosen cards for guidance. You also can use the cards as an oracle and ask questions of them, or do readings based on a timeline.
The Blessed Be deck is unique because of its stunning artwork that inspires the reader to search deeper into each card's symbols, which resonate with the soul. For example, the winged dragon in the Blessing on Your Health (9), the rabbit in A Blessing For Unity Where Once There was Division (37), and the wise owl in A Blessing on Your Intuition (8). Each image is an invitation to meditate, to form a connection between it and the nuances of its related blessing.
As a child, Jane Starr Weils spent much of her time exploring the magical woods of New Hampshire, where she would seek out the elusive mysteries of the shadows. Her artwork is deeply imbued with her fascination and love for nature and is also inspired by folklore, myth, and faery lore. Each of her works is a discovery of the colour and movement of light. Weils' artwork can be found in many publications, such as The Art of Jane Starr Weils Coloring Book, as well as CD and book covers.
While some readers might feel uncomfortable without an interpretation of the cards' images, I found that this allowed me to use my own imagination when interpreting the cards, and this gives a much more personal reading. I have used the cards for one-card daily readings, which I find this deck lends itself to. I also like to use this deck in tandem with my regular deck of tarot cards. When I am doing a Celtic Cross spread, I like to pull a card from the Blessed Be Cards to clarify the mood of the overall spread.
My experience with different oracle decks is gradually growing and is not as extensive as my experience and engagement with tarot, but Blessed Be resonated with me. I am attracted to cards with vivid artwork, and this deck meets that criteria. If you are looking for an unusual oracle deck that goes further than simply divination, this is a good deck to choose.
For more on Lucy Cavendish's work, see Jacqueline Valencia's review of The Book of Shadows and Light, Corinna Underwood's review of the Faery Forest Oracle, and Susan Starr's review of the Wild Wisdom of the Faery Oracle. [↩]
p. 109 [↩]
p. 115 [↩]