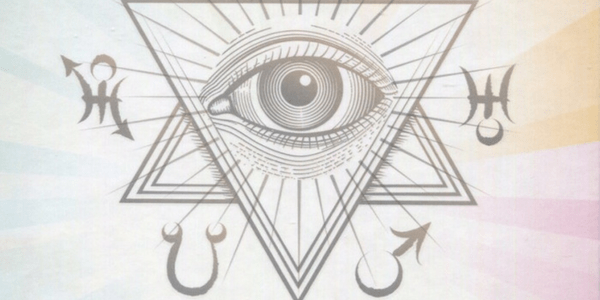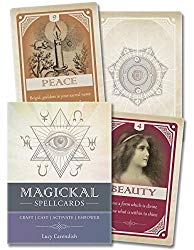 Magickal Spellcards: Craft – Cast – Activate – Empower, by Lucy Cavendish
Llewellyn Publications, 9780738756288, 45 cards, 142 pp., 2017
I was so excited when the Magical Spellcards: Craft – Cast – Activate – Empower by Lucy Cavendish finally arrived, that I opened the box as I walked home from the post office. The Magickal Spellcards are beautifully packaged, arriving in a protective box which contained a guidebook and the set of 45 cards. Each card is a spell, and they cover a range from "Love" to "Dream Sweet Sleep Deep."
In the introduction, Lucy Cavendish welcomes us to a "world of enchantment, empowerment and energetic change!"1 She encourages daily use of the Magickal Spellcards to "infuse life with a connection to the Divine, create daily ritual and engage the process of transformative change."2 Seemingly written for the initiate to magick, Cavendish overviews divination basics such as "How to Create a Magickal Space," "How to Work with your Magickal Spellcards," and "How to Store and Re-energize your Magickal Spellcards."
I was intrigued by the overview of gods and goddesses, and faeries and mermaids, and curious how they would all be woven into the spells. Cavendish also provided information on a variety of magical tools and their symbolism, including the days of the week, the phases of the moon, essential oils, herbs and plants, colours, a magical book of shadow and light, and the Law of Three.
The cards are made from durable card stock and have rounded corners, which makes them pleasing to the hand. Their surface is smooth and they shuffled easily. I enjoy the feeling of them.
While there is a lot of information on a wide variety of magical tools, but only a little but about how to spread the cards for a reading. For people new to using cards for divination, more how-to information would be valuable. In the introduction, the author Lucy Cavendish suggests either pulling or letting one Magickal Spellcard jump out at you, or doing a Spread of Spells such as a past, present, future three-card spread. Little is said about doing the spells themselves.
Pulling the suggested three cards, I lay out the Past, Present, Future spread. The cards I drew were Abundance, Letting Go, and Strength. Looking at the face of the three cards, I quickly noticed their simple line drawings and single colour. Numbered one through 45, the cards do not hold many symbols or depictions on their face, just the one line-drawn picture.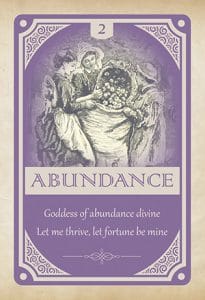 Abundance, card number two in the deck, has a drawing of three women emptying a basket of apples into a sack. The title, Abundance, is accompanied by the rhyming couplet "Goddess of abundance divine, / Let me thrive, let fortune be mine."
Flipping the cards over, I noted that the back of them varied. Examining the deck, I discovered that there were four possible designs: a hand, a goddess, an eyeball or a mandala. I wasn't sure if these images implied suits, and there was little said in the guidebook about them.
Returning to the guidebook, I began to read the detailed description for each card I had drawn. For each card there are two to pages pages of written material containing a general discussion of the card and its meaning, followed by a spell.
My first card, Abundance, had a reading which encouraged me to "reconnect with the source of abundance"3 and allow myself to be "filled with its nourishing energy."4 I learned that "the simplicity of this spell is akin to the simplicity of opening up to receive more of the goodness life has to offer."5
Unfortunately, the spell was not simple. I found a list of the magical ingredients needed for the spell, an incantation to perform, and a patron goddess to petition. To cast the Abundance Spell I was urged to assemble bergamot oil, Earl Grey tea, nine silver coins, one green candle, and seeds, then wait until the moon is waxing, and cover my altar with a gold cloth. ((p. 31) Discouraged, I didn't read any further, because I felt totally overwhelmed. In my home I had nothing but the seeds. And the moon was just past full, so it would be weeks before it was waxing again. I gave up on spell casting for Abundance.
I abandoned the other two cards, and gave up on the reading, because it all seemed so complicated. Flipping through the guidebook my eyes fell on many other spell suggestions, and so many of them shared the same problem: they weren't spells that everyone could do easily. Most of them required extensive consumer purchasing to acquire the ingredients, and many of them were to be done only in a specific cycle of the moon.
As a Pagan who has practiced spell craft for four decades, I found the Magickal Spellcards made spell casting appear very complicated. For me, a good spell is one I can do without buying special ingredients, that I can do when I need it, and that helps me to feel empowered within my life.
While I liked the box and quality of paper that the Magickal Spellcards were printed on and packaged in, I found the words and ideas made me feel less empowered, a little depressed, and frustrated.
Overall, I don't recommend the Magickal Spellcards — especially not to anyone new to the craft. With a lack of archetypal imagery and symbolism, the cards rely heavily on the written word and perspective of the author, and the heavy emphasis on special ingredients creates too many barriers. If, on the other hand, you have lots of time and money to spend, you could enjoy using these cards to cast complicated spells.