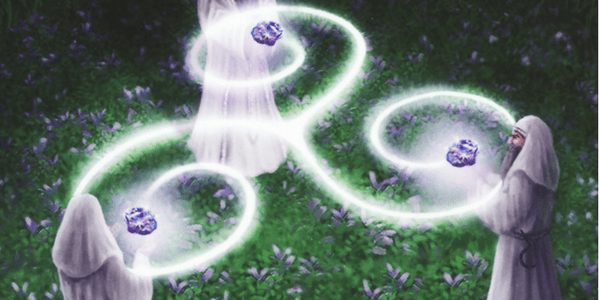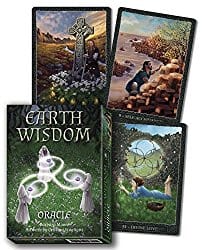 Earth Wisdom Oracle, by Barbara Moore and Cristina Scagliotti
Llewellyn Worldwide, 9780738753775, 32 cards, 127 pp., 2017
When I saw the box art and sample images for the Earth Wisdom Oracle, I was immediately enchanted. I knew right away that this was a deck that would resonate with me. My path skews into Celtic and Irish Reconstructionism, so the look and feel of Earth Wisdom Oracle was a good match.
The deck was conceptualized by Barbara Moore, a prolific author behind many oracle and tarot decks, and books on cartomancy. In the little white book (LWB) that comes with this deck, Moore writes, "The oracle honours the knowledge and understanding of the earth."1
These cards aim to help us tap into nature's wellsprings of wisdom for guidance, which leads me to the deck's most intriguing feature. Each of the 32 cards have correspondences with an herb and a crystal, both of which are featured in their card's illustration. For example, card one, Boundaries, corresponds with yarrow and amber. In this way, the Earth Wisdom Oracle lives up to its name, as it provides readers a way to move beyond divination to incorporate harmonious or relevant energies from nature into further rituals.
The vibe of this deck is restorative, and that comes across in its artwork, which is serene and cohesive with a soft focus effect. Although there are figures in almost every card, they often seem secondary to their environments, which are depictions of Irish landscapes, and the herbs and crystals of interest. Perhaps as consequence, lthey lack diversity. The people depicted are mostly young, mostly women, and universally light-skinned. I'm not sure if that is a choice in representing a historical (mythical) Celtic culture, or an out-and-out oversight by the deck's creators. Although this deck uses correspondences to push the limitations of divination, in some ways it's not all that woke.
Nevertheless, I would categorize it as a predominantly healing deck. It has a very positive, nurturing bent, featuring cards such as "heart healing," "self-acceptance," "divine connection," and "healing grief." Of the entire deck, the only card that looks to go a little deeper and flirts with a darker path is 21, Shadow Treasures, which teaches that "We all have parts of ourselves that we keep hidden… Shine the light of love in the dark corners of your soul and look with compassion on these neglected qualities."2
That's not to say this oracle is shallow, but it is gentle in its nature and uplifting in its focus. In my own work with the Earth Wisdom Oracle, I found that its strength is in picking up on and reflecting the reader's emotional state, and then offering suggestions for moving forward, including an affirmation which can be found in the accompanying LWB. Notably, during the week I spent pulling daily cards, I pulled 14 — Grace (correspondences, rue and kunzite) three days in a row. This card's lesson is about being mindful of self-criticism and recognizing our own worthiness and divine spark. These daily draws took place in the week leading up to Christmas, a time of year that tends to be fraught for me and when I am very likely to be hard on myself. The cards picked up these same feelings and themes in a larger Celtic  Cross spread I did, as well as offering suggestions on other concerns I had about the direction my life would be headed in over the coming months.
However, because this deck is so gentle, I do feel its lacking a bit in follow through. Two suggestions it gave me in my reading were to "go with the flow," and "try to see the big picture." Those two things are easier said than done, and difficult to act on. For that reason, this deck would do best in the hands of an experienced healer, someone who could relay its messages to a querent, perhaps with an appropriate side of tough love. I also think a healer would be more likely to know how to best incorporate the corresponding herbs and crystals either in an accompanying ritual — I'd love to see these cards used in conjunction with a crystal grid! — or with recommendations for how a client can incorporate the appropriate herbs and crystals into their routines going forward.
All in all, the Earth Wisdom Oracle is lovingly crafted by Barbara Moore and illustrator Cristina Scagliotti, and could be a powerful tool in the hands of practiced healer or light-worker. But I do think it is niche, and while it has its place, I don't recommend it as a first deck, or a deck for more generalized clients and readings.
p. 7 [↩]
p. 28 [↩]