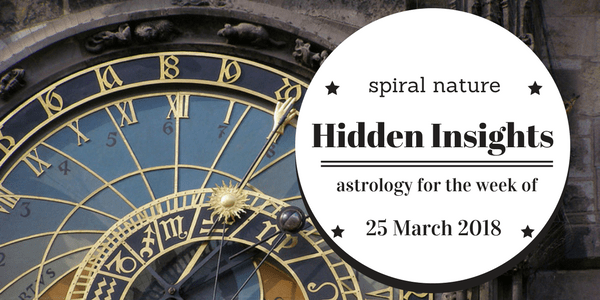 Hidden Insights is focusing on Venus this week. This is because she is the biggest planetary player, with no other planets making any major movements. The first few days of the week should be fairly routine, as the heavens are quiet. Though things will heat up quickly on Wednesday when Venus aligns with Uranus. This brings chance encounters with strangers, activates our social lives, and generally makes interactions with others obscure and shocking. We shouldn't be surprised if some interactions make us feel uncomfortable, shocked, agitated, and possibly amused. While this is a great time to meet new and exciting people, we shouldn't anticipate too much stability from others.
On Friday Venus will move out of Aries and into Taurus. She is her happiest when in Taurus; it's one of the two signs in her domain. This shift sets the weekend up for relaxing and lazy energy. Over the next few weeks we will enjoy the finer things in life, and many of us will do everything in our power to do nothing at all. Venus in Taurus appreciates naps, rich foods, and soft fabrics. It's also a very fertile sign, so this is a fantastic time to get pregnant or plant in a garden. Since spring has sprung and many are beginning to plant we can expect a fruitful harvest this year. So if you've never had luck with gardening, this could be your year.
The final task of Venus this week is to rule over the Full Moon on Saturday. In Libra she brings harmony and balance to the magnetism of the Moon. As the ruler of Libra this lunation is likely to bring some thoughts and feelings of romance. While this is all lovely, Hidden Insights must also announce that this full Moon aligns with two fixed stars. First she makes contact with Porrima, which can bring domestic disharmony. It's typically also has a malefic influence over marriages. So if you are planning to get married this Saturday do so after 12:16PM Eastern. If you're getting married around noon you can sign your legal papers early or later in the day, this way you can ensure a long and happy marriage. The Full Moon also aligns with Gienah, which often brings theft and deceit. These two stars together with a hedonistic Venus is likely to bring drama, discord, or announcements of divorce to the public eye. Watch the tabloids closely this weekend, I'm sure they won't disappoint.
Astro Homework:
As you may have guessed, your assignment this week focuses on the planet Venus. As she changes signs on Friday use this weekend to indulge yourself. Plan early to allow yourself a relaxing bath, nap, or meditation. Do this on Saturday during the Full Moon to honor your own beauty. This is also a great weekend to charge your make up, soaps, and lotions in the moonlight. Venus, Taurus, and Libra will help empower them to work their magick to enhance your looks. Sometimes it's ok to be a little vain, just try not to get too carried away and lose your humility.
Aries (21 March — 20 April)
It's time to shake up your personal appearance this week, Aries. You may notice you become a bit more self-conscious about your hair, clothes, and body. Venus and Uranus awaken this fixation, so you may want to give yourself extra time in the morning to get ready during the second half of the week. Chances are you'll want to change clothes several times, or fight with your hair for longer than usual. Keep your nose down at work on Thursday, as some conflict and obstacles may arise. This will be particularly clear with those in positions of authority. You may have spent extra time making sure you look perfect, but a supervisor won't care what you look like when they confront you. It will be best to take a step back on this day, and be a silent observer instead of interjecting opinions without being asked. As Venus changes signs, she moves into your house of finances. Here you may be more inclined to spend more than usual over the next few weeks. Do yourself a favour, and try to exercise restraint.
Full Moon insight: Trust your partner, and be honest with others.
Taurus (21 April — 20 May)
You're ruling planet is very busy this week, Taurus, and the first thing it wants you to do is confront bad habits or counterproductive patterns. While you love to keep mostly to yourself, you'll be a bit more exposed than usual on Wednesday. A secret you've been keeping may more easily come out. Perhaps it's best to stop holding on to it. Thursday may feel particularly challenging, as you may be confronted with some road blocks in clearing up things that control you. If you are trying to fix something and encounter a delay, don't give up. Chances are the set back is not as far as you thought it was. As your ruling planet moves into your sign on Friday, you can expect a surge of energy. You've confronted some personal demons earlier, and the next few weeks Venus will help you redefine who you are. With this creative and fertile placement, you can truly change anything you want.
Full Moon insight: Your health is shaken to make room for positive growth.
Gemini (21 May — 20 June)
Friends surprise you this week, Gemini, and while you are typically a social sign, you may be overwhelmed with all the possibilities. Midweek you'll want to do your best to keep your feet on the ground, as people seem to be popping up out of nowhere. While the rest of the world is scrambling to deal with odd or unusual interactions, you'll be right at home having random conversations with the quirky. Chances are you'll meet some great people this week that you can add to your circle of friends. You may also want to be on the lookout for a friend who may reveal that they have feelings for you. As Venus changes signs, it moves into a more meditative sector of your chart. Here Venus will hide and the next few weeks will be somewhat introspective for you as you learn to embrace your shadow. Fortunately, you'll be meeting people who can help share their own insights about similar experiences.
Full Moon insight: Trust children and those younger than you; they speak the truth.
Cancer (21 June — 20 July)
Spontaneous encounters with parents, authority figures, or supervisors will likely pop up this week, Cancer. Venus and Uranus add a social flair to the people in your life. Wednesday you'll be able to make amazing connections and gain insight — if you can stay focused. Remember that Uranus energy is erratic, so try not to take anything too seriously, and you'll gain a lot of ground with others. While it may make progress early in the week, Thursday could throw you off balance, when excessive worry might force you to question the motives of others. You'll need to take a few breaths and reign in that Cancer concern or you'll lose all the progress you've previously made. Friday brings a wonderful shift to your social life as Venus enters Taurus. It will bring friends closer and make you more popular. The next few weeks you'll have the opportunity to reach out to others, have fun in groups, and build stronger friendships.
Full Moon insight: Disharmony at home will quickly pass.
Leo (21 July — 20 August)
You can't sit still this week, and your sense of adventure goes into overdrive, Leo. Wednesday could bring an opportunity to travel, though you may feel rushed to make a decision. Wait till you have all the facts, as Thursday could put a damper on travel plans. Wednesday and Thursday you could also be called to some minor political action. This could take the form of local or small group governing bodies. So if you sit on a board or committee, you'll need to use your charm to refocus others. The weekend heats up early on Friday when Venus changes signs. She will spend the next few weeks in your sector of status, reputation, and authority figures. This marks the beginning of a great period for advancement at work. While it's not always best to change jobs or positions during a Mercury retrograde, it's probably time to start setting yourself up for a potential change later in the year.
Full Moon insight: Be careful of road rage and dramatic neighbours.
Virgo (21 August — 20 September)
The strange and mysterious may seem to be following you this week, Virgo. It's almost like fate is pushing you into the right place and the right time. Money is highlighted with Venus this week, and something unexpected financially is sure to meet you before Friday. For those of you who have children, you might run into some conflict on Thursday. This is likely to manifest as an obstacle put in front of their path that you will need to help them with. For those of you who do not have children, this is likely to bring some struggle with your love life. Either way, it will be short lived, so don't stress too much. As Venus moves into Taurus on Friday, it brings with it the potential for promotions as well as an increased popularity. Over the next few weeks you'll have this energy at your disposal, so use it to your advantage.
Full Moon insight: Don't argue about money.
Libra (21 September — 20 October)
Relationships get hot and heavy this week, Libra, with a few surprises thrown into the mix. Chances are someone you are interested or currently involved with may show more affection than usual. Many Libras will be getting engaged this week or taking relationships to the next level. For those who are already married or not interested in a relationship, this energy will be expressed through a friend. While they likely won't proclaim their love for you, they will bring you a pleasant surprise. They may also invite you to join forces with what may seem like a wild venture. Thursday brings some stress at home, and you may feel trapped in your own environment. Spend more time away today to avoid feeling overwhelmed. As Venus changes signs, you can anticipate a boost in your finances over the next few weeks. However, money taken, shared, or jointly invested with others will be your best bet for a large return. Of course, it doesn't need to necessarily deal with investing, a friend could ask you to share the cost of a trip, event, or purchase.
Full Moon insight: Speak kindly to yourself to avoid self-undoing.
Scorpio (21 October — 20 November)
The first few days this week will be fairly uneventful, Scorpio, though you may be anxious to make some changes. By Wednesday you'll want to brace yourself at work. It's clear that coworkers may not only get on your nerves, but seem to be drowning in their drama. As they try to drag you down with them, it'll take your sharp scorpion tail to end it. You also get a lovely boost of physical vitality, and you feel healthier and more motivated than you have felt in a while. You just don't want to overdo it on or you could find yourself dealing with some minor accidents. Make sure you watch where you're walking. On Friday Venus illuminates your house of partnerships and the next few weeks may focus on your interpersonal relationships. This marks a time where you will find yourself more attentive, romantic, and possibly more affectionate. This is because you'll be spending more time, whether you like it or not, with someone important to you.
Full Moon insight: Enjoy justice as secrets are revealed.
Sagittarius (21 November — 20 December)
It's going to be hottest week of the year for your sex life, Sagittarius. Venus and Uranus intensify your libido, and the animal side of your double bodied sign bursts forth. If that wasn't enough, you'll be able to charm just about everyone you meet. So if you're currently playing the field, this will be a great week to meet with potential love interest. For those of you who are already in a relationship, make sure you remember that your partner may not be having the same type of transit. Creativity also flows this week and, like last week, you may be more inclined to find a way to unwind. Explore your hidden talents, just don't be frustrated if you feel blocked from enjoying yourself later in the week. When Venus changes signs on Friday, it will initiate a new sense of harmony at work. The next few weeks look great for you here, and you'll make some new connections with those you work with. Don't be surprised if coworkers ask you to join them on an outing.
Full Moon insight: Let yourself go, and party with friends.
Capricorn (21 December —20 January)
Home and family come around again with a continuation from last week, Capricorn. However, it is your physical home that gets the most attention. Monday and Tuesday are likely to bring some humor to your household either from children or pets. Just make sure you watch them closely or on Wednesday you could be cleaning up a mess or dealing with something that was broken by accident. It also might be a good idea to double check your heating systems, as there is an increased chance of something going wrong here. On the bright side, you have Venus changing signs to look forward to on Friday. Here it creates a fantastic ability to make plans to travel, and over the next few weeks, you might do just that. While you a practical sign, the next few weeks could very luck in games of chance and gambling. Of course, don't spend all your money on lottery tickets or at the casino.
Full Moon insight: Things at work are about to come to fruition
Aquarius (21 January — 20 February)
The roads may feel a little treacherous this week, Aquarius, as those around you won't seem to be paying attention. Luckily, you'll have a keen eye for safety and can safely navigate others on the road. This is most active on Wednesday, so be extra vigilant, and try not to do any long distance or late night driving. This week also brings an invitation in the mail as communications from others are surprising this week. A minor setback is potentially due on Thursday, especially in the area of how you communicate with others. Make sure you speak slowly and clearly so others understand you. Chances are your mouth will seem to have a mind of its own. Lovely Venus moves into your house of home on Friday, and this is an auspicious placement for redecorating, purchasing new items, and making your home more of a haven. If you've been putting projects on the back burner, you'll be able to see them through to the end over the next few weeks at home.
Full Moon insight: Faith and spirituality are becoming clearer.
Pisces (21 February — 20 March)
You might be inclined to take some financial risks this week, Pisces. Over the last few years, what you value in life may have changed. Perhaps you put less emphasis on material wealth and have focused on spiritual wealth. This could all change this week, as Venus asks you to make money through social interactions. Chances are you could be setting yourself up to start earning money in an unusual or innovative way. Some move towards working at home online, others find a way to make money with hidden talents. This week you'll meet just the right people to help you catapult yourself towards financial freedom. However, you'll want to avoid making any concrete plans on Thursday, especially if it is a large group venture. You want to avoid joining forces with groups to make money. As Venus moves into Taurus this week it triggers a period over the next few weeks where you will be more intellectually stimulated and will charm others with your verbal wit.
Full Moon insight: Others may lean on you for financial support.