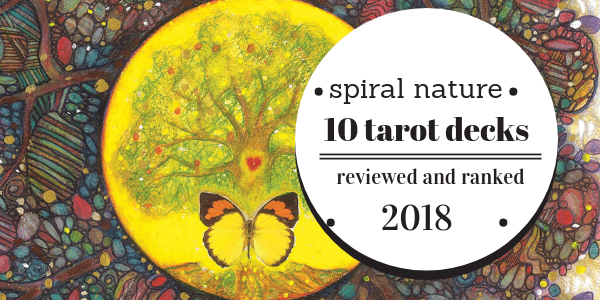 Looking for a new tarot or oracle deck either for yourself or a friend? Donyae Coles' guide to buying a new tarot deck can help, and — hopefully — so can this round up.1
Spiral Nature Magazine published 109 reviews in 2018, and we thought it might be handy to share some of the most popular tarot reviews.
Each item on this list has a handy Amazon link if you'd like to purchase the book directly. Each direct purchase helps pay our writers and editors, so if you're going to be purchasing from Amazon anyway, maybe click one of these links when you do?
Enjoy! And thanks for your support!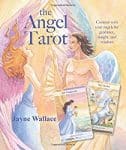 Reviewed by Alanna Wright
Jayne Wallace, founder of Psychic Sisters, has provided a great service to the tarot community with the release of her first deck The Angel Tarot. The deck feels charged with a powerful light energy that ignites a sense of calm and serenity deep within the soul. The best way to describe the sensation of the deck's ambience is as a stream of reiki energy flowing through your entire body, lifting blocks and removing obstacles. The entire deck feels so infused with healing energy that simply touching the deck over the course of getting to know it has been enough to lay my mind to rest.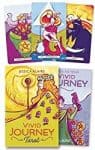 Reviewed by Joie Grandbois
How many tarot readers have allowed their minds to ponder creating their own personal tarot deck? Artist and tarot aficionado Jessica Alaire didn't just ponder the idea, but after exploring several decks and not finding one that she connected with, she set about designing her own. The result is the Vivid Journey Tarot and accompanying book, Guide to Your Vivid Journey.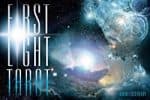 Reviewed by Lexie
Ok, so first off, random thought, right off the top of my head: First Light Tarot is amazing. This is the first time I have come across a deck that combines the major arcana of traditional tarot, the innovation of oracle cards, and a concept I had never heard of before: spread cards. Oh, and let's not forget the fact that the images of the deck come straight from the Hubble telescope — essentially bringing star gazing right to your altar, or where ever you choose to do your readings — even if you don't have your own telescope. Yes, my friends this deck is — and pardon the geek speak — a divination limit break. But, on the other hand, considering it's a limit break, it may not be suited for readers who are just starting to learn their craft.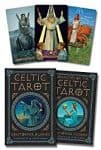 Reviewed by Corinna Underwood
There are numerous versions of Celtic tarots out there, and it's easy to understand why. The Celtic tradition has a rich folklore replete with heroic and mysterious characters, quests, and magick. Furthermore, Celtic spiritual traditions lend themselves to the spiritual and intuitive nature of the tarot. This is a unique Celtic Tarot created by Kristoffer Hughes and illustrated by Chris Down.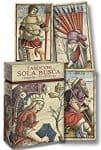 Reviewed by Marjorie Jensen
The 15th century Tarocchi Sola Busca is both familiar and baffling. I became interested in this deck when I discovered Pamela Colman Smith used it as inspiration for some of her minor arcana illustrations in the Rider-Waite-Smith (RWS) Tarot. Lo Scarabeo's reproduction of the Italian Renaissance deck by an unknown (but probably Venetian) artist illuminates artistic connections and provides historical perspective. Yet, the unbalanced style may not sing to all readers.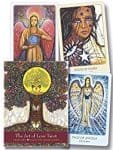 Reviewed by Alanna Wright
The Art of Love Tarot deck created by Denise Jarvie holds a potent type of nurturing, earthy magick. Featuring the heartfelt artwork of Toni Carmine Salerno, creator of the Gaia Oracle and Magdalene Oracle decks, the tarot becomes a living, breathing messenger of amiable wisdom through these cards.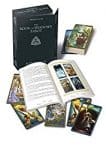 Reviewed by Donyae Coles
I was intrigued by the Book of Shadows Tarot Complete Kit from Barbara Moore because it offered two separate tarot decks (As Above and So Below) that could work as one, a concept I hadn't seen intentionally done before. What I found was that this was an interesting concept, but there was a vast learning curve between the two decks.

3. Satanic Tarot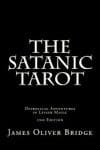 Reviewed by Daleth West
I have complicated feelings about, The Satanic Tarot: Diabolical Adventures in Lesser Magic, both the deck and its accompanying book. There's a lot to unpack here, so I'll start with the basics.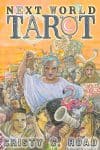 Reviewed by Donyae Coles
There are many tarot decks in the world, but representation and diversity are still a major issue in most mass market decks. Next World Tarot by Cristy C. Road takes this issue head on with a deck that is modern and full of symbolism that aligns with the times we live in.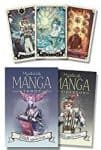 Reviewed by Donyae Coles
I love manga and anime so I was excited to get my hands on the Mystical Manga Tarot illustrated by Rann with text by Barbara Moore. What I found was a densely illustrated, sweet deck that was perfect for beginners and quick readings.

While we've reviewed a ton of decks this year, we've by no means reviewed everything that's come out.
If we've missed one of your favourites, please let us know in the comments, and we'll do our best to get one of our reviewers on it.