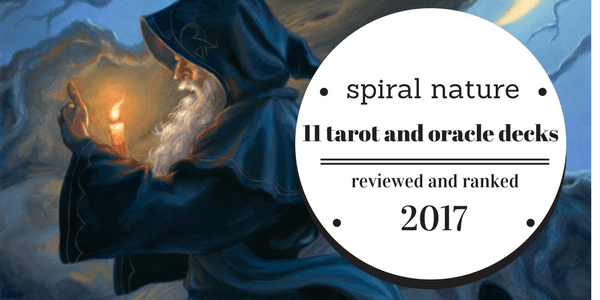 Looking for a new tarot or oracle deck either for yourself or a friend? Donyae Coles' guide to buying a new tarot deck can help, and — hopefully — so can this round up.1
Spiral Nature published more than 92 reviews of books and tarot decks in 2017, and we thought it might be handy to share some of the most popular reviews.
Each item on this list has a handy Amazon link if you'd like to purchase the book directly. Each direct purchase helps pay our writers and editors, so if you're going to be purchasing from Amazon anyway, maybe click one of these links when you do?
Enjoy! And thanks for your support!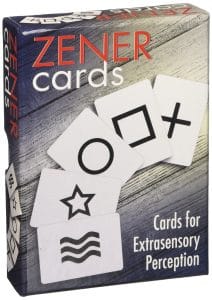 Reviewed by Donyae Coles 
Zener cards have a solid place in popular culture, they're featured in many movies and books that tell stories of the paranormal. Still, I had never laid my hands on these cards meant to test for ESP and clairvoyance before. The Zener Cards from Lo Scarabeo are a fun, well-made deck.
The kit comes with 25, five of each type. Each card features a black shape — either a circle, wave, star, square, or cross — against a plain white background. There is also a handbook included for use that comes in five different languages.
Most of the book is simply the translations, as there is not much information needed for the use of this deck. It goes over a brief history of the cards, that they were created in the 1930s by Karl Zener to test for mental or psychic powers. Other than that, there's a brief introduction to how they are supposed to be used and some variations on the "game."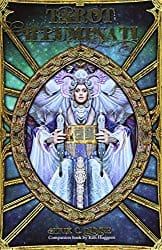 Reviewed by Donyae Coles 
The Tarot Illuminati Kit, at first glance, seems to be an updated version the classic Rider-Waite-Smith (RWS) deck, but upon use and closer inspection, Erik C. Dunne and Kim Huggens have combined elements of both Thoth and the RWS to form a deck that is accessible and easy to read.
This is Dunne and Huggens first deck, before the Tarot Apokalypsis, and as such it is a much simpler deck and kit. It does come with a full book, but it is not the 300 page tome of their sophomore outing. The Illuminati book is much thinner and to the point.
It opens with a few spreads, which I thought were unique. One was a take on the three card spread, but there were also a number of multi-card options. I used a seven card spread from the text to test out the deck.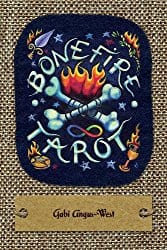 Reviewed by Donyae Coles 
Tarot cards are full of symbology, and so are tattoos. Bonefire Tarot by Gabi Angus-West combines the two in a colourful deck that is stylized after the classic Sailor Jerry tattoo style. These beautifully-illustrated cards make for a strong intuitive deck for an experienced reader.
I received the full kit version of this deck. It comes in a very attractive, and sturdy box adorned with a burlap design. It invokes visions of cigar boxes that hearkens back to its sort of handmade feel. Inside is a full-colour book and the cards themselves.
The cards are larger than standard tarot decks and in a square shape. This makes them a bit difficult to shuffle, but that's a minor concern. The deck itself is beautiful. The cards are all vibrantly coloured with unique illustrations. Angus-West maintains her artistic vision and style throughout the deck, skillfully weaving symbols into each card to connect them subtly to each other.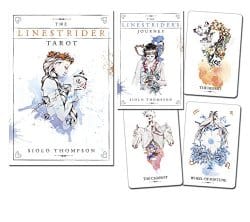 Reviewed by Haley Houseman
Created by artist Siolo Thompson, the Linestrider Tarot is an art deck that can be pulled out for familiar everyday use. The delicate illustrations of the Linestrider Tarot reach out to all kinds of readers, both beginners and those more experienced. It is meant to walk the ephemeral lines between the human and the animal, between the magick and mundane.
The finely detailed images are subtle, combining a minimalist aesthetic with watercolour and graphite line work. The realistic depictions floating in wide swaths of white space centre the figures half-formed and mutable icons, blending animal imagery and half-finished faces. Based on the traditional Rider-Waite-Smith system, the designs feature interpretations of classic iconography with a fair amount of depth in the swirl of gorgeous half-formed images. It's a menagerie that populates this deck, full of foxes, bears and cats as well monkeys, lemurs, and sloths. With humans on only about half the cards, animals play a major role in both the major and minor arcana.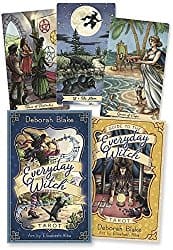 Reviewed by Daleth West
The Everyday Witch Tarot
 and accompanying book are a wonderful collaboration by Deborah Blake and Elisabeth Alba. Blake writes in the introduction that she was daunted by the prospect of creating a tarot deck, but knew she wanted Alba to create the artwork. I immediately responded to Alba's illustrations, which are reminiscent of storybook art. The card images are full of action, movement, and emotion, and invite the reader to read them like a story. Blake and Alba have created an inspired deck!
Blake brings a fresh perspective to the Everyday Witch Tarot. The cards and interpretations are uniquely upbeat and positive. Cards that readers typically associate with anxiety are imbued with new energy in this collaboration. Examples include the Devil: in this iteration he is a dark-haired man offering a young man and woman money and ice cream. It's less ominous than Devil images I've seen elsewhere, and gives the reader back agency to reject their temptations.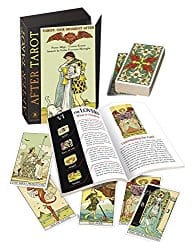 Reviewed by Psyche
The After Tarot Kit includes an 80 card deck (the usual 78 cards, a title card, and invitation card to join Tarosophy), and a rather flawed guidebook that aims to decode the After Tarot.
The premise of the After Tarot is that the cards within it take place moments after the scenes that appear in Pamela Colman Smith's Rider Tarot commissioned by Arthur Edward Waite. As such, it is a Rider-Waite-Smithdeck, but one with a twist.
In the accompanying book, Afterthoughts: The Guide to the After Tarot, Corinne Kenner describes Smith's familiar scenes as "snapshots in time," where the After Tarot has added new emblems and characters with the intent of furthering the stories suggested in the Rider Tarot. It's a neat idea, and the results certainly are interesting.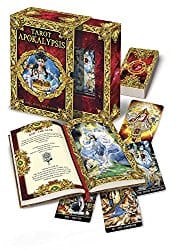 Reviewed by Donyae Coles
Tarot Apokalypsis is the sophomore effort of artist Erik C. Dunne and Kim Huggens. It's described as the sister deck to their award-winning Tarot Illuminati. This project serves to bring more diversity to the cards by combining classic imagery with mythology from around the world.
The deck looks impressive. It comes as a set with  fully illustrated, borderless cards and a hardcover, 460 page book that clearly outlines not only meanings of the cards, but also the mystery behind them and the mythology used to create them. For me, this deck has a lot of high points, but it is not a perfect deck.
The goal of this deck is to reveal "the sacred," and to that end it relies on various religious imagery from a wide variety of cultures. The cards feature depictions from Egyptian, Greek, and Roman beliefs as well as Buddhism, Christianity, Judaism, and a host of Indigenous religions in the major arcana.
4. Epic Tarot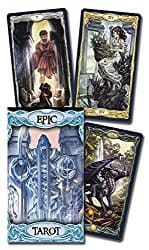 Reviewed by Donyae Coles
Epic Tarot Deck from Riccardo Minetti and Paolo Martinello at first glance seems to be a darker take on fantasy decks, with art featuring giant statues and equally large strange monsters, but upon closer inspection, this deck stands alone as a powerful tool for divination.
I picked up this deck out of curiosity. I had been familiar with Paolo Martinello's work through the Universal Fantasy Tarot, which is one of my favourite decks, so I wanted to see more of his work. The art in Epic seemed be of a similar style, so I expected it to be much of the same sort of deck. Which is to say, a richly-illustrated deck with some whimsy set in a fantasy world. I was wrong.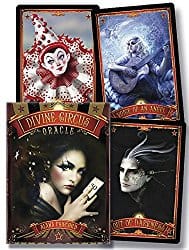 Reviewed by Susan Starr
Synchronicity and sacred play are foundational elements of magick. The timing of the release of the Divine Circus Oracle, inviting the reader to "live a life of sacred subversion and creative confidence," could not be more magical and relevant at this moment, when many of us are surrounded by societal constriction and pressure to comply with ideals defined by those who just don't get us.
This oracle deck celebrates the nonconformist who lives from the heart, in the fullness of her being, without apology and with flamboyant, expressive flair. It acknowledges life's unpredictability, its playfulness, its richness, and its sharp right angles that lead who knows where. The circus in its heyday symbolized the freedom to be an individual against its backdrop, to be daring and to be marvelled at for your unique talents. To "run off to the circus" meant you were leaving conventionality behind for your own personal adventure.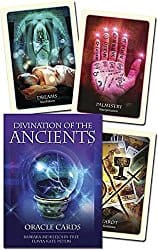 Reviewed by Susan Starr
Does a day ever go by without having to make choices and decisions? Not for me, and I'm rather certain not for you. We hope we're making the right decisions; there may be no way to know until we see the outcome. Divination of the Ancients gives you the tools to have confidence that the decisions you make will bear fruit, or, tell you they might be the wrong ones so you can choose differently. The oracle cards depict age-old divinatory practices – astrology, I Ching, runes, and others — which, when used alone or in spreads, will assist you with choices great and small.
The authors include cards from three forms of divination, grouping them into three categories: Natural Divination (clouds, feathers, water, smoke, crystals), Interpreters (the I Ching, palmistry, astrology, handwriting, numerology), and Tools (books, cards, dice, lots, runes, pendulums). The kit itself is beautifully produced, as I've come to expect from Blue Angel Publishing decks: heavy card-stock, glossy and colourful artwork, sturdy box, and well-made guidebook. My only complaint, as always, is that the cards are too big for smaller hands to shuffle.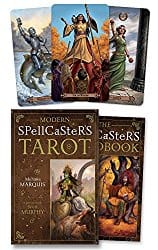 Reviewed by Donyae Coles
Tarot is used for all types of things, but it didn't occur to me that the Modern Spellcaster's Tarot would be more than an attention grabbing name. This deck is not only packed full of diverse artwork, but it provides an interesting and unique approach to using the tarot for magick. It is perfect for someone who is looking start working their own magick, but is also more than suitable for those that just want to read tarot.
I didn't do any previous reading on the deck before I handled it. I like to be surprised, and this deck was a pleasant one. It isn't just for divination purposes, but is styled to be a tool in spellwork. The included book details many ways to use the cards for readings and  in magical practice.
While we've reviewed a ton of decks this year, we've by no means reviewed everything that's come out. If we've missed one of your faves, please let us know in the comments, and we'll do our best to get one of our reviewers on it.
Read Donyae Coles' "How to buy a tarot deck." [↩]