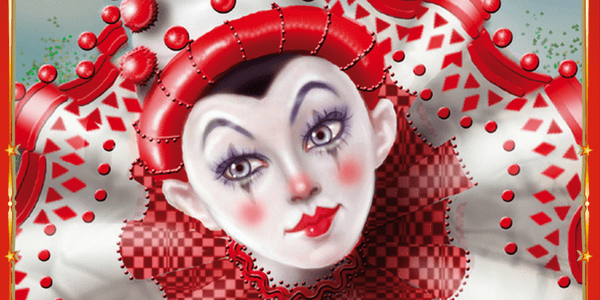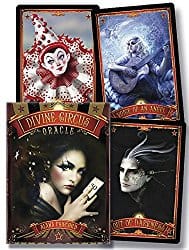 Divine Circus Oracle, by Alana Fairchild
Blue Angel Publishing, 9781922161970, 44 cards, 136 pp., 2016
Synchronicity and sacred play are foundational elements of magick. The timing of the release of the Divine Circus Oracle, inviting the reader to "live a life of sacred subversion and creative confidence,"1 could not be more magical and relevant at this moment, when many of us are surrounded by societal constriction and pressure to comply with ideals defined by those who just don't get us.
This oracle deck celebrates the nonconformist who lives from the heart, in the fullness of her being, without apology and with flamboyant, expressive flair. It acknowledges life's unpredictability, its playfulness, its richness, and its sharp right angles that lead who knows where. The circus in its heyday symbolized the freedom to be an individual against its backdrop, to be daring and to be marvelled at for your unique talents. To "run off to the circus" meant you were leaving conventionality behind for your own personal adventure.
That personal adventure may no longer include literally running off to the circus (at least not to the most famous circus in the world, Ringling Bros. and Barnum & Bailey, which, in another piece of synchronicity, announced earlier this year it is closing its doors in May),2 but it can definitely include playing with this oracle. Author Alana Fairchild tells us there are no rules for how to do that, yet gives us some suggestions in the form of several spreads. Forty-four card messages follow, each including a "healing trick" — a little ritual meant to seal the message — and an affirmation.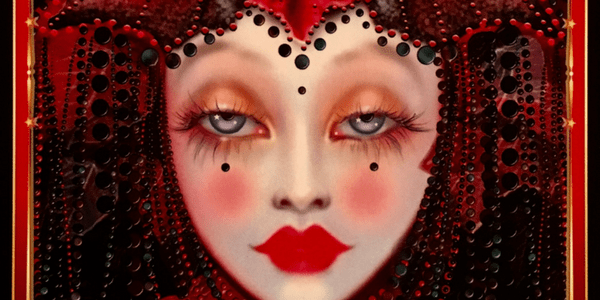 The cards themselves are always the stars of the show in a Fairchild deck, and those in the Divine Circus Oracle are no exception. In fact, they may be the most beautiful of all the cards I've seen in the four or five of her oracles I've reviewed.3 Harlequins, clowns and circus royalty populate this deck, and they are opulently drawn, with rich reds and purples, sultry blacks, and silver and gold. A couple of Asian-inspired cards and one stunning Egyptian-themed card also make an appearance. The back of the card depicts a red and gold big top tent.
Unlike most decks, Fairchild's or others', these cards are drawn by multiple artists — nine in total, some responsible for only one or two cards, the rest for many more. There's no explanation of why multiple artists were chosen for this deck, nor any biographies or websites listed with their credits. That was disappointing; I would love to have learned more about them and where to find their artwork.
Despite this artistic multiplicity, there's a certain style that runs through all the cards, maybe due to their rich colours or fantastical subjects. These cards remind me of the incredibly detailed Venetian masks or the costumes of Mardi Gras; they draw you in and you just can't stop staring.
Fairchild's writing is colourful and passionate, as always. The names of the cards are whimsical: "Nebula Warrior," "Pinhead Punchinello," "Rooster Mama," and my personal favourite, "Crown of the Butterfly Bambini." And sass — that indefatigable quality that gives bold individualism an added spark — gets a shout out with a "Statement of Singular Sassiness for Each Reading You Do."4
Sacred play is the pathway to joy and lightheartedness, and this deck is the playground. Fairchild writes:
Any silliness in this deck, any irreverence and subversion, is sacred. It's about loving life, not making fun of what matters. So don't be scared to act the clown at times; no circus is complete without one. And in the Divine Circus, clowning around sometimes is how we give ourselves permission to let go of pain and feel renewed, alive and free.5
The Divine Circus Oracle deck is promoted around Fairchild's Divine Circus musical events, and she suggests listening to the soundtrack6 while working with the cards. Or not, whatever moves you. You can drum or hum or dance or chant, or sit silently and meditate on them. There are no rules here, except to have fun, be yourself, and dare to do what inspires you and moves your heart.