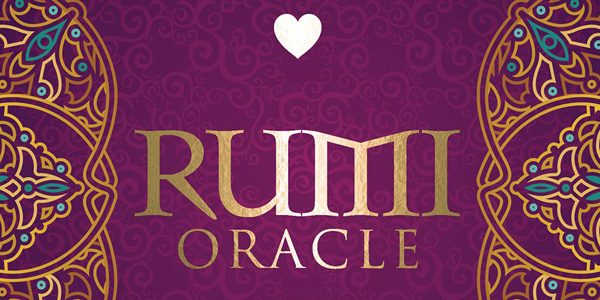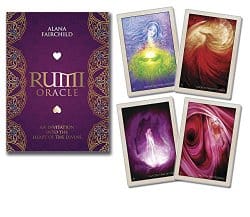 Rumi Oracle: An Invitation into the Heart of the Divine, by Alana Fairchild, illustrated & translated by Rassouli
Blue Angel Publishing, 978-1-922161-68-0, 44 cards, 204 pp., 2016.
If you dare to enter Alana Fairchild's realm, make sure you're sitting down in case your experience is anything like mine. Her energy is palpable, jumping off whatever medium of hers you happen to be using — book, cards or CD — and it will change you.
This time, I played with her new Rumi Oracle cards, with striking, richly coloured artwork by Rassouli. After reviewing her deep Black Madonna,1 I was curious to see if she could cast a similar spell using the written word. I don't know why I needed to ask.
Like Fairchild, I've been drawn to Rumi's poetry ever since I first read it. Rumi was a 13th-century Persian poet, jurist, Islamic scholar, theologian, and Sufi mystic. He infused his mysticism into his poetry and left a body of work that has touched people of every culture and belief system. Fairchild writes that she, like most of his admirers, knows little of his human life; instead she feels a spiritual kinship with him.
She writes: "From the first moment I read his poems, many, many years ago, I felt as though he was speaking a sacred language that I could understand with my heart rather than my mind."2 Over the years her relationship with Rumi deepened, and through a series of serendipitous events, her longstanding desire to write a Rumi oracle came to fruition. "The whole project just felt like it had dropped from Rumi's graceful hand into my heart," she says.3
Using Rassouli's artful translations, she developed a selection of poems into 44 cards and corresponding messages. Each message contains an italicized paragraph — which I took to be her channelled message from Rumi — another section with her interpretation, and a most powerful Sacred Honouring Ritual to seal the healing.
I chose to get acquainted with the cards using the only spread provided, a six-card spread called the Inner Dervish, and asked a question that has been weighing on my mind for some weeks: should I leave a part-time job to pursue my writing career full time? (The answer was a resounding "yes!") In the "How to Use This Deck" section Fairchild writes that "the energy of the deck has its own intelligence and what you need will come to you. Typically, the messages will feel 'spot on' for what you need in that moment."4
Feeling "spot on" is an understatement. It was true of every card I pulled, and in the case of a few cards, astoundingly so. For instance, the fourth card in the spread asks, "What are others helping me learn in this situation?" I pulled card 29, The Right Choice, a card about friendship, and more specifically, the friendship of the heart that always knows the right path. For my overall question, I could have no truer friend — no more precious advice — than the feelings of my heart, helping me learn in this situation to trust it and take its sage advice.
Indeed, this entire deck is about communing with one's heart and exploring the myriad aspects of love with guidance and advice from Rumi. On a soul level, Fairchild writes, Rumi is a master of love and knows all its intricacies, the same way indigenous people who are continuously surrounded by snow have many words to describe its subtleties. With this deck she brings the richness of that vocabulary into our consciousness, in a way that the English language does not afford with its one word for "love." She does it as much through her evocative writing as in the images and poetry she selects.
Playing with the Rumi Oracle is a wholly heartfelt experience, guided by two masters of the soul.