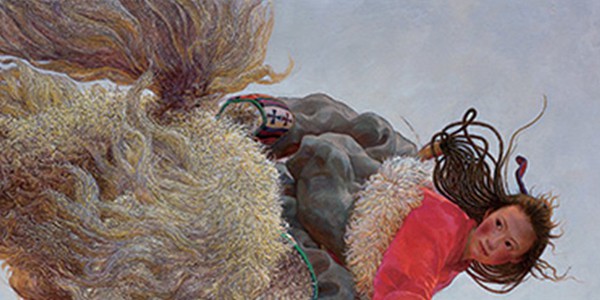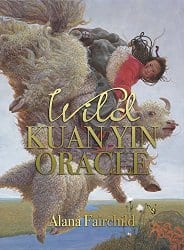 Wild Kuan Yin Oracle: Soul Guidance from the Wild Divine, by Alana Fairchild, illustrated by Wang Yiguang
Blue Angel Publishing, 978-1-922161-64-2, 44 cards, 271 pp., 2015
If I had to describe Alana Fairchild's oracle kits in one word, it would be "artful." This deck is the second one I've reviewed,1 and in both, unusual artwork and Fairchild's soulful writing combine to create not just an insightful divination tool, but what feels like a tour through an art gallery. Art has the quality of touching and moving one's soul, giving inspiration and a new vision, and so it is with the Wild Kuan Yin Oracle.
Fairchild said she found the work of Wang Yiguang, a prominent, award-winning Chinese artist, on — of all places —  Facebook. She sat with the images, and the idea came to her of a "naughty Kuan Yin," an expression of the Divine Mother in all her wildness, daring and freedom. Most of the lavishly drawn, rich red cards depict animals and humans in flight, upside down, at odd angles, landing and taking off… you feel like you are there riding the wind with them, carefree and unburdened.
That feeling is key to the deck's power. It is "dedicated to the wild ones — those with a spirit that longs to be free and a heart that must love with great passion — who yearn to bring beautiful visions to life."2 Yet Fairchild is sensitive enough to know that this path is often unclear, and created the deck
with the specific intention to be your light in those moments when the darkness seems too much. When hope doesn't seem strong enough to overcome doubt, this oracle deck will become your medicine and remind you that grace makes all things possible.3
The kit itself is quite basic: 44 cards, larger than average to accommodate the artwork; a guidebook with a short introductory section containing background on the deck's philosophy and how to use the cards; and the cards' messages, consisting of a channeling of Kuan Yin, an explanatory section, and a healing process. Fairchild describes Kuan Yin as an East Asian divine being who — in the Buddhist tradition — is said to have been human, but upon her death decided to help other humans achieve spiritual fulfillment and happiness. This type of being is known as a bodhisattva.
Fairchild writes that the deck is meant to be used to find answers to specific questions, as if it were a "telephone line" between the querent and Kuan Yin. She spends some time explaining how the guidance may not at first provide an obvious answer, that the cards might instead be guiding you to look at the bigger picture. This is advice well taken; when we are in darkness, in a spiritual rut, we tend to look inward and become microscopic in our views.
I had occasion to use this advice when I tried out the Bridge of Transition layout, a four-card spread concerning how to release the energy around a situation, person, or habit that holds one back. Each of the four cards has an associated question in the spread, used to answer aspects of the personal question. None of the messages for the cards I drew seemed to apply to the situation I asked about. Yet, using the messages and healing processes, I was able to see more clearly the pervasive energy I was holding that prevented me from moving forward.
This macrocosmic quality defines the usefulness of the Wild Kuan Yin Oracle, a deck whose express purpose is helping people overcome obstacles to reach freedom. The other layout, Seeing from a New Angle, is also a four-card spread, and similarly helpful in this way. Besides these two brilliant layouts, Fairchild encourages the reader to be creative with the deck, saying there is no wrong way to use it.
The Wild Kuan Yin Oracle is a much-needed addition to the divination world. I'm not familiar with any other deck totally devoted to guiding one through and out of a dark night of the soul. By using an entire deck, one receives a more nuanced answer to what is often a nuanced issue, removing conventional society's conditioning that is preventing us from making our visions real. This oracle — itself a shining manifestation of an artful vision — could not have come at a better time, when the world desperately needs more visionaries to breathe life into it again.
See Susan Starr's review of the Rumi Oracle. [↩]
p. 3 [↩]
p. 5 [↩]