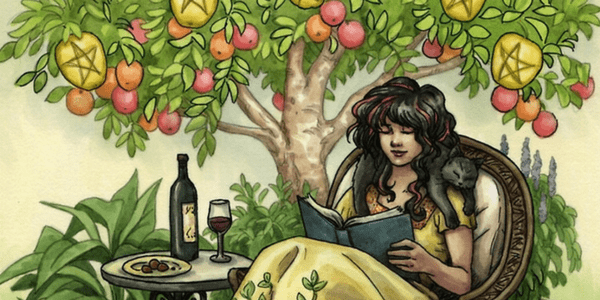 Everyday Witch Tarot
, by Deborah Blake, and illustrated by Elisabeth Alba 
Llewellyn Worldwide, 9780738746340, 264 pp.,78 cards, 2017
The Everyday Witch Tarot
 and accompanying book are a wonderful collaboration by Deborah Blake and Elisabeth Alba. Blake writes in the introduction that she was daunted by the prospect of creating a tarot deck, but knew she wanted Alba to create the artwork. I immediately responded to Alba's illustrations, which are reminiscent of storybook art. The card images are full of action, movement, and emotion, and invite the reader to read them like a story. Blake and Alba have created an inspired deck!
Blake brings a fresh perspective to the Everyday Witch Tarot. The cards and interpretations are uniquely upbeat and positive. Cards that readers typically associate with anxiety are imbued with new energy in this collaboration. Examples include the Devil: in this iteration he is a dark-haired man offering a young man and woman money and ice cream. It's less ominous than Devil images I've seen elsewhere, and gives the reader back agency to reject their temptations. Or the Ten of Swords: here a young person lies impaled, but appears alert, and the image shows them reaching towards their broomstick, implying it won't be long before they are back on their feet. The Three of Swords shows three swords stabbed into a heart-shaped box, with a journal and spilled ink beside it — speaking to melodrama and an emo witch in sway to emotion.
The "everyday witch" angle is evident in every card, where witches are seen in pursuit of the quotidian. Within the major arcana, we see Justice sitting on her throne, peeking from under her blindfold at two cats, one black and one white, sitting on her scales. In the Tower card, a witch glances back at the viewer as the tower lies in smoking rubble before her, and the Hierophant sits in lotus pose on a yoga mat. These wonderful images have the dual effect of elevating the ordinary to the realm of magick, and making magick seem like part of day-to-day life. From my perspective, this is a profound lesson. As you can see, this isn't just another Rider-Waite-Smith reinterpretation. There's a whole new energy here which is just so refreshing to see.
The Everyday Witch Tarot comes in an oversized box to accommodate the book. The box has a magnetic closure, and opens to display the book and cards, which come with a ribbon so the reader can pull them out easily. The cards are standard size, and my only criticism of them is they are noticeably thin and slippery, making shuffling and handling a small challenge. It's odd when you consider that the box and book that accompany them are such nice quality. The book's pages are glossy, and the pictures within are full-colour reproductions of the 78 card images.
The book itself is great — it goes well beyond a rote interpretation of the minor and major arcana cards. It's written in a warm and accessible tone that will be familiar to fans of Deborah Blake. It includes notes on the deck's development, in addition to tips on how to begin reading and get comfortable interpreting the cards. In the card interpretations, she provides a short description to get the reader thinking about the card's significance within the reading. For example, the Four of Swords gets a one-line synopsis of "Are you resting or retreating?" Blake goes on to explain the card in greater detail, then goes even further with a section on each card called "Things to consider," where she reflects on how the reader might interpret the card in context. In the Four of Swords example, she writes, "Depending on where this card falls in a reading, it may be a suggestion that you need to rest and refresh your spirit…. Alternately, it may indicate you are suck in a rut, spinning your wheels when you should be taking action…"1 This is so helpful, to teach readers to reflect on the messages or lessons the cards have for them in the context of a reading.
I also like that she provides quick guides to the significance of the suits and the numbers within, which encourages readers to see patterns between the suits in the Minor Arcana. The spreads she includes are a one-card reading, a three card "past-present-future" one, and the Celtic cross. All good for beginners to familiarize themselves with, of course. Providing a new reading would have been fun, but this deck and book are so special that it's hard to find fault with this package.
The only other criticism I might make is one of representation. There are no witches of colour portrayed in these cards. It's a noticeable oversight and is disappointing. I did however notice that in this deck, the Lovers don't conform to traditional notions of gender. Either (or both) witches can be read as female, male, or non-binary. I imagine this was intentional, and meant to be inclusive of different gender and sexual expressions, which only makes the lack of non-white witches more disappointing.
Overall, I like the positive images on the cards, and I absolutely love the artwork. Its lush drawings and bright, cheerful colours are simultaneously folksy and modern in appearance, with clean lines that portray witches going about their everyday lives. It makes the symbolism of the cards translate easily to the reader's own life. I have really enjoyed doing readings with this deck, and I felt an affinity for it from first use. With its beautiful, evocative artwork, and the exceptionally well-written accompanying book, I think this deck would be ideal for a beginning reader. Experienced tarot readers will also fall in love with the gorgeous presentation and the upbeat positivity represented by this deck. I'm pleased to report that the Everyday Witch Tarot has become a favourite of mine.
p. 125 [↩]