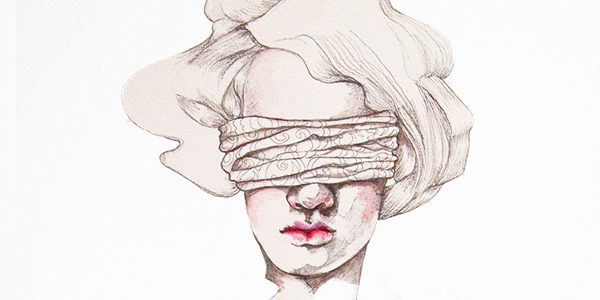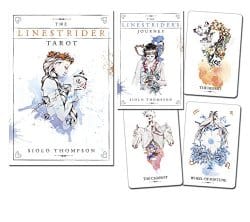 The Linestrider Tarot Deck and Journey Book , by Siolo Thompson
Llewellyn Worldwide, 9780738748290, 78 cards, 288 pp., 2016
Created by artist Siolo Thompson, the Linestrider Tarot is an art deck that can be pulled out for familiar everyday use. The delicate illustrations of the Linestrider Tarot reach out to all kinds of readers, both beginners and those more experienced. It is meant to walk the ephemeral lines between the human and the animal, between the magick and mundane.1
The finely detailed images are subtle, combining a minimalist aesthetic with watercolour and graphite line work. The realistic depictions floating in wide swaths of white space centre the figures half-formed and mutable icons, blending animal imagery and half-finished faces. Based on the traditional Rider-Waite-Smith system, the designs feature interpretations of classic iconography with a fair amount of depth in the swirl of gorgeous half-formed images. It's a menagerie that populates this deck, full of foxes, bears and cats as well monkeys, lemurs, and sloths. With humans on only about half the cards, animals play a major role in both the major and minor arcana.
In other ways, the Linestrider is conventional, with the standard suite, major and minor arcana and court cards. With 78 fully illustrated cards, the backs are printed on a lightweight card stock with lovely abstracted blue and grey design. It's positioned to allow readers to read reversals as they see fit (or not).  The cards feel good in the hand, if slightly prone to nicks and marking with heavy use.
For it's variety, the symbolism is distinctly North American or European, as are the humans featured in the deck. But the parsing of the iconography is extremely thorough, balanced between traditional interpretations and the artist's own twists that add exciting layers meaning to the deck.
The book included with the cards walks the reader through the arcana with gentle wisdom, though it does not shy away from the darker sides of cards like the Devil or the Tower. The most engaging element of guidebook included with the Linestrider is its openness to various tarot frameworks; Thomas is focused on ease of use and encourages readers to work with what they know. The introduction includes explanations of cleansing rituals and deck handling as well as spreads.
It also draws out other understandings of reading a deck, including "Exalting the Aces," and the possibility of using certain cards as trump cards in a spread. Since the deck is designed to allow for reversals as well, the guidebook does spend a bit of time on reading reversals specific to the Linestrider system. 
A unique feature of the included book is the short list of correspondences at the end of each chapter: astrological, numerological, and botanical in the major arcana, with the edition of birthdays for the minor arcana. This, combined with engaging writing on specific card associations and imaginative, real-life scenarios, makes the Linestrider Tarot a good tool for reading, as well as a good reference tool.
See also Marjorie Jensen's interview, "Siolo Thompson discusses her Linestrider Tarot." [↩]