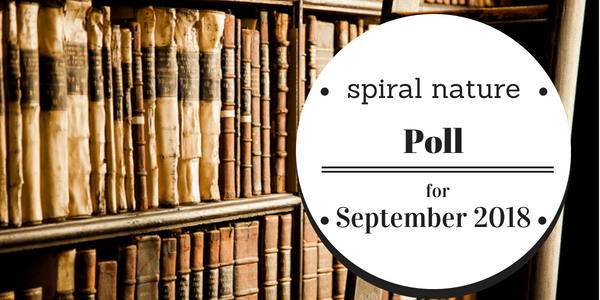 We're launching a new book club for Spiral Nature Premium Members, and I'm looking for our first pick. I was thinking a classic might be a nice place to start.
Which classic should be our first book club pick?
Initiation into Hermetics, by Franz Bardon (27%, 25 Votes)
The Spiral Dance, by Starhawk (26%, 24 Votes)
Psychic Self-Defence, by Dion Fortune (19%, 18 Votes)
Book 4, by Aleister Crowley (14%, 13 Votes)
The Book of Pleasure, by Austin Osman Spare (11%, 10 Votes)
Other (suggestion in comments) (4%, 4 Votes)
Total Voters: 80

Loading ...
On Twitter, Ashley Natfule (@Emperor_norton) suggested Initiation into Hermetics, by Franz Bardon, and D.D. Syrdal (@DDSyrdal) recommended The Spiral Dance, by Starhawk. 
Both are excellent choices, and I've added a few more to round out the list.
You can vote for one or more of these options, or suggest your own pick in the comments below.
Deep read
Some people think they're "beyond books," but I think we can always learn something new when we read — even if it's how not to do something. I wrote a brief article about this a few years ago, "Beyond the books," and it's in the spirit of that piece that I want us to read this book club pick. 
I want us to read closely. Read critically. And with a sense of history.
Whichever book we select, I want us to know who the author is, the publisher, the circumstances under which it was written, as well as the content of the book itself.
How does it reflect the author's views? How does it stand up today? What do we get from it, as individuals and when reading together? What insights can we share?
These are the questions we'll be asking of the book and of ourselves. 
Read more
As you know, we review a lot of books, and we also have round ups of the best books in various categories that we think you'll be interested in.
Our annual lists of popular books for the year are also a great place to find guidance for what to read next:
What's coming
Future months will have other themes, and I'll add polls for members to select the next pick partway through the month, though if you want to suggest something now either for this pick, or October's, please let me know which books you'd like us to dive deep into.
Image credit: Mark Colliton with work from Psyche