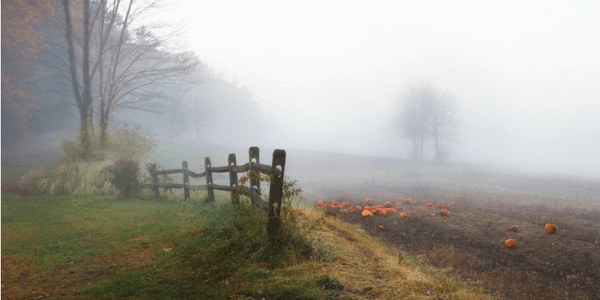 With the coming of winter and the lengthen of the night, many cultures and practices believe that the veil, the wall between our world and that of the spirits is thin so that we can speak with them.
Knowing how to do this is something that doesn't come naturally to everyone. If you want to learn how or are just curious about all things dark and scary, check out these five books.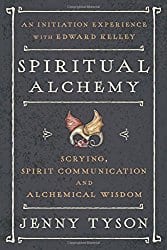 Spiritual Alchemy: Scrying, Spirit Communication and Alchemical Wisdom, by Jenny Tyson
Llewellyn Worldwide, 978-0-7387-4976-1, 292 pp., 2016
Jenny Tyson's book, Spiritual Alchemy: Scrying, Spirit Communication and Alchemical Wisdom, is part personal journal and part roadmap for how to contact and work with Enochian angels. Tyson clearly lays out how she contacted Dr. John Dee's medium, Edward Kelley and he became her guide into these mysteries.
The book is broken into two parts. The first section, and the bulk of it is her journey, from her very first steps to her final initiation and reflection. The second, much smaller section, deals with tools and how-to information. Throughout her journey, she also shares the tools and what she did, so despite there being this clear division, it is important to read the entire book to get a full understanding of how the work is done.
There was a good deal of information on different tools and techniques, such as how to scry, and she describes how to use radios to make contact. Many of these techniques can be applied to any mediumship practice, though this book is focused on working with Enochian mysteries.
When she speaks of tools, she covers them twice. Once in the first part of the book detailing her experiences with them, and again in the second part,  where she gives a general overview with more concrete how-to information. This is an interesting approach, as it allows me to stay invested in her story without feeling like I had to stop reading in order to take notes or try something out.
Although I greatly appreciated her story and how it showed that one could learn the practice from books with the proper amount of dedication, this is also a very specialized journey. Her information about the different tools and their uses was great, well written, and easy to follow. An interesting place to start but unless you really want to learn about this school of the occult, Spiritual Alchemy: Scrying, Spirit Communication and Alchemical Wisdom, though fascinating, may lose people who simply are not interested in communing with the Enochian angels.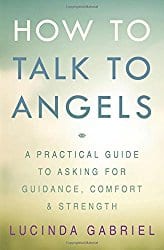 How to Talk to Angels: A Practical Guide to Asking for Guidance, Comfort and Strength, by Lucinda Gabriel
Llewellyn Worldwide, 978-0-7387-5048-4, 247 pp., 2017
Picking up How to Talk to Angels: A Practical Guide to Asking for Guidance, Comfort and Strength, there was no mystery in regard to what Lucinda Gabriel would be discussing. Although there is a lot of solid information in this book, there is a lot of talk of God as a singular deity, and although never explicitly stated, seems to align with Judeo-Christen beliefs. Still, there was a lot of value in this book.
Gabriel considers herself a medium and spends a good deal of time explaining the different types of mediumship such as clairvoyant and clairaudience, for example. She touches on the major types of psychic abilities and spends time outlining how anyone can help foster and build their own powers. She doesn't speak on tools, and aside from angel cards, she focuses on building your own power.
Unlike the other books in this list, there really was no specialized method. Included in this work was very generalized information on "opening the third eye," so to speak, and she encourages people to meditate and be open to the world around them. It was interesting to see how she incorporated her practice with angels into mundane activities, like shopping for clothing.
How to Talk to Angels is contains exercises and prayers that you can use to call on these angels. This is very helpful to help test out the information she is sharing. All of her practices are very approachable and don't need any special tools, other than perhaps a notebook and a pencil.
Gabriel was trained by Doreen Virtue, and although she has her own voice and point of view, there's still a lot of that brand in this work. It is very focused on love and light, and there is very little discussion of protection throughout this text.
Even so, I found it to be a light read and easy to get into. Although I do not subscribe to the author's beliefs, I think that her point of view and some of the practices she shares can be adapted for other practices and belief systems for those who wish to experiment with their own abilities. How to Talk to Angels is interesting look into how easy it can be to work your practice into your everyday life.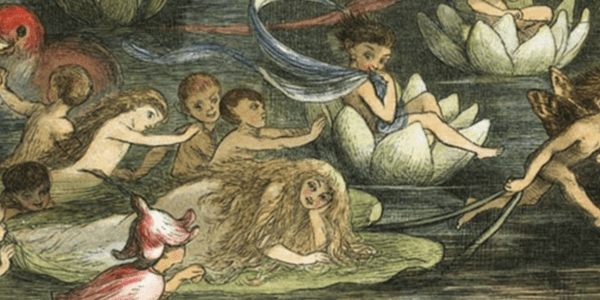 Fairies, Pookas, and Changelings: A Complete Guide to the Wild and Wicked Enchanted Realm, by Varla Ventura
Weiser Books, 978-1-57863-611-2, 242 pp., 2017
During this time of year we hear about all sorts of fantastical stories. The fae folk are about and they are up to mischief! This very small tome shares some of their most popular stories throughout the years. For those who don't want anything too spooky, this little book is a great introduction into the folklore and tales of the magical realm, but it falls quite short on being a complete guide
I didn't realize this going into it, but Fairies, Pookas, and Changelings: A Complete Guide to the Wild and Wicked Enchanted Realm is great for all ages. It is easy to follow, and filled with a variety of whimsical illustrations. The text is large and it is a quick read but also one you can go back to again and again.
I was really hoping for something that would be more of a general resource, so although I like this book, I was disappointed in it. There is a bit of an introduction to each creature type, but the book concerns itself more with the fairy tales that surround them. To call it a "guide" is a bit of a misnomer. Although you can learn much from these stories, this is more of an anthology.
Fairies, Pookas, and Changelings is focused on European folklore, and although it does include some stories from other areas of the world, such as Japan, the bulk of the folklore is from Europe and based on a lot of classic poetry. Even so, this volume is very charming, and although I would like to see stories that explore more of the world, this is still a solid book for people who are interested in fairy tales and poetry.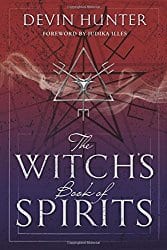 The Witch's Book of Spirits, by Devin Hunter
Llewellyn Worldwide, 978-0-7387-5194-8, 306 pp., 2017
When it comes to witchcraft, spellwork and spirit work seem to go hand in hand. Devin Hunter's book, The Witch's Book of Spirits, draws the lines connecting the two to help witches form a practice that incorporates the spirit world and the physical work in a meaningful way.
This is a very specialized book in a lot of ways. Right from the beginning Hunter makes comments that are in opposition with, for example, my practice. He calls for not disturbing graves, but I use graveyard dirt as part of my work. Much like Jenna Tyson's work, Spiritual Alchemy: Scrying, Spirit Communication and Alchemical Wisdom, this is about focusing on a specific type of contact. Hunter's practice focuses on the world tree, and the various level of spirits around mediumship. Hunter is speaking from a Dianic tradition, which is full of ritual and specific rites.
Even so, he is clearly working with a different type of magick than I am, and his communication with the spirit world is very specific to the type of work he does. Yet, this book is fascinating. It is chock full of detailed information on the various types of spirits that exist on different planes of existence (such as angels, demons, the dead, etc.), and how we can work with them.
I really appreciated the way Hunter laid out the different spirit types and how to work with them. The Witch's Book of Spirits dealt with the reality of the spirit realm, and that there were more than just light beings on the other side. It did go over protection and dangers.
This is the second book by Hunter, and although it does not require that you have read the first, The Witch's Book of Power, there are references in the text to it for certain works. He does cover what you need to know in this book to complete things; however, I feel that to get the most out of this, you really should read the first book to get a full understanding of the type of magick he is teaching us here.
I experienced The Witch's Book of Spirits as a sort of traveller. I knew right away that this would not work well in my practice, but the systems of spirits and knowledge of his practice that was laid out in this tome are something to be respected. I learned a lot about working with these beings, and the process of drawing them, but there wasn't a great deal in this book that could be carried throughout different practices.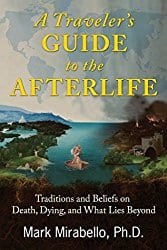 A Traveler's Guide to the Afterlife: Traditions and Beliefs on Death Dying and What Lies Beyond, by Mark Mirabello, Ph.D.
Inner Traditions, 978-1-62055-597-2, 214 pp., 2016
The afterlife and how to get there looks different depending on what culture you're coming from. Mark Mirabello gives a great overview of the study of death and dying from an academic point of view. A Traveler's Guide to the Afterlife: Traditions and Beliefs on Death Dying and What Lies Beyond is full of footnotes and research, but it is very approachable and there's something warm and humourous about his writing style.
Given its more academic approach, I was expecting this to be a dry read, but Mirabello has a friendly tone, and a clear passion for the work. The book contains a series of vignettes on different cultural practices around the world that have to do with death and dying.
It speaks on how to contact the dead and the spirit realm, but this information is given not as a personal experience, as with the other books in our list, but as research. Mirabello is presenting what others have done and believed, so that you may try it out, or not.
For those interested in death as culture, A Traveler's Guide to the Afterlife is excellent. This isn't a book that teaches you how to do anything, it is a book that helps you understand different practices and beliefs around the end of life.
This book really does an excellent job of giving voice to many practices and beliefs from around the world. He dives into familiar practices, such as what we see in western religions, but also goes back and uncovers the beliefs of cultures that no longer exist. We go through Asia, South America, Africa, folklore from Europe, Native American beliefs, etc. This is a world tour of death.
It is organized by general themes collected into sections, not by areas. For example, one chapter speaks of theories of heaven, while a separate one is focused on stories regarding the soul's journey. Which means as a reader, you hop from one system to the next. Although this seems like it would be disorienting, it allowed me to see greater parallels between people, and have a more concrete understanding of the human experience. In reading these accounts, you can see how the reoccurrence of certain symbols and beliefs speaks to a variety of cultures around the world.
A Traveler's Guide to the Afterlife is a great resource for the curious. Since it is not a workbook, for people looking to learn more about how to contact the dead or spirit realm, this might not be a great choice, but for those who want to know more about death, dying, and the comfort of stories that explains that mysteries land beyond the veil, this book is a must.
Final thoughts
These five books are all very different. If you just want some spooky stories for the dark nights ahead, Fairies, Pookas, and Changelings is perfect. If you want to meditate on the veil and this world and then really check out A Traveler's Guide to the Afterlife.
If you're looking to actually contact the world of spirits, How to Talk to Angels, Spiritual Alchemy, and The Witch's Book of Spirits will help guide you on a journey in mediumship and spirit communication.
Depending on what you hope to accomplish, whether you wish to follow a strict practice or just work more on your clairvoyance, these books will help you.