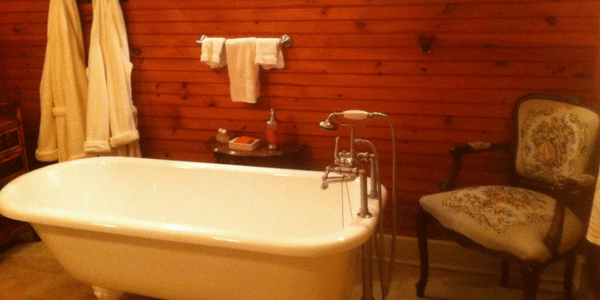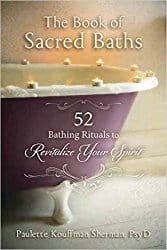 The Book of Sacred Baths: 52 Bathing Rituals to Revitalize Your Spirit, by Paulette Kouffman Sherman
Llewellyn Worldwide, 9780738746029, 288 pp., 2016
Water, an enormous part of our bodies as well as a vital part of our environment, is a powerful force that shapes our lives. The Book of Sacred Baths ritualizes the luxury of bathing, bringing in elements of candle magick and spellcraft, meditation and spirit guides. Turning toward the spiritual aspects of bathing, it uses the familiar elements like crystals and essential oils to create immersive meditations. The author of this guide, Dr. Paulette Kouffman Sherman, is a licensed psychologist and life coach, as well as an author and teacher. She draws from many different traditions under the New Age and magick umbrellas, looking to present a system that brings practitioners into "the high art of bathing."
Baths as ritual have provided cleansing for mind and body for of thousands of years, and are seen in the history of bathing around the world from Japan to Egypt, as well as in classical Greco-Roman, Russian and Jewish traditions. What distinguishes sacred bathing from the average dip is partly that it embraces this tradition and history, honouring the many possible metaphors that bathing can take on in our intimate lives and larger cultures.
Apart from the business of daily life, a bath is a space we can give ourselves to grow and reflect. The book provides the bather with rituals as a way to enter into themselves, to go further and hear better the voices of the universe. Before diving into the bulk of the practices, it offers advice on how to make time for ritual bathing and set up a space conducive to ritual. With a moment spent on bath safety and setting, it also provides a shopping lists of crystals, essential oils, candles and coloured objects. These are paired with meditations and intentions, combining visualizations, and prayer, ritual and calling on the five elements.
The Book of Sacred Baths features a bath ritual for every week in the year, 52 in all. First the book works through the foundational baths to build a sense of the process of clearing the space and deepening the habit. It then proceeds to cover love, career, health, and spirit work. Each ritual opens with a specific set of five steps to clear the space, set intentions and harness the power of the ritual. With an invocation, a moment is taken to reach out to a higher power of some kind, addressing angels, spirits and higher selves. The meditation then moves to working with chakras, focused on proceeding with gentleness to the self, directing your meditation and thankfulness.
Most of the rituals focus on channeling your higher powers or deeper self, whether to provide relief or motivation. The power of these bathing rituals draws on quiet meditation, surrounded by objects that help to heighten the experience. Submerged, silent, and candle-lit, the connection the bath fosters is to the self and the body, as well as to the powers called upon for each ritual. Whether seeking submission through "The Bath of Least Resistance," or to boost the passion in your career with "The Bath to Success," there's a ritual for to fit most practitioners, and inspire experimentation in others.
Bathing with this sort of symbol-rich environment can make things complicated; and indeed, some of the lists of ingredients might overwhelm the newcomer at first. But Sherman is careful to walk the bather through the steps and symbolism. Whether the bather dips into a variety of helpful rituals across the year or tries a new bath week to week, The Book of Sacred Baths book can provide a guide to deepen a bathing practice for those who are looking to add this ancient tradition to their magical practice.
Image credit: Central Hotel