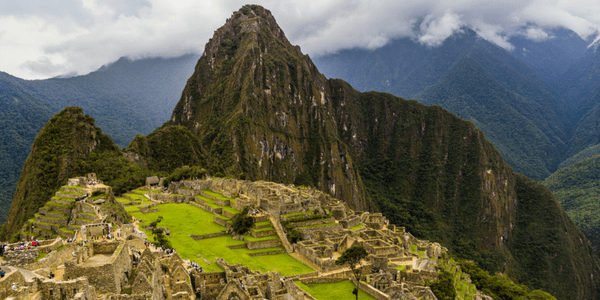 I chose to mark a significant birthday (that need not be named) by a long dreamed of trip to Peru. I marked the actual date with a visit to Machu Picchu, and an early morning climb up Huayna Picchu, the sacred mountain that rises above the site.
This involved getting up at around 3:30 am, waiting in line for the first bus of the day in the cold mountain air and pitch darkness, followed by a bumpy, winding ride on a crowded bus up to the site. Upon arrival, I sprinted to the tourist office to get one of the coveted and limited tickets for the day, and then naively undertook a climb that petrified me, tested my claustrophobia, and made me realize how out of shape I am.
It was awesome. I was so proud of myself. I felt my power. If I had known how scary that experience would be, I never would have embarked on it. This is often the way with pilgrimage. It is better to start with the vision and a rough itinerary and trust that the details will take care of themselves, rather than planning the mystery (or talking yourself) out of it.
So, how does pilgrimage differ from regular travel?
I've always had itchy feet. I know I'm not alone in this. Travel ranks high on many wishlists and bucket lists. Why is this? Sure, a stay at an all-inclusive resort in the Caribbean is always a welcome escape, but for those of us with a passion for travel, the wanderlust goes much deeper.
The desire to find spiritual knowledge and to connect with the Divine often manifests as an intense hunger for travel, to see what's out there, to confirm that there is something beyond our daily routine, as nice as that routine might be. As travellers, we are looking for magick, for the sacred, to witness miracles in the world around us. We want to stretch ourselves, to prove our worth, and to return home with self-knowledge and souvenirs.
When approached in this way, travel becomes a pilgrimage. In fact, any travel can become a kind of pilgrimage, whether it is intentional or accidental. A pilgrimage is a journey, usually a long and arduous one, which leads to a sacred place. The purpose of a pilgrimage is to show religious or spiritual devotion, or to pay homage to a particular person or a significant event.
A pilgrimage can be a time-honoured and traditional one, such as the Camino de Santiago, the 88 Temples of Shikoku or The Hajj. Or, it can be a visit to a site of personal significance, such as the birthplace or grave of a beloved writer or musician. It can also be a time of wandering, a search for wisdom without a fixed route.
A pilgrimage should also be logistically challenging or physically taxing. The journey itself is a test of your faith, devotion, and worthiness.
Related: How to plan a pilgrimage, by Jarred Triskelion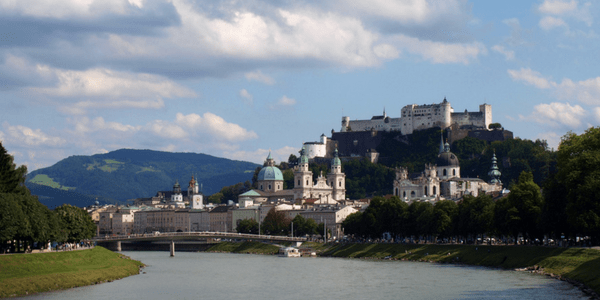 When should I undertake a pilgrimage?
A traditional pilgrimage may have a prescribed time when it must be undertaken, but a personal one can be tailored to fit your own purpose, calling, or occasion.  Here are some ideas:
A milestone birthday. Birthdays are natural times of reflection, especially the significant ones. We look back at what we have achieved, what we haven't, and start to form a dream or a plan for the years ahead. Mindful and sacred travel can give you space to reflect, to challenge yourself, and to remind yourself who you really are. As far as location, you may decide to visit a place that has long captured your imagination but travel there has eluded you so far, or plan a return to a place seeped in family tradition and fond memories.
An ancestral connection. A visit your ancestral homeland can be a joyful, painful, and illuminating experience, one that brings an understanding of your family story and your role in it. This kind of pilgrimage may take you to a well-known historical site, or to a place that has personal meaning for your family, or a combination of both. This year I finally visited Austria, my maternal homeland, with my mother and sister. We paid homage to Klimt, met the genuine Venus of Willendorf, ate Sachertorte, visited the village my mother lived in as a small child during the war, and heard family stories. This pilgrimage was steeped in love and loss and I further discovered the strength and beauty of the women in my line.
A site that has spiritual significance to you and your practice. Your magical or spiritual practice may have originated from or be centered on a specific geographic location, and the calling to visit this place is strong. This pilgrimage could be for the purpose of study or initiation, or simply to breathe the air of the places that you have read and dreamed about.
To honour a family member or friend. A pilgrimage can be in honour of someone you have lost, or an ancestor that you would like to connect with more deepl, even if it isn't to their homeland or final resting place. By visiting a place that had significance to your loved one, you can remember them, connect with them, and perhaps receive a message from them. I grew up with stories about my intrepid Oma's solo visits to Japan in the 1970s, and her love of a hot spring town called Beppu. Many years later, in a kind of accidental pilgrimage, I ended up living in Beppu, and I felt my Oma's presence there every day.
To achieve a goal or receive teachings and wisdom. A pilgrimage of this kind may not be dependent on the location; rather, it is the travel itself that brings the meaning. You may go to a retreat centre to study with a particular teacher, or attend a symposium that focuses on your vocation or passion. I go to the Readers Studio tarot conference in New York every year, and even though it takes place in a hotel ballroom near LaGuardia Airport, it is sacred space for me.
Let your intuition guide you. If you are feeling the pull to travel, but can't see where you are meant to go, put that question out into the world and watch for signs. If you are a diviner like me, ask your cards, your charms, your pendulum. Then, go with an open mind and discover the wisdom that awaits. Wander.
Related: Magical Destinations of the Northeast, reviewed by Susan Starr
Related: Dowsing without a pendulum: Divination on demand, by Charlz dela Cruz
How do I make the most of my pilgrimage?
When embarking on a personal pilgrimage, there are no rules about what you need to do or have to achieve. You can create intention and ritual that speaks to you alone.
Here are some practices that can bring an element of the sacred to your travel, whether it is an intentional pilgrimage or more pragmatic travel. Even a business trip brings opportunities for illumination.
Set your intention before you go. Get clear on the true purpose of your travel. On the surface, it may be to see Stonehenge, the Parthenon, or the Empire State Building for yourself, but guaranteed, there is a deeper motivation. Is there a question that you wish to answer? A fear that you want to conquer? What knowledge are you seeking? Clearly articulate your intention, question, or goal, write it down, and ask your higher self to seek the answer as you travel.
Be open, curious, and receptive as you travel. The knowledge that you are meant to receive may not arrive in the form you imagine. Watch for images, words, or literal signs that catch your eye and speak to you. Listen for your answer in overheard snatches of conversation. Make note of recurring symbols, numbers, and patterns, so that you can revisit them when you return home. It may take time for the full message to be received and digested.
Create a portable altar to use throughout your travels. Bring at least one item from home with you as the starting point of your portable altar, perhaps a representation of a deity, or a crystal, or a tarot or oracle card that illustrates the purpose of your pilgrimage. As you travel, watch for pieces to add to your altar. These may be found items, such as a feather that lands at your feet, a local flower, or a votive of a local deity or saint. Collect them as they come to you, or actively seek them out, and add them to your altar. This altar can act as a focal point for daily meditation and intention setting.
Create a ritual that you will perform at the sacred site. If visiting a monument or site is the primary motivation for your pilgrimage, create and perform a ritual while you are there. Think about the purpose of your visit: to discover and learn, answer a question, or simply to offer love and gratitude to the place, its creators, and all who have come there before. Your ritual can be formal, according to your own practice, or a simple meditation, sharing offerings of food and drink, or divination with your tool of choice. (For instance, I bring my tarot cards everywhere.) After you have performed your ritual, be sure to give thanks and record any insights you received in your journal.
Perform a ritual of gratitude and thanks. Bring an item of personal significance with you on your travels, such as a coin, or a crystal, or something specifically related to the purpose of your pilgrimage, and leave it behind as an offering. Offer your thanks to your patron Deity, guides, ancestors, and the spirits of the land you are visiting. Create a ritual that resonates with you and your practice, with the theme of gratitude for what you have experienced and the wisdom you have gained.
I also highly recommend the book The Art of Pilgrimage: The Seeker's Guide to Making Travel Sacred Paperback by Phil Cousineau to anyone considering this kind of journey.
Related: Portable shrines: You can take it with you, by Laura Perry
Related: Why you should keep a magical journal, by Michael Reese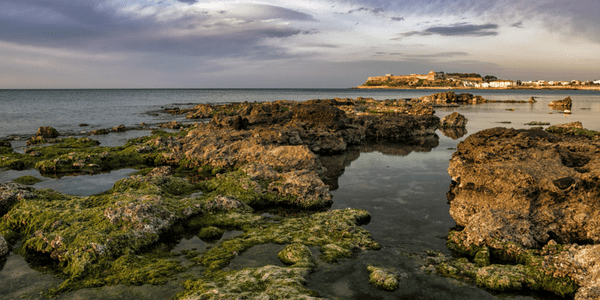 Conclusion
I am currently planning my next pilgrimage, a return to beloved places that I haven't seen in many years, the sacred sites of Greece and in particular the island of Crete.  I want to see these places with my older, and hopefully wiser, eyes. I want to see them as the woman I am now, to reconnect with the person I was when I first saw them, and to honour the spiritual chain reaction that they sparked and continue to nourish.
All travel can be sacred and illuminating, but there is power in undertaking an intentional pilgrimage.
When you are planning your next adventure, challenge yourself. It shouldn't be too easy. A pilgrimage brings knowledge, and if done right, an increased trust in your own fortitude, courage, and significance in the grand scheme of things. This is travel that creates those moments that define us as people, and inspire further transformation.  
Where will your calling take you?
Related: A witch's guide to Salem: Navigating the sacred and the profane, by Monica Bodirsky
Image credits: Apollo, Stefan Ulrich Fischer, Theophilos Papadopoulos