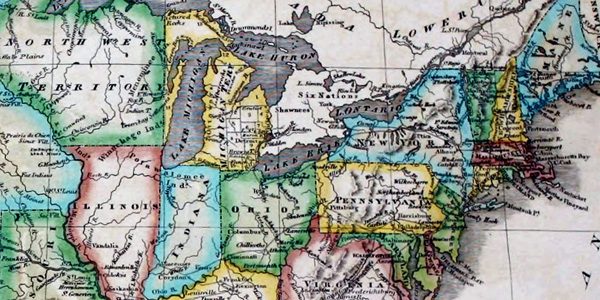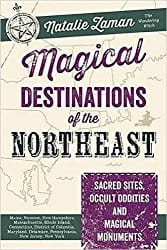 Magical Destinations of the Northeast: Sacred Sites, Occult Oddities & Magical Monuments, by Natalie Zaman
Llewellyn Worldwide, 978-0738747903, 360 pp., 2016.
A little while ago I saw a TV program that discussed the Newport Tower in Rhode Island, a circular stone structure with mysterious origins that may have been built by Vikings, medieval Templars, Portuguese explorers, Benedict Arnold, or some other unknown builder. I was intrigued. When I saw Magical Destinations of the Northeast come up for review, I eagerly ordered it, hoping Newport Tower would be included (and it is) so I could find out more about this odd place.
As I opened the book, I soon knew that reading it would be delightfully whimsical as well as informational, current as well as historical. Pictures and graphics as well as words convey information (there's one absolutely adorable feature on the bottom of every page — I won't spoil the surprise by revealing it here).  Addresses, phone numbers, and websites are included for every entry, so you can research before you go or spend your days armchair travelling.1
Author Natalie Zaman, the Wandering Witch columnist for Witches and Pagans magazine, has drawn on her archive of personal experience as well as books, websites, and fellow witches in 11 states and Washington, D.C., to write this book. The chapters are broken down into sections: Enchanting Emblems, including state flowers, stones, animals, and trees; Bewitching Tidbits, trivia about movie stars, authors, and others with a magical connection; Magical Monuments, human-made structures and cemeteries; and Sacred Sites and Magical Spots, outdoor areas holding magical significance; and Stop by for a Spell, a section written by a witch local to the destination. Zaman gives big cities such as New York and Philadelphia their own sections within a chapter.
The book's definition of "sacred" is quite a broad one, encompassing mainstream and organized religions such as Buddhism, Christianity, and Spiritualism as well as magical practice. Native American and African American heritage sites are generously included, as well as places filled simply with earth energy. Spells and rituals pepper the pages, as do suggestions for using official state plants, flowers, stones and gems in a magical way. Little asides such as "Find a Festival" and "Map Some More Magic" acquaint readers with local group rituals or elaborate further on the sites in each chapter. There's an extensive resources section, with a copious bibliography and website listing (with more, Zaman says, on her own website), and an index, which would have been more helpful if entries had been divided by state.
I live in New York, so I was curious to see what magical places were close to home. A number of museums and landmarks were included: The Brooklyn Museum, with its Mummy Chamber; the Metropolitan Museum of Art, with its Egyptian Temple of Dendur and vast collections of deity representations; and the Cloisters, a branch of the Met dedicated to medieval art that houses the famous Unicorn Tapestries. (It was within the Cloisters that I had my first mystical experience at age seven.)
Zaman describes the New York City Tarot Tour, an imaginative 14-stop self-guided tour through the city where you can find representations of cards in the Major Arcana. She writes of some of the stops:2
"The Statue of Liberty lifts her lamp in a most Hermitish attitude."

"Alice atop her mushroom in Central Park strikes an Empress-like pose."

"The darkness of the Moon is revealed in the Peace Fountain in the gardens of the Cathedral of St. John the Divine."

"Find Strength in the lions outside the main branch of the New York Public Library at 5th Avenue and 42nd.
If big-city travel is not your style, many destinations in nature are to be found in this book, and quite a few concern animals, both wild and tame. One of these is Dog Mountain in St. Johnsbury, Vermont, the site of Dog Chapel, the brainchild of Stephen and Gwen Huneck. Zaman writes,
In 1994 [Stephen] Huneck had a near-death experience. The first project he worked on as he recovered was a woodcut of his black lab Sally. Drawing strength and inspiration from the bond he shared with his beloved pet, he and Gwen created not only a building but a destination for people and animals to come together. The only place of its kind in the world…the chapel's inclusive profession of faith reads all creeds all breeds no dogma. Has your pet crossed the rainbow bridge? Place his or her image on the remembrance wall that is the centerpiece of the chapel.3
Travel is a magical act, one that lifts you out of your everyday consciousness into a different reality of heart-opening experiences and adventures. Magical Destinations of the Northeast is a compendium of places designed by man and nature to do just that. This book is indispensable to the witch, or even the mainstream traveller, who wants to add a touch of the sacred to her travels.
Image credit: Stuart Rankin
See also Syndee Barwick's interview with the author, "The wandering witch: An interview with Natalie Zaman." [↩]
p. 202-203 [↩]
p. 325-326 [↩]