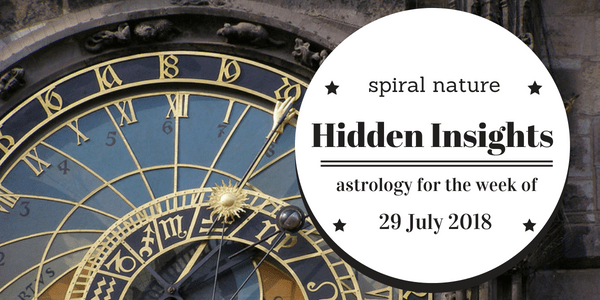 Hidden Insights wishes everyone in the northern hemisphere a happy Lughnasadh and a joyous Imbolc to our friends in the southern hemisphere!
While there is not as much activity in the sky as last week, there is still plenty of intensity to be seen. As Gene Wilder stated in Willy Wonka and the Chocolate Factory, "Little surprises around every corner, but nothing dangerous." Of course, as anyone who has seen the movie or read the books knows, Wonka's definition of "danger" may need to be operationally defined. This quote really seems to capture the feel of right now, as this will be a week full of surprises.
Mars will make its second square to Uranus this week, the first occurred in May. However, with this aspect Mars will be retrograde. This makes Mars' aggressive energy more covert, while Uranus exposes the Mars energy in a surprising and explosive way. People will be more inclined to feed off of adrenaline, and a great deal of risk taking is likely. All of this occurs while we are still feeling the watery effects of last week's eclipse, and the current Mercury retrograde.
On a global scale, we are likely to continue to see natural disasters related to water, as predicted last week. It is also possible that Mars and Uranus will force long hidden aggression to the surface, which could produce rather intense public arguments between leaders. We may also see celebrities also lashing out against one another.
On a personal level, this week is likely to bring feelings of internal conflict with many who are trying to figure out how to express their individuality — without sacrificing a sense of security. Stepping outside of our comfort zone is a challenge, but Mars and Uranus make it almost impossible to do so. The urge to break free is too great, and many of us may be forced into dramatic declarations of identity.
Astro Homework
Who are you really? What is important to you? Has there been a part of your life, or an aspect of your identity that has been hidden from others too long? This week's planets allow us to go after self-liberation.
Your challenge this week is to embrace your true self, even if you have to face some demons from your past to get there. Mars and Uranus are at a breaking point, so you can admit a long hidden truth, or have it forced upon you. Allowing yourself to make the first move will be surprisingly easy with these planets. Trust the stars, and make a change, even if it's small, to live your most authentic life.
Aries (21 March — 20 April)
The last few weeks have not been easy with your ruling planet being retrograde, Aries. It's uncomfortable, and agitation has been brewing below the surface. As Mars makes its aspect to Uranus, you get to let off a bit of steam through verbal sparring with friends. This is not the best week to be social, and you are likely to see your greatest conflict in this area on Wednesday. So, if you have plans to go out, it's best to reschedule for another week. Since your creative side is being illuminated, it might be best to stay inside and work on something independently. While you're not always known for your follow-through, a little time spend writing, creating, painting, or building could be just what you need to chase away the angst you've been feeling. Over the weekend, a minor bump to the head might be on the agenda. Watch low ceilings, and of course, the furniture, if you're bending down for something.
Recommended reading: Lughnasadh crafts: Candle holder and herb incense, by Susan Starr
Taurus (21 April — 20 May)
You are not in the mood to be told what to do this week, Taurus. Unfortunately, it may seem as though everyone around you wants to give their input. Do your best not to be stubborn for the sake of being stubborn. It's important for you to learn to take some criticism, and to take the advice of others as useful information. Early in the week, you can anticipate an important appointment or encounter to bring you good news. This gives you some relief, even if you don't completely trust what you're hearing. Thursday promises to bring all the input you've been getting to your home, and those you live with might really be pushing your buttons. Their concern is out of love, so try not to lash out. On the weekend you will finally spring into action. After spending several days listening to others tell you what they think you should do, you make the command decision to get away for a bit to reflect alone.
Recommended reading: Disentangling "will", by Seth
Gemini (21 May — 20 June)
The lines between reality and fantasy may feel a little blurry right now, Gemini, as you try to navigate the more mundane aspects of your life. A slow start to the week is likely to have you up late taking care of responsibilities you put off. A legal or governmental document may also surface this week, or you could be called before an official to answer questions about someone from your past. This could range from a coworker under investigation, to an old flame that is now in trouble.  Wednesday is likely to bring this type of situation to the light, and you don't want to be caught off guard. The weekend brings harmonious relations between you and friends. This is a great time to get together with a group, have a dinner party, night on the town, or cookout at the park. However, you should be aware that a friend is likely to reach out to you in this setting to solicit your input on their own legal issues. Use your past experience to help them be less anxious.
Recommended reading: Astral Projection, by Phil Hansford
Cancer (21 June — 20 July)
The harsh fixed energy of the week will be a challenge for you, Cancer, as you're more comfortable with the ability to keep moving. You want to break out and be free, but something seems to hold you back. Learning to sit still and accept things you cannot change will be a very powerful lesson right now. Wednesday could bring drama to a head related to money. Anticipate the need to draw a line in the sand on either accepting or lending money or personal property. Thursday brings this theme to your life again, and you may have to stand your ground once more in terms of your financial independence. The weekend brings a sigh of relief after having to confront a secret or strained relationship. Sometimes the past comes back to haunt us, though it's usually to help us move forward into the future. If possible, clear the air with that someone, so you can fully let go of the extra emotional baggage.
Recommended reading: Trauma-informed meditation: Processing the past, by Chrysanthemum White Adler
Leo (21 July — 20 August)
There is no shortage of drama at work this week, Leo, and the intensity is especially clear during the first half. A surprise announcement on Tuesday or Wednesday from a leader at work is likely to feel uneasy. Your best course of action right now, is to avoid gossip and rumours with all of your might. Sometimes it takes a great amount of willpower to exercise restraint and professionalism. Both the Sun and the Moon are on your side this week to give you an extra boost when your self-control is tested. For those of you who are in committed relationships, you won't be the only one having a hard time at work. You will also need to be there for your significant other in dealing with work issues. The best course of action is to embrace the Moon in your ninth house on Wednesday in order to reconnect with your spiritual side. This will help you regain focus and keep your head level through the second half of the week. Friday brings the opportunity to support someone else who is dealing with an emotional wound that you have also experienced.
Recommended reading: Buddhism: The Religion of Thailand, by Richard Burns
Virgo (21 August — 20 September)
There is a great deal of physical movement at work this week, Virgo, and you may find yourself doing a little travel. Of course, you may hear of the opportunity to change work locations. There is also a high probability you may be considered for a raise, promotion, or bonus this week. A past or reoccurring medical issue may resurface, and the stars are asking you to take care of what may seem liking minor pains. Double checking with a physician will prevent a more serious issue at a later date. If you haven't dealt with any aches or pains during the week, you'll want to seriously consider taking care over the weekend. An encounter with a medical professional is shown in the chart. Of course, there are many types of healing professionals, so you might not want to discount a visit to an energy healer, massage therapist, or herbalist. In fact, it might actually be beneficial for you to research holistic health practitioners to supplement what your physician prescribes.
Recommended reading: Four Thieves: From medicine to magick, by Anie Savino
Libra (21 September — 20 October)
Your sexual drive may feel as though it's in overdrive this week, Libra, and you may find yourself aroused at some rather unusual times. Feel free to express your sexuality freely with a consenting partner. However, you will want to be cautious of injuries during sexual activity. So, make sure you have your safe word, knee pads, and a solid bed frame before getting too wild. Midweek brings other creative play into your world, when you feel the need to shy away from responsibilities. Don't feel bad about going out in the middle of the week if the opportunity presents itself. Consider doing some risk taking in your financial world. This is a great week for Libra's to play the lottery, gamble, or even make a small investment in a risky stock. As always, never gamble more than you are willing to lose, as this horoscope does not account for your own individual chart. Over the weekend, an old flame may circle back into your life and you'll each get the opportunity to see what the other has been doing.
Recommended reading: A chat with Jason Miller about sex magick –Psyche
Scorpio (21 October — 20 November)
Defences should be on all fronts this week, Scorpio, as your home becomes a battle ground. Dealing with conflict out in the world is stressful enough, but when it occurs at home, it can feel as though there is no escape. The harsh square between Mars and Uranus is bringing you to the edge of your breaking point at home. For too long, the conflict and stress has been either avoided or swept under the rug. It can no longer be avoided, and Wednesday could bring this conflict to a head. For those of you who live alone, you don't get to pass over this transit. While the conflict for you isn't necessarily at home, it will centrally figure around a family member with whom you've had a disagreement. The great thing about all of this chaos is that it allows you to deal with and finally be done with it. Allow yourself to yell, get angry, and share what has been bothering you. Now is your opportunity to get it all out in the open and lay it to rest.
Recommended reading: A spell of awe and protection: The Washing Verse, by Vincent Ongkowidjojo
Sagittarius (21 November — 20 December)
There seems to be a great deal of talk about your health this week, Sagittarius. You want to share with others what you have been doing or want to do to stay healthy. You may have recently decided to join a wellness program, or are thinking about starting one this week. More importantly, physical activity becomes an important focus for you, and a sudden change is likely to take place soon. You may want to reach out to friends to make plans for the upcoming weekend to do some exploring. You'll want to be creative here, and you can actually stay pretty active exploring a city or walking around a museum. Try to initiate plans on Wednesday, so you don't end up going alone on Saturday. Friday has the potential to produce some nervous energy or internal anxiety. This will only be temporary, and you should try to stay focused on your weekend adventure.
Recommended reading: How to plan a pilgrimage, by Jarred Triskelion
Capricorn (21 December —20 January)
You're in your element this week, Capricorn, as the reoccurring theme is finances. The week starts off with a possible financial upset that you will have to solve. This is likely to manifest in the form of an unexpected expense if you have children, or vacation funding if you do not. Wednesday brings these financial puzzles to a head, when something in your home may unexpectedly need to fixed. To be specific, it will likely be something in your bedroom, which could include the bed, a window, dresser, television, or closet door. No matter how it manifests, you should plan for this unexpected expense on Friday. Over the weekend, you can expect time to unwind from the week's financial stress. Your family comes into focus on Saturday, and they will help you remember what's really important. So, don't be too eager to decline an invite because you don't feel like being around other people. This is exactly what you need to prepare for next week.
Recommended reading: Kabbalistic visualizations for transformation, by Orna Ben-Shoshan
Aquarius (21 January — 20 February)
Have you been thinking about moving or making a change to your home environment, Aquarius? The last several weeks have brought the desire for something different, and that feeling intensifies this week. Right now, home doesn't really feel like home, and you're not sure what to do about it. While many of you may be considering a move, it doesn't necessarily need to be that drastic of a change. You could just as easily rearrange your furniture, update your décor, or do a minor renovation. That said, if you are thinking about moving, you'll want to wait a month before making any firm decisions. The other half of the Aquarius population is likely to see disruptions at home this week, and a conversation with a partner or spouse is likely to lead to a heated debate. This should clear up over the weekend, when you realize just how insignificant the disagreement really was.
Recommended reading: Sacred north, by Anonymous
Pisces (21 February —20 March)
Pay close attention to everyone you meet this week, Pisces. Friends, family, and even strangers are likely to be sources of illuminating inspiration. They serve as catalysts for a change in your routine — expect a number of disruptions to this area of your life. Where you typically have a flow, you won't this week. This is why observing others will helpful. Wednesday could bring the news of a neighbour, sibling, or friend who was recently admitted to the hospital, or has been incarcerated. Even though you are blessed with seemingly endless sympathy, it's not your job to take care of this person. The second half of the week brings an old debt or bill back into your life. This could be a medical bill you forgot, or even a fine for an overdue library book from 10 years ago. Over the weekend, things start to settle down, and you may finally get the chance to dictate your own schedule after a week of interruptions. Try spend Saturday hashing out what changes to your routine might have actually been better than your old way. Now is the time to solidify those changes, if desired.
Recommended reading: Chaos magick: Doing what works and more, by Psyche