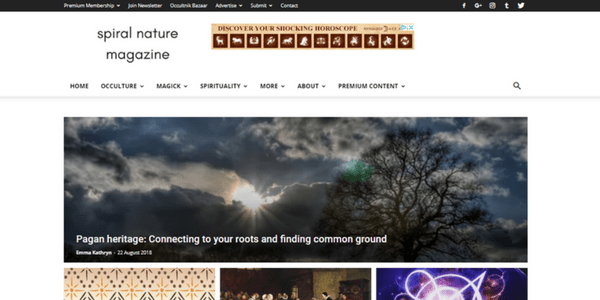 It's been four years since our last redesign, and that design was starting to seem kludgy, so we decided to change it up.
You'll still find all the same stuff you know and love from Spiral Nature Magazine, but we've added a new columnist position, and we're in the process of adding two more — with more to come.
What's new?
The front page shows the latest articles in all categories at the top, followed by the latest in Occulture, Magick, Spirituality, Reviews, and more.
This will make it easier to find the weekly Hidden Insights astrology deep-dive column written by Eric J. Price, weekly Linkage written by Psyche, a new music column from Ashley Naftule, and new articles from the amazing Donyae Coles and Chrysanthemum White Alder, as well as incredible contributions from freelance writers.
We've also added a few new sections we think you'll enjoy, most of which are freely available to everyone, and a few of which are premium features.
Occultnik Bazaar
We've added a new section called the Occultnik Bazaar where we showcase ads for businesses on the homepage, sidebar, as well as on a dedicated page. These ads are intended for occultnik businesses that we know you'll be interested in. The images rotate, so something new can always catch your eye.
If you're interested in adding your business to the marketplace, we still have a few spots left. The ads in the Marketplace will be in place for a year, running through 31 October, so those who buy now will get an additional month free. We've only made 20 spots available, so get in touch soon, as they're going fast.
Premium membership
When we first rolled out our membership section two years ago, it was a little clunky. It had too many options, and the features weren't as well designed as they could be.
So, we've started again.
Our new premium membership is single-tiered, with a monthly subscription of $7, or an annual subscription of $70 (you save $14 per year).
We've already had traction with this, even before we've formally announced it, and we're so grateful. Next week we'll share some of the other benefits you get with your Spiral Nature Premium Membership.
As always, we thank you so much for your support, whether it's financially, or by sharing the amazing work our writers produce, or letting them know what you think in the comments.
Again, thank you.
Courses
You may have noticed that our courses are down at the moment. That's because we bought new course software, and they'll be undergoing a total revamp. 
I'll keep you posted when they're back — and better than ever.
So, what do you think about the new design?
Please, let us know!
Click around, test things out. If you find that anything isn't working, please get in touch. (Everything has been thoroughly tested by humans and a phalanx of robots, but you never know.)
Enjoy!