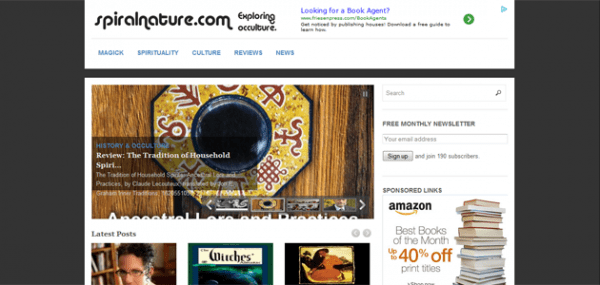 This is the third time in Spiral Nature's history that the website has gone through a complete redesign.
The front page has a fancy new carousel, and highlights our four major sections: Magick, Spirituality, Culture, and Reviews. The category selection has been simplified to make it easier to find what you're looking for. Consequently, our submission guidelines have also changed, as those of you who are on our newsletter already know.
The site's tag line has been streamlined to "Exploring occulture." It's what we've been doing for 14 years, and now we have a new look and mandate.
The News category refers to site news, where you'll see updates like these about what we're developing. There are a few more things you'll see in the coming months, but I don't want to overwhelm by rolling out everything at once.
With the redesign we've also rolled out new advertising opportunities. If you're interested, please contact us for our media kit and rate card.
What do you think of the new look? Love it, hate it? Let us know in the comments — oh yeah, we have comments now. Pretty nifty, eh?