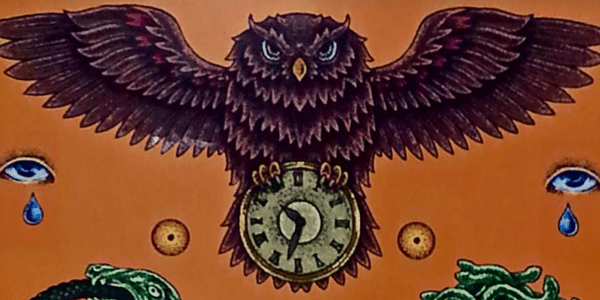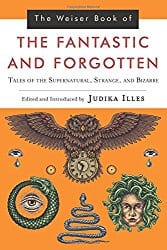 The Weiser Book of The Fantastic and Forgotten: Tales of the Supernatural, Strange, and Bizarre, edited by Judika Illes
Weiser Books, 9781578636068, 312 pp., 2016
Uncanny literature is hard to come by and I guess, in many ways, it's a good thing to have to hunt for the gems among the sea of books in occult and supernatural sections in bookstores. One is often left hungering for tales of the obscure, the taboo, and the unmentionable, but sometimes a lot of that can be found in classic writings as well. As a fan of this fare, I've often been recommended Judika Illes' encyclopaedias and guides in the occult.1 Luckily enough, my first opportunity came in the form of The Weiser Book of The Fantastic and Forgotten, an anthology of the unearthly and the macabre.
In the introduction, Illes lays out the constraint to her process of story selection by her definitions of what is fantastic and what is weird universally. Her descriptions are thorough, but really give the feel that her selections were highly considered and researched to fit into her love of the genres. She also suggests that folktales and stories can be keys to hidden magical truths, and makes a nice case that they should be preserved as historical texts. These are interesting thoughts considering that magical practices were obscured from the general public for fear of the unknown, causing many a banned book.
The stories brought to light here come from a variety of renown writers, Oscar Wilde, Algernon Blackwood, Marie Corelli, Edgar Allan Poe, and many others. Curious enough, a lot of these authors delved into or were fully part of the occult movements of their times. Corelli was a famous mystic, Blackwood was a follower of Arthur Edward Waite, and Wilde was a wide believer in palmistry. In fact, Illes makes sure to detail these things in her very Twilight Zone-esque openings to the stories that provide an enlightening and engaging thread throughout the book.
All manner of weird and supernatural is included in the compendium: witchcraft, ghosts, demons, and monsters. Yet, for a fan of this kind of writing, it's hard to pick out standout stories in this compilation. There are a few that stuck with me long after I had finished reading. Bram Stoker's "Dracula's Guest" sets up the tone and mood of the book. It is a tale full of heady images with haunted characters in a sort of prequel to the author's seminal full novel, Dracula, which immediately had me fishing for more of the same. It's not just the terrifying that takes the stage here. M.R. James' "The Ash Tree" is a gothic ghost story, set through the intricately descriptive pen of an incurable romantic. The one that really got me was perhaps Lord Dunsany's "The Guest," which was a bit on the absurdist horror side with an ending so abrupt it felt like a car crash on clear streets.
The Weiser Book of The Fantastic and Forgotten is a book to tuck into when the weather is pounding at the windows wanting to be let in, or an afternoon curled up a couch. It's a wonderfully engaging read. Judika Illes is a new author and editor to me, but a great one to many others already, so it is with great relish that I plan to hunt down some of her other guides and encyclopaedias as soon as I can.
For examples, see Daleth West's review of The Big Book of Practical Spells, Lili Saintcrow's review of The Weiser Field Guide to Witches, and Kalagni's review of Magic When You Need It. [↩]