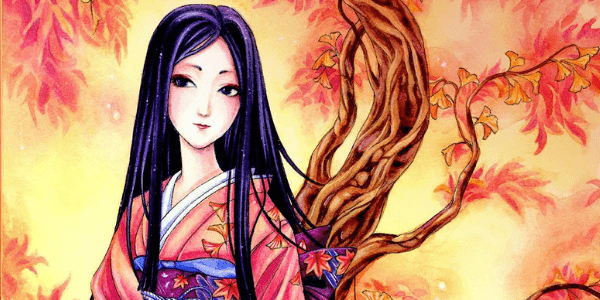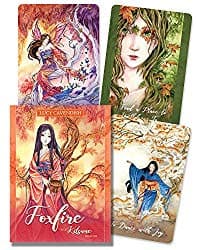 Foxfire: The Kitsune Oracle, by Lucy Cavendish, illustrated by Meredith Dillman
Llewellyn Publications, 45 cards, 144 pp., 2019
Foxfire: The Kitsune Oracle is named after kitsune, the Japanese word for "fox." This creature is a common subject of Japanese folklore. Foxes are depicted as being sensitive and intelligent beings that possess magical abilities such as shape-shifting and the power of foxfire, which can transform the kitsune into other beings or sometimes even objects. Kitsune powers increase as they grow older. The extent of their wisdom is indicated by the number of tails they have (the maximum is nine). Kitsune produce the transformational energy foxfire by rubbing their tails together.
This delightful deck is comprised of 45 vibrantly illustrated cards. Each one depicts a kitsune, dragon, sacred tree, or shape-shifting being. The deck is slightly larger than an average oracle or tarot deck, with each card measuring 5.6 x 3.6 inches. The back of each card has a bright red background with two dancing kitsune coloured in red, black, and white. Each card is printed on thick, high quality stock in high gloss. The cards come in a presentation box, accompanied by a 144 page explanatory booklet.
The cards are illustrated with fluid, watercolour images in a style that captures traditional Japanese art yet gives it a modern twist. Each design depicts either a kitsune, a female shape-shifter or a mystical dragon. Background images include sacred trees, flowers, foxfire, and phases of the moon. Each card also has a specific theme or message. For example, Leave Behind what is No Longer You (33), Follow the Signs (44), Be Still a While (12), and The Creation of Light (19).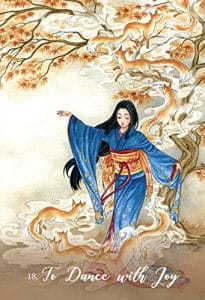 The guidebook contains the history and folklore of the kitsune, several suggested readings as well as an image and a one-page interpretive explanation of each card. For example, card 27, Empowerment. This card depicts a mermaid in a beautiful pond. She brings a message of courage and empowerment, telling the seeker that he or she is moving forward to a goal and that good fortune and prosperous times are ahead.
In the booklet, Cavendish suggests three spreads. These are a daily or simple question one-card spread, a three-card past-present-future spread and the traditional Celtic Cross spread, which is suitable for a monthly reading.
Lucy Cavendish is an intuition expert and spiritual author with international acclaim. She developed this deck after many years of fascination with kitsune and numerous trips to Japan. Some of her other books include Spellbound: The Secret Grimoire of Lucy Cavendish, and White Magic: A Guide to Living an Enchanted Life. The artist, Meredith Dillman, is a traditional watercolour painter. She enjoys combining Art Nouveau with folklore, myth, and fantasy. Her other works include Fantasy Fashion Art Studio, and Watercolor Made Easy: Fairies and Fantasy.
Related: Blessed Be Cards, reviewed by Corinna Underwood
Related: Book of Shadows and Light, reviewed by Jacqueline Valencia
Related: Faery Forest Oracle, reviewed by Corinna Underwood
Related: Wild Wisdom of the Faery Oracle, reviewed by Susan Starr
Before using these cards, I was unfamiliar with the kitsune and their rich folklore, but as soon as I began to read about them in the guidebook, I was not only intrigued, but I felt something stirring inside me. I obtained this deck as a transitional period in my life. While I was aware that I was going through a period of change and growth, I was not aware of where this would take me.
After spending a few days getting in tune with the cards, I focused on my present situation and laid out a Celtic Cross spread. I was very pleasantly surprised. Not only did the cards indicate my current position and feelings exactly, but they also gave me guidance for my transition. I feel a very strong resonance with this oracle, and I will definitely be using it on a regular basis, both for a full spread and for clarification cards for spreads with my other decks.
This is a great deck for a novice who is just starting out with oracle cards or an old hand who is looking for something different from the many oracle decks out there. I would recommend Foxfire: The Kitsune Oracle for someone who is seeking guidance or clarification on their life path.