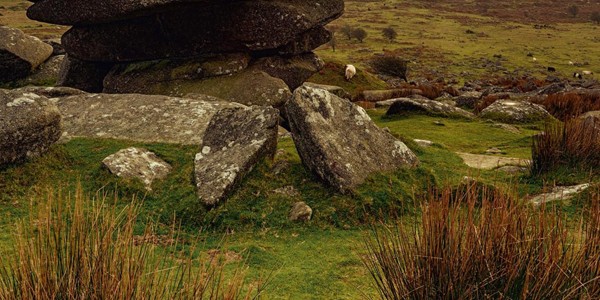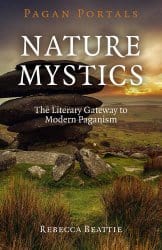 Nature Mystics: The Literary Gateway to Modern Paganism, by Rebecca Beattie
Moon Books, 978-1-78279-799-9, 132 pp. (incl. bibliography), 2015
Nature Mystics, part of the Pagan Portals series, is a strong introduction to connections between British authors and spirituality, includes some excellent esoteric analysis of poetry and prose, and highlights works by lesser known authors, especially women.
Rebecca Beattie classifies 11 authors that "bridge the gap between the Victorian period and Modernism" (the late 1800s to the early 1900s) and one Romantic author (John Keats) as "Nature Mystics."1 A Nature Mystic is a writer who has "mystical experiences in nature, or connects to the divine through nature, and uses that connection as fuel for inspiration."2 She opens a path from this mysticism to modern Paganism with biographical information as well as textual analysis and summaries.
Author biographies are a good way to pique the interest of readers who are not literary critics or English majors. One reason for surveying each author's upbringing, education, health, romantic life, and death is that their lives sometimes "seem more dramatic than fiction."3 Also, this strategy helps the reader see the writers as relatable human beings who struggle with relationships and finances as well as with spirituality and making art.
One biographical section in each chapter focuses on putting the author's work in context by looking at hometown and other residences, class, sexuality, employment, and family dynamics. Another section focuses on spiritual life, discussing if the author was a member of occult societies (like W.B. Yeats, Mary Butts, and E. Nesbit), familiar with grimoires (such as Sylvia Townsend Warner and Mary Webb), or turned away from organized Christian faiths (like John Keats and Thomas Hardy).
Beattie also notes where scholarship is lacking or overwhelming. For instance, she encourages readers to fill in the gaps in Elizabeth von Arnim's biography and mentions the extensive amount of writing on J.R.R. Tolkien and modern Paganism. While encouraging further academic study of relatively obscure authors, Beattie's prose is accessible and avoids many academic conventions. This allows her to include Keats, who is "out of time," and would be relegated to another book in academia because he wrote in the early 19th century.4
The third section in each chapter looks at the written work itself. The summarized and quoted material is intriguing and often beautiful. Excerpts are taken from famous works such as "To Autumn," Tess of the D'Ubervilles, and "The Second Coming," as well as less familiar works such as The Enchanted April and Ashe of Rings. Beattie examines magick in poetry and prose. Webb "weaves a spell in the landscape" of Precious Bane ((p. 28)) , and Nesbit's Accidental Magic "has clear and powerful elements of […] ceremonial magic, with a scholarly interest and research behind it."5
My favourite analytical technique that Beattie uses is reading D.H. Lawrence's "The Ship of Death" through the lens of two tarot cards. She says if the poem "were to feature in a tarot deck, this would be a clear contender for the idea of the Death card being interpreted as 'death and rebirth,' and not a complete ending. But it is also the Six of Swords, a journey across water or liminal spaces, leading to a rebirth and an initiation of sorts."6
I love how she uses the cards to unpack the poem. Readers who are familiar with interpreting tarot can connect the meanings of the cards with themes, archetypes, imagery, and other poetic devices. In the years that I have written and edited tarot poetry, I've focused on how tarot can aid in creating poems. Beattie illuminates another avenue for inquiry — how tarot can aid in understanding and analyzing poetics.
Furthermore, there are some good connections between authors. For example, Beattie links Mary Webb's husband's book The Silences of the Moon with W.B. Yeats' Per Amica Silentia Lunae (both being spiritual treatises with their titles taken from a line in The Aeneid). A few of the connections could have been a little stronger, such as the link between Keats and Sylvia Townsend Warner. Mentioning how Keats' friend Mary Shelley uses Agrippa in Frankenstein could have developed the discussion of Sylvia Townsend Warner's use of grimoires in Lolly Willowes.7 There is a general assertion that Keats' contemporaries, especially those studying to become doctors or apothecaries, would have read the same occult texts as Warner's protagonist Lolly, but Dr. Frankenstein — another grimoire-reading protagonist — is notably absent in this comparison.8
Overall, I believe Beattie succeeds in her goal of "stimulat[ing] your own curiosity to explore some of these writers further."9 She introduced me to Warner's Lolly Willowes and Webb's Precious Bane, both of which I plan on reading soon. I'm also considering revisiting E. Nesbit's work (some of which I read as a kid), especially Accidental Magic, because of Beattie's discussion of how she has been overlooked and is "worthy of much more attention from scholars of the esoteric."10
I highly recommend Nature Mystics, because it draws attention to female authors who are often left out of the canon, employs tarot cards in literary analysis, and uses biographical storytelling to make English literature accessible.