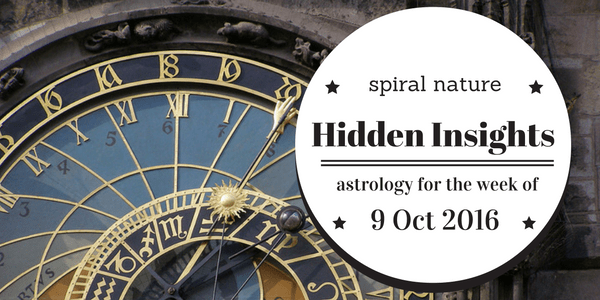 The Moon continues to wax this week as it moves toward fullness, bringing us hidden insights and the fiery Aries full moon on Sunday, 14 October 2016.
Before it gets there, it will pass through the signs of Aquarius and Pisces. Aquarius rebels through individuality and innovation, and Pisces exists to transcend. Expression and individuation can be important themes throughout the week, particularly in how we connect to our spiritual paths and purposes.
This week also acts as a check-in point. What was happening for you back in the spring, when the Aries new moon took place on 7 April 2016? You might want to think back to any hopes and dreams you were putting into place around then, especially in relation to personal power, leadership, and determination.
The moon's journey through Aquarius and Pisces will help us to connect with our minds, hearts, and spirits ahead of action-oriented Aries this weekend. Think about what you are ready to bring full-circle when it comes to your relationship with yourself, and with your deities.
Here's a look at what's coming up astrologically for your sign throughout the week ahead.
Aries (21 March — 19 April)
It may be Libra season, but this week is an important one for you, Aries. You can no longer make excuses for yourself. Patience is not your strength, but in your haste to get ahead, you might have been overlooking some important steps that can no longer be ignored. This doesn't mean you have to backtrack, though. This week brings a window of opportunity for you to stop cutting corners without losing momentum.
Suggested meditation: Study the Emperor tarot card. Close your eyes and ask, "What message do you have for me?"
Taurus (20 April — 20 May)
Tipping point: That's what this week is bringing you to, Taurus. But what will be spilling over? That's what you'll need to decide. It might feel like the intensity is growing in the coming days as we move closer to the upcoming full moon in Aries, but remember that you have control. I know that means you might need to get out of your comfort zone at some point, but trust me — it will be worth it. This isn't a week to passively pass through the day to day. Do more than take the bull by the horns: Become the bull itself and charge ahead.
Suggested reading: "A study in Shamanism."
Gemini (21 May — 20 June)
What's your idea of a holy trinity, Gemini? How might you define a grand trine? This is your assignment for the week: Re-imagine your foundation, your core elements. What three things do you absolutely need in place to feel magical? What is the anchor of your connectedness to your identity, and how it relates to the world around you? This week brings the potential for bright new visions and clearer understandings of where you're at and where you can go from here.
Suggested reading: "Interview with Fenwick Kaidevis Rysen."
Cancer (21 June — 22 July)
One of the biggest assumptions about you, Cancer, is that you run and hide at any sign of danger. If only they knew, right? Sure, you're sensitive and have a penchant for comfort, but is that so bad? You can hold your own just as well as anyone else. What are some other misconceptions people have about you? Where do you suspect people aren't seeing all of you? This week, I want you to challenge one false assumption about yourself and start letting someone know they've got you all wrong.
Suggested crystal: Tiger's Eye or Bloodstone, for strength and courage
Leo (23 July — 22 August)
How have you been feeling lately, Leo? I hope you've been taking some time to enjoy the sweetness of October so far. Libra season is usually good for you, though I get the sense that there are some shadows that are creeping up in the weeks ahead. I don't mean for that to sound ominous. In fact, I think you'll welcome a little bit of darkness as the month goes on. Enjoy this week for what it brings, for better or for worse. Any bumps in the road you encounter will be hints at the type of work that lies ahead. You'll have a chance soon to put something right, as long as you're ready and willing to admit what's wrong.
Suggested crystal: Shungite or Black Obsidian, for shadow work
Virgo (23 August — 22 September)
Let it go, Virgo. Not easy, I know, especially when you like everything to be just right. But the omens I see for you this week all point towards the concept of ease. Lose yourself if you can — not in a passion project, not in your day job, but in time and space. Get off the grid, even if it's only for a few hours. Ignore something, or someone. Put it off until tomorrow, and then put it off again. Look at what's in your grip and ask yourself if it's really necessary to be holding on so tightly right now.
Suggested meditation: Study the Fool tarot card and ask, "How can I lose myself?"
Libra (23 September — 22  October)
I see a shopping trip in your future, Libra. Do you mind if I suggest what you should buy? Okay, you can have some say in it: Think of three colours — any three. Got them? Good. I'd like to you to find some time this week to find some crystals that match the colours you chose. The stones you pick can be completely up to you. Why this is an important exercise for you this week is because it's going to be an exercise in learning to give yourself what you need. You have a lot of choices up ahead, Libra, and the only way to get them through all is to start listening to yourself first.
Suggested reading: The Book of Stones.
Scorpio (23 October — 21 November)
If Hallowe'en feels like it's coming early for you this year, you're not wrong. Dead poets, haunted muses, and intense premonitions might be just some the experiences you're able to channel for yourself right now, Scorpio. But why? The universe is tugging at your attention. You're not always one to flaunt your potential, but there is something special you might need to create at this time. It might even be simple and personal, like the writing of a spell or a love letter long overdue. Let the ghosts of the past, present, and future speak through you now.
Suggested reading: "Dreamers, shapers, singers, and makers: Magick and the art of storytelling."
Sagittarius (22 November — 22 December)
Who are you, Sagittarius? Certain aspects of yourself have been under construction throughout the year, but as we move toward the Aries full moon this weekend, I think your mantra should simply be, "I am." This week, it's time to reclaim your confidence, intelligence, and vision. Look back at what you might have left on the sidelines since early 2015. It might look and feel a little different to you right now, but if it's still something you'd like to wear, this is the week to try it on again.
Suggested mantra: "I call all of my power back to me now." — Danielle LaPorte
Capricorn (22 December — 19 January)
Last week, we talked about a surge of adrenaline coming your way. Hang on to whatever impetus you've got this week, Capricorn, because there is a big shift just around the corner. The universe is going to help you get ready for it this week. Don't let yourself be distracted. If ever there was a time to be purposeful with your energy, this is it. Something big is going to break loose for you after the Aries full moon rolls around on 15 October 2016, so take a deep breath, take charge, and take the lead.
Suggested crystals: Wulfenite or Pyrite, for focus and will.
Aquarius (20 January — 18 February)
You're living through some big lessons these days, Aquarius. The past few months have been pushing you towards introspection, forcing you to ask yourself some big questions in regards to whether your ideals are aligned with your reality. You might have had to admit that certain visions are just not coming together the way you'd hoped, and you're the only one who can close that gap. For someone so future-oriented, it can be hard to slow down long enough to peek under the surface and see what's really going on. Take the time out and trust in what you're feeling.
Suggested meditation: Study the Hanged Man tarot card and ask, "What is it time for me to look at in a new light?"
Pisces (19 February — 20 March)
Epiphanies abound this week, Pisces, but for you, they might not come in the form of clear, concise ideas so much as in found poetry and fragments of dreams. If you're paying attention this week, I think you'll see that there are signs all around you: In street graffiti and overheard conversations, in the songs of birds and the patterns at the bottom of your coffee cup. Something is going to be illuminated for you this week, and it could be just the moment of enlightenment you've been waiting for.
Suggested reading: My tips on working with omens.