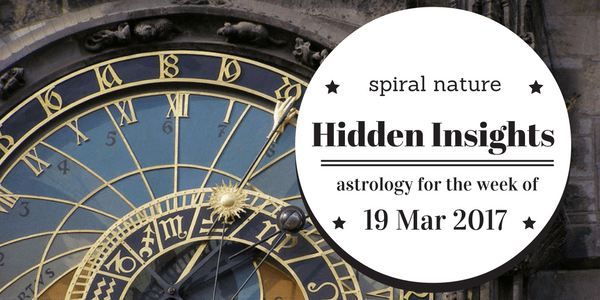 On Monday, 20 March 2017, we welcome Ostara, the spring equinox in the northern hemisphere.
This is also the day that the Sun moves from Pisces into Aries. We have come full circle. Pisces helps us transcend into higher realms; it is the last phase as we move through the lessons and shifts from the past year. It can also be where things dissolve and drown, never to resurface.
But then Aries comes in, pushing us towards a new cycle. As the first sign of the zodiac, Aries has to be bold. It needs energy and stamina to get things moving, shifting, and growing, even when we aren't sure what will take shape in the seasons to come.
Ostara is a time of growth and potential. Persephone is rising from the underworld to once again rule the earth.1
Think back to themes that emerged around Imbolc on 2 February 2017; they may have been hints at the seeds that can begin to take root as we enter a new season.
Here's a look at what's coming up for your sign this week:
Aries (21 March — 19 April)
This is it, Aries. It's your time. Anything you've been waiting to act upon, anything that you've felt was stalled, anything you've been putting off, well, it's time to get it moving. You might feel a giddier than usual in the weeks to come. Just go with the ride. The added energy will only boost your cause.
A mantra for Ostara: I embody all that's new.     
Taurus (20 April — 20 May)
I would encourage you to meditate on your definition of adventure, Taurus. What might that word mean for you? What types of images does it conjure up? I think the coming weeks are going to push you to think about your relationship to adventure, and what you might need to do to invite more of it into your life.

A mantra for Ostara: I am stepping into new territory.

Gemini (21 May — 20 June)
Are your ideals matching your reality right now? It might be time to break one of your own rules, Gemini, especially if it will help you get closer to where you really believe you need to go. Don't hold back from what wants to change. Indecision is only a state of mind.

A mantra for Ostara: I am ready for the truth.
Cancer (21 June — 22 July)
What kind of advice do you think you might have for yourself five years from now? What kind of wisdom do you hope today's experiences will help you grow into? I encourage you to try get a glimpse of your future self this week, Cancer. It will give you a good idea of what types of seeds to sow this spring.
A mantra for Ostara: I invite my future self to become clear.       

Leo (23 July — 22 August)
Time to get back to reality, Leo. The Sun is moving into fiery Aries this week, giving you some kindred energy to pick up on. While it may take a few days to really climb out of Pisces foggy influence, take heart: This week could bring a flash of unique inspiration that you can put to use once the New Moon rolls around on 27 March 2017.
A mantra for Ostara: I am a creative channel.

Virgo (23 August — 22 September)
Prepare for a creative surge, Virgo, but remember that creativity isn't only about art. This week can bring up some bright new ideas that could introduce some much-needed twists and turns in your everyday routine. Pay attention to any blips on your radar and connect to your own concept of creativity. Think about what you'd like to give shape to this season.
A mantra for Ostara: I am the creator of my reality.
Libra (23 September — 22  October)
What do you want this new season to hold for you, Libra? I encourage you to meditate on that once the spring equinox moves in. Think about what the concept of spring inspires in you, and what the coming weeks could symbolize. Once you have some answers, use them as threads to begin weaving together a new dream.
A mantra for Ostara: My dreams shape my life.

Scorpio (23 October — 21 November)
I see the Spring Equinox as a blank canvas for you, Scorpio. What might you sow now that you can reap once fall rolls around? What has already been shifting in your universe, trying to shake itself awake? Imagine yourself standing on the edge of an open field, with grass so high you can't see what's on the horizon. What would you hope to find once you began to walk through to the other side?
A mantra for Ostara: I willingly step into the unknown.

Sagittarius (22 November — 22 December)
Is there a tug of war happening within, Sag? The universe might feel like it's been testing you throughout the past few years, but you are coming out on the other side. Now it's time to admit to the things you've known all along: All of those truths, all of those possibilities that can no longer be ignored. Remember that spring is about growth, not death. Trust that change will turn to good.
A mantra for Ostara: I am ready for the new me.
Capricorn (22 December — 19 January)
The Moon enters your sign on the day of the spring equinox, giving you an added boost to wrap up any loose ends or projects that might disrupt the flow of this new spring energy that's waiting to rush in. In the coming weeks, it will be time to breathe, expand, and plot your next big steps. So make sure the slate is cleared as soon as possible.2
A mantra for Ostara: I open to expansion.

Aquarius (20 January — 18 February)
What do you believe about yourself, Aquarius? This week is giving you the opportunity to explore whether you are holding yourself back in ways that you might not even be aware of. Reflect on the opinions you hold as they relate to your identity. I bet you'll uncover at least one weak spot to remedy immediately.
A mantra for Ostara: I can only stand on solid ground.
Pisces (19 February — 20 March)
Don't let the confusion set in, Pisces. Something tells me you might feel a bit cloudier than you'd like this week, especially when it comes to your path. Remember that your purpose can be very different from your job. Don't let one override the other; find a way to create synergy between them, even if they may not always meet as one.

A mantra for Ostara: I follow my inner light.
Ed. note: See also Xenia's article, "Pomegranates and trauma: Delving into the Underworld." [↩]
Ed. note: See also Dave Lee's article, "Connected breathwork and subtle energy." [↩]