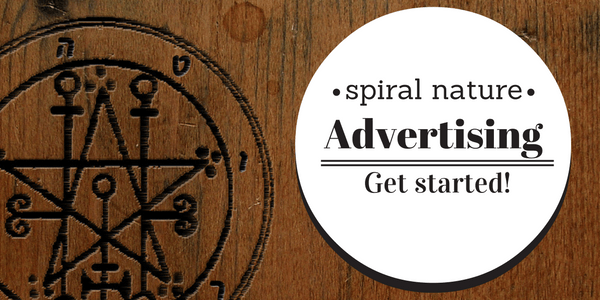 You know Susan as a regular contributor to Spiral Nature, the author of a beautiful oracle deck, and now she's also taken on the role of our advertising coordinator.
Susan Starr (SusanStarr) is a writer, a shamanic and third-degree Reiki practitioner, and a Tarot and oracle card reader. Her newly published oracle deck is called Gaia's Vision Oracle Cards, and is based on the beauty and wisdom of the natural world. Follow Susan on Facebook and on Twitter as@Coach_Starr.
Our media kit and rate card has been updated for October 2016, and includes Susan's contact information for more information and to book your ad.
We have ad spots starting from as low as $60 a month, and that monthly fee goes down with the more ads you buy.
Spiral Nature is particularly interested in launching more contests and sponsored ad spots, both of which are a great way to reach our readers. Contests offer you the opportunity to showcase your product and get it in front of a highly targeted audience, and with sponsored posts you can show our community how your product works, how it was made, and why they should use it.
Please note that we only accept ads from companies we feel would be a good fit for our community. We want to match both sets of clients — advertisers and readers — together, in order to provide the best service to each.
The community we've built around Spiral Nature is a specialized one, one which is focused on practical magick, esoteric spirituality, and occulture. This means that we have a very specific and targeted audience niche, which can be very difficult to reach via traditional channels.
If your product or services touches on any of these areas, we'd love to talk. That said, if it is wildly out of scope for Spiral Nature, it's probably not the best fit for our community.
However, if your product or service is something our community would absolutely love, then we'd be thrilled to share it with them — and not only in our magazine, but also across our social media channels.
If you'd like to learn more about our advertising opportunities, please check out our current media kit, and get in contact with Susan to get started with your ad, sponsored content, or contest.