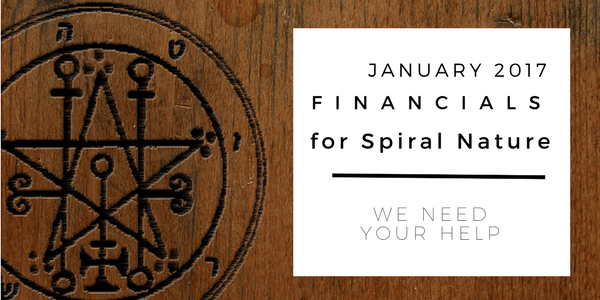 In the interest of transparency, Spiral Nature Magazine has shared its financials for the past three years we've been making money. You can find our financials for 2016, 2015, and 2014 already published.
We did so many great things in 2016. We published a record 228 articles and reviews in 2016, and paid 30 different writers for their work, and offered 24 ads in trade. We hired three assistant editors, and two new staff members,  including a new weekly astrology column, Hidden Insights.
We launched two new courses, Ancestor Work Fundamentals and Crystal Grid Fundamentals, but the sales we were hoping for haven't yet come in. Spiral Nature also launched a premium membership program, but as yet we haven't had any takers.
Though our income increased slightly in 2016, our expenses rose significantly, and we had a shortfall of $1,070.
With that in mind, we've decided to publish monthly financials, so you can see exactly what we have coming in each month, and what's going out.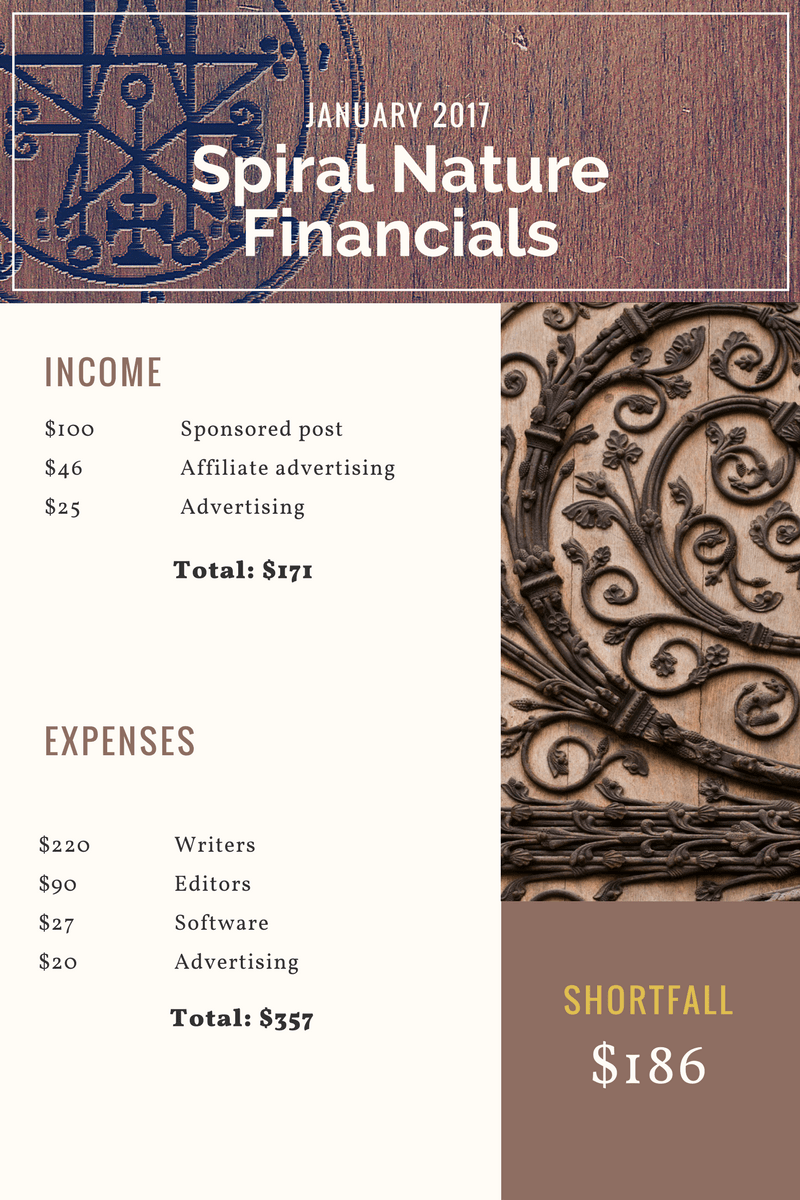 There are so many great things we want to do with Spiral Nature, but with our current losses, it's not possible.
As you can see, already in January we have a shortfall of $186.
Psyche, our editor-in-chief, is in university full time and working three part time jobs in order to pay for everything. Psyche earns no income from the magazine, and at this rate of expenditure, Spiral Nature isn't sustainable.
That's where you (hopefully) come in.
Premium membership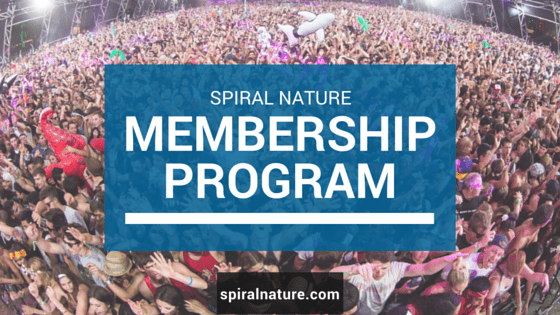 If you can, please consider buying a premium membership. They start from as low as $10 per month.
You'll gain access to exclusive members only content, and effectively be sponsoring one writer's articles or reviews. That would be a huge help.
You can easily cancel at any time.
Courses
Last year we published two courses, with another two courses expected to be published in the first quarter of 2017.
Just so you know, half the money goes directly into the pocket of the course creators, the other half goes to Spiral Nature to help us fund the writers and editors who make this magazine possible.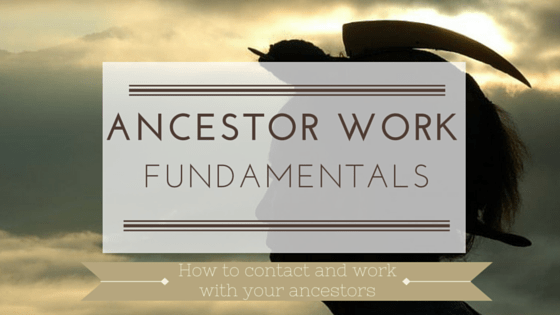 Ancestor work is an essential part of many spiritual traditions, but often overlooked in today's teachings.
With Ancestor Work Fundamentals, you will learn basic practices from around the world, and how to integrate them into your own life. Learn how to set up an altar, begin working with your ancestors, call them into your life, and create and sustain a healthy relationship with them.
This course was created by Kalagni, a Buddhist ceremonial magician living in Toronto. Kalagni recently finished attending university for multiple degrees in fields of study including history and English, and is now hiding in the corporate world.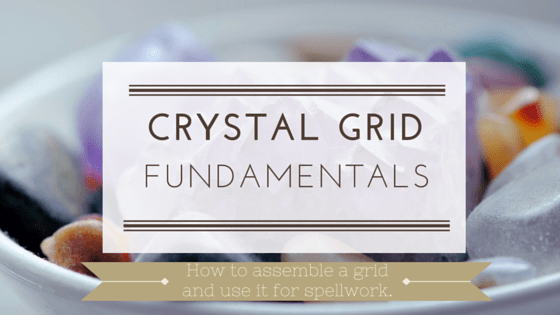 Crystal Grid Fundamentals is an introductory course that will teach you how to assemble and use a crystal grid as a form of spellwork.
Making crystal grids is a powerful method of invoking vibrational energy. You can make a crystal grid to attract wealth, love, good health, or a fabulous career. In this course you'll learn how to combine the vibrational energy of crystals and their properties with sacred geometric patterns to enhance your magical toolkit.
This course was created by Susan Starr, a writer, a shamanic and third-degree Reiki practitioner, and a tarot and oracle card reader. Her newly published oracle deck is called Gaia's Vision Oracle Cards, and is based on the beauty and wisdom of the natural world. Follow Susan on Facebook and on Twitter as @Coach_Starr.
Want to help?
If you don't have the resources for a premium membership or one of our awesome courses, then consider sharing Spiral Nature Magazine with friends you think would be interested in our content.
Let our writers know how much you appreciate their work in the comments. Virtual pats on the back are always welcome.
Suggestions?
If you have suggestions for other potential avenues for income, or things you'd like to see Spiral Nature doing, please let us know.
We'll publish our financials each month, and keep you abreast of any suggestions that emerge.
Thanks, as always, for your support!