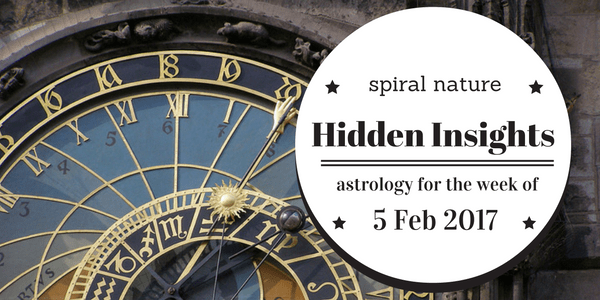 At Hidden Insights we are deep into Aquarius season. Themes of community, unity, and rebellion can come on strong these days, and given the political and social climate of the world right now, there is no better time to harness the energies available to us and use them to create the kind of change we want to see.
Creativity and innovation can also be strong when Aquarius has such a hold over us, especially this week as Mercury moves into Aquarius on Tuesday, 7 February 2017. The Moon will be waxing until it reaches fullness this Friday, 10 February 2017.
That means that there is still some time to tap into that growing Moon energy if there is a project or initiative you have been wanting to get moving on. Aquarius is air energy: it brings a lot of new ideas and inspiration, but the key to tapping into is in giving validation to your thoughts.
What's running through your head at this time? What concept keeps coming up for you? Remember, thoughts become things. They are worthy of attention.
If you are feeling stuck, or you're hesitant to step into a greater sense of confidence, Friday's Full Moon can help you out.
The Full Moon is in Leo, which is bold, fiery energy that has no fear of stepping into the spotlight. Use this Full Moon energy to be seen and heard if you have something to share, or if you are ready to release any shyness or insecurity that's stopping you from using your voice.
There is also a lunar eclipse coinciding with this Moon. Eclipses bring pivotal change. This one can be a potent turning point in how you see yourself, and in how you move through the world.
Here's a look at what's coming up for your sign this week:
Aries (21 March — 19 April)
You are not meant to be a wallflower, Aries. If ever there was a time to say what you think, to stand your ground, and to get clear on your mission, this is it. Clear out any mental or emotional cobwebs this week, any energetic residue that has perhaps made you forget just how deep your strength really runs. And then make a pledge to yourself with this Friday's Leo Full Moon to start standing up louder and prouder than ever.
Your word for the week: STAND

Taurus (20 April — 20 May)
Something is disrupting your usual flow, Taurus. Here's a suggestion: Don't fight it. Let chaos do its work on you this week, even if it takes you way out of your comfort zone. I get the sense that you have the chance to straddle two different worlds this week: One is a realm of visions and dreams, and the other is a realm of shadows and secrecy. What is it time for you to bring into light? You might find that there's a part of you that needs to acknowledged, or you might need to call out a truth that you've turned a blind eye to long enough.

Your work for the week: SEE
Gemini (21 May — 20 June)
Step back into the light, Gemini. If you feel like your mind has been working overtime so far this year, you get a welcome reprieve this week. Explore. Expand. Reconnect with your wish-list and do something that you've been too busy to get to — just make sure it's fun, easy, and enjoyable. And if it helps you connect with your community, even better. Your mind wants to flow these days, so let it wander.
Your word for the week: OPEN

Cancer (21 June — 22 July)
Light that fire, Cancer. As a water sign, that might sound a bit counterintuitive, but something wants to burn through you right now and I suggest you pay attention to it. Grab onto whatever you're feeling most passionate about right now and let it move through you. Sparks of inspiration and determination that come up this week can spread like wildfire as the year continues.
Your word for the week: ACTION  

Leo (23 July — 22 August)
Happy Full Moon, Leo! This is a big week for you. With a lunar eclipse and Full Moon taking place in your sign this Friday, I suggest you take some time to check-in to how your goals and growth have progressed since your birthday six months ago. Eclipses create change, but they can also bring surprises. Don't panic if something in your life gets eclipsed — these changes are always for the best. Treat this Full Moon like it's your day. Get clear about what you want, where you're going, and what you need to do to make it happen.
Your word for the week: PROGRESS

Virgo (23 August — 22 September)
"I've got one, two, three, four, five / Senses working overtime…" So the XTC song goes. Something is turning around for you this week, Virgo, but you might have to work to stay grounded in the process. I get the sense that you are opening up to some new, exciting possibilities — ones that will allow you to stretch into fulfilling, challenging directions. Just make sure you're not letting yourself become overwhelmed by ideas. Stay clear, stay focused, and stay grounded.
Your word for the week: NEW
Libra (23 September — 22  October)
What you feeling compelled to create this year, Libra? I get the sense that it's time to dig deep into your subconscious world to get to the heart of your truth — one that ultimately wants to communicated. Don't be afraid to reach well under the surface, even if it feels raw, ugly, or uncomfortable. Remember that every part of your psyche deserves a home, and you are the best one to nurture any aspects of yourself that have been neglected for too long. Let them now become your next creative vision — and see what kind of community grows around your unique expression.
You word for the week: HEAL

Scorpio (23 October — 21 November)
What old or outdated ideas do you need to put to rest, Scorpio? These may belong to you, or they may be out in the collective consciousness, ready to be addressed. This is a week of intellectual deconstruction. Question everything. Become aware of your conditioning. Find fault in your beliefs so that you can build a firmer foundation for your future viewpoints. Don't be so quick to assume that you know someone else's motivations or intentions. Listen more, learn more.
Your word for the week: RETHINK

Sagittarius (22 November — 22 December)
If anyone can tune into the collective consciousness this week it's you, Sag. Where do you see this world going, and what role do you play in that? Remember that the parts you take on can be big or small, and any size in between. This week, you might want to connect with Friday's Full Moon in Leo — kindred fire energy — and map out your grand plan for the years to come. Don't focus it just on yourself, though: Dream about what kind of community you'd like to be living in, and what kind of spaces you'd like to see in the world around you, too.
Your word for the week: ENVISION
Capricorn (22 December — 19 January)
Hard work pays off, Capricorn, and if anyone can live that as a mantra, it's you. I think in the days to come, you're going to start to get a glimpse of where your ambition can really lead you. Let a new goal become your new destiny. Don't be afraid to let go of obligations that you've been holding onto out of fear of not being enough. You need to make space in order to grow and evolve, and you need strong boundaries. Pay attention to what's ready to change for you now.
Your word for the week: BIGGER
Aquarius (20 January — 18 February)
It's time to remind yourself that your off-beat, eccentric nature is here to help you through life, not hinder you. But with your ruler, Uranus, still picking up momentum after being retrograde in late 2016, you might have had trouble feeling connected to your path, and to your true nature. I suggest you use this Friday's Full Moon to remind yourself of all your weird, wild ways, Aquarius. They are your opportunities. The more you honour those parts of your soul, the more at home you will be in the world.
Your word for the week: TRUTH
Pisces (19 February — 20 March)
Catharsis will come through creativity this week, Pisces. Often, when I talk about creativity, it triggers a disconnect with people who don't see themselves as artists. Remember that your life is your art. Every decision you make, every goal you move towards, is an act of creation. Your reality is your evolution, and it is constantly in motion. Decide what it is you need to build for yourself now, Pisces. I see you standing on the edge of a blank canvas, ready to transform.
Your word for the week: BEGIN