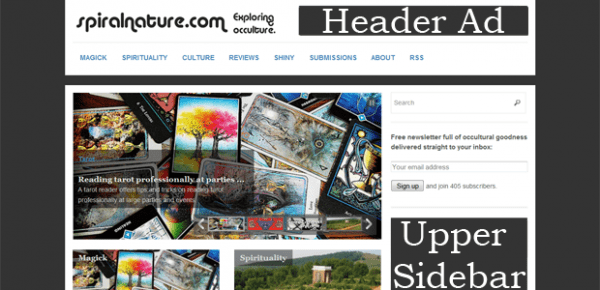 Spiral Nature was founded in October 2000 with a focus on alternative spiritualities and practical magick. Our articles, essays and reviews explore occulture – the places where pop culture and the arcane connect.
A magazine-style website, Spiral Nature publishes an average of two to three posts per week; ranging from in-depth essays and articles, critical looks at occulture in media, practical how-tos, book and oracle reviews, and regular links and letters columns.
If you know anyone who might be interested in advertising with us, please share this page with them.
Our advertisers help pay for site costs like hosting, domain, and, most importantly, our awesome writers and reviewers.

About our readers
Spiral Nature readers are a passionate and dedicated bunch with more than 5,500 unique visitors each month and an average of 28,000 pageviews.
Our readers stay on our site a long time, viewing 5 pages per session, and they're loyal, with 28% returning multiple times each month.
The majority of our readers, 67%, are in the highly desirable 18 – 44 age bracket.
Our readership is highly educated, with 71% having attended college or grad school, and 35% earn $50k or more.
Social sharing
Spiral Nature has an active presence on Facebook, LinkedIn, Pinterest, Tumblr, and Twitter, and our content is widely shared, with 4,000 interactions on Facebook; some 1,500 shares on Twitter; and more than 21,000 on StumbleUpon.
Inquire about our media kit
If you're interested in advertising with us, or know anyone who might be, please see our advertising page, and email us at advertising at spiralnature dot com.
Thanks for supporting us! You folks are the best!