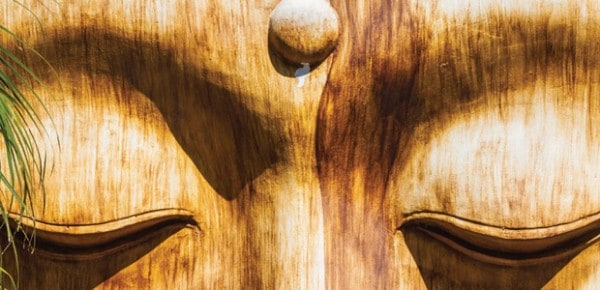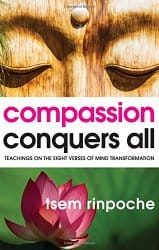 Compassion Conquers All: Teachings of the Eight Versus of Mind Transformation, by Tsem Rinpoche
New Page Books, 978-1-60163-354-5, 192 pp. (incl. foreword, appendix, glossary, and author bio), 2014

His Eminence Tsem Rinpoche, an unrealized monk, received the teachings of the Eight Verses of Mind Transformation at the age of 13 from His Holiness, the 14th Dalai Lama. The teachings are a translation of the Lord Buddha's teaching on compassion and, when followed, develop the Bodhicitta or compassionate mind, ultimately leading to enlightenment.
The text begins with a discussion of motivation and how motivation affects an action and the outcome of any single action. The eight worldly concerns are introduced and discussed and the reader is instructed to memorize these concerns and use them as a reference point to check their motivation in day-to-day life. When working from the eight  worldly concerns, suffering is guaranteed and can only lead to negative states of mind. Rinpoche arrives at this conclusion by explaining that everything is impermanent. If you embark on a journey with the intention of receiving praise (money, comfort), the factors leading up to praise and the praise itself will be ever-changing. Once praise is received, the situation will inevitably change and the praise will subside, resulting in reactions and suffering persists. The eight mundane views must be under control before embarking upon the eight verses.
The book is laid out by verse; all eight verses are given, and then each verse is broken down and given a detailed explanation. His Eminence uses very simple language and metaphors to convey simple truths which are very expansive in a spiritual nature. These practices are not easy to put in place considering the social constructs of most modern societies. In this world, many put themselves first, and feed the desires of the physical body with materials, food, entertainment, and drugs. The verses teach against these constructs and ask for practitioners to humble oneself, put pride and knowledge aside and see others as the ultimate guru. The essence of the teachings is to change the mind from the negative afflictions and emotions and into positive ones.
The text is easily accessible to non-Buddhist practitioners and there is a short glossary in the back of the book to help define concepts like samsaras, dharma and other Buddhist terms mentioned in the text. The glossary is useful, although Rinpoche does a great job of conceptualizing these ideas in metaphors and humourous examples that are easily understood. Rinpoche also offers a refreshing view of honouring the mother and woman worship. There is an entire verse and coordinating chapter devoted to the greatness of women and seeing them as equal to men and treating them as queens.
This text came to me when I was battling a work situation, and upon reviewing the situation and observing my wrong motivation, I was able to reassess my desires and release the situation of negativity. It was eye-opening and amazing to have something I had been battling with be completely relieved by looking inside myself. This spoke clearly enough for me and as a yogini and someone who is on a spiritual path of enlightenment, these eight  phrases have been adopted into my morning meditations.
Compassion Conquers All is ripe with the teachings and path of Buddhism, and one encompassing belief is reincarnation. The driving force behind conquering the ego and releasing suffering is to be set free from the wheel that binds our souls back to the earthly plane, so we may join the divine consciousness from which we are all a part. You don't have to believe this idea of reincarnation to benefit and use the teachings discussed in the text; it is a great addition to any spiritual system regardless of your truth. All that is needed is a Christ-consciousness, or a knowing of higher being, no matter how it's achieved, whether Pagan, Wiccan, Hindu, or Christian.