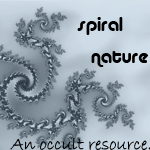 SpiralNature.com is an occult resource dedicated to occult philosophy and metaphysics, alternative spiritualities, and practical magick.
Since its inception in 2000, SpiralNature.com has retained the same look and feel.  (To see past versions of the site, check out SpiralNature.com on the Internet Archive's Wayback Machine.) It was quite dated in terms of its look and its functionality.
This is the first time in SpiralNature.com's eight year history it's received a  make-over – indeed, a complete restructuring.
Along with the new design and new logo comes better navigation and new ways explore to SN's archives.  Clicking on the items in the menu on the left shows you everything that's archived in that category, including all subcategories.  By clicking on the author's name, you'll see all posts archived by that author. Each essay and review lists major topics covered in the piece, and by clicking on these you can view all items with that tag. Stars at the bottom of each essay and review let you rate it.
Some of the content has been removed as it was found to be dated or otherwise not up to standard, though most of it has been preserved, particularly old mailing list and Usenet posts which cannot be found elsewhere.
At present there are more than 500 articles by more than 150 authors in SpiralNature's archives.  If you're interested in adding to our content, please see our Submission Guidelines, or Contact the curator for more information.
Additionally, for the first time ever SN has RSS feeds available.  You can subscribe to the Shiny Feed, which lists news and condensed lists of updates, or the Full Feed, which gives you everything.  For more information about our RSS feeds, please see the FAQ.
So, welcome to SN 2.0, drop me a line and let me know what you think!